An Overwhelmingly Stressful Amount of Things Go Down During Grey's Anatomy's Season 16 Finale
Although Grey's Anatomy loves to end its seasons on some pretty heavy cliffhangers, we can't blame it for the season 16 finale feeling quite so suspenseful. Filming on the rest of the season was abruptly shut down due to the novel coronavirus COVID-19 outbreak and ABC decided not to finish production, leaving the last completed episode to serve as the finale. It remains to be revealed if the remaining four episodes, which were in some stage of preproduction when work was shut down, will be shuffled to the beginning of season 17. So Grey's fans, this is our end for the foreseeable future, and it was definitely an interesting way to end such a divisive season.
Amelia and Link Welcome a Healthy Baby Boy
After a rollercoaster of a pregnancy, Amelia went into labor during the doctors' mad scramble to figure out what's wrong with Richard. Technically, she had been in labor for most of the day and her water broke in the afternoon. When Carina breaks the news that she will be having the baby that day, Link hurries to be by her side. But when he's called away to help with Richard's surgery, Bailey takes his place since, as Amelia put it, she's the one who took him away during the birth of his child. Labor is no fun for the youngest Shepherd, but, in a lovely callback to Bailey's birthing experience with George O'Malley at her back, the chief of surgery hops onto the hospital bed and physically helps Amelia push her way to motherhood. When Link returns, fresh from helping with Richard's surgery, he's greeted by the beaming women and his newborn son.
Owen Learns of Teddy and Tom's Affair in an Unexpected Way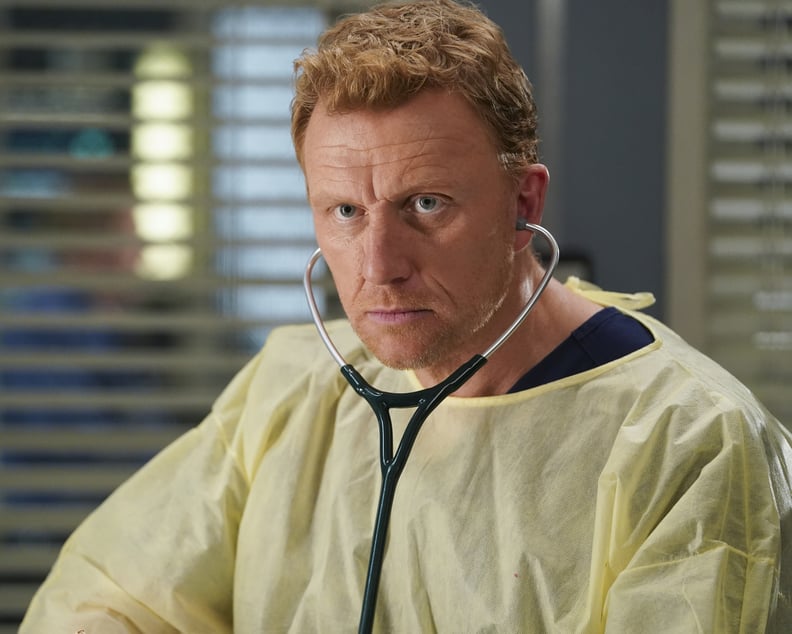 What's done in the dark will always come to light, and Teddy's dirty deeds do just that. The finale begins with Owen wrangling time off from Koracick to make his last-minute wedding plans with Teddy that very night, a fact that Koracick is quite surprised to hear considering his recent daliances with her. Owen is blissfully unaware of the tension between the lovers, but while he's busy in surgery, Koracick confronts Teddy about her decision. He reaffirms his love for her and states that he won't stop fighting for her, proposing that she run away with him. Teddy confesses that she loves him too and the two begin having sex in Koracick's office.
In what is possibly the worst accidental dial in TV history, Teddy leaves Owen a voicemail that leaves no mistake what she's up to. Owen has Levi play the voicemail mid-surgery, but quickly has him turn it off when he realizes what the sound is. Later, he listens to the voicemail all the way through, visibly heartbroken as he hears Teddy and Koracick discuss their relationship. Although Owen hears Teddy tell Koracick that this was a goodbye and she will be marrying the military man later that night, she arrives at their home to discover that Owen has canceled the ceremony without telling her.
DeLuca Figures Out How to Save Richard's Life
Despite everyone in the hospital doubting his every word, DeLuca proves he's still a competent resident when he determines what's been ailing Richard this whole time. When the episode began, Meredith, DeLuca, and practically everyone else in the hospital were looking up every lead to diagnose Richard's sudden illness. A portion of them believes his symptoms mean he has Alzheimer's until the surgeon in question reveals that he's lost feeling in his feet and hands. In case you aren't following, those are not signs of Alzheimer's! Turns out Richard has severe acute onset motor and sensory nerve degeneration, which means the doctors have to figure out a new diagnosis. DeLuca's frenzied research leads him to the answer: Richard had a hip replacement made of cobalt which could be deteriorating and poisoning him, thus, causing all of his symptoms. Lo and behold, DeLuca was right. Again!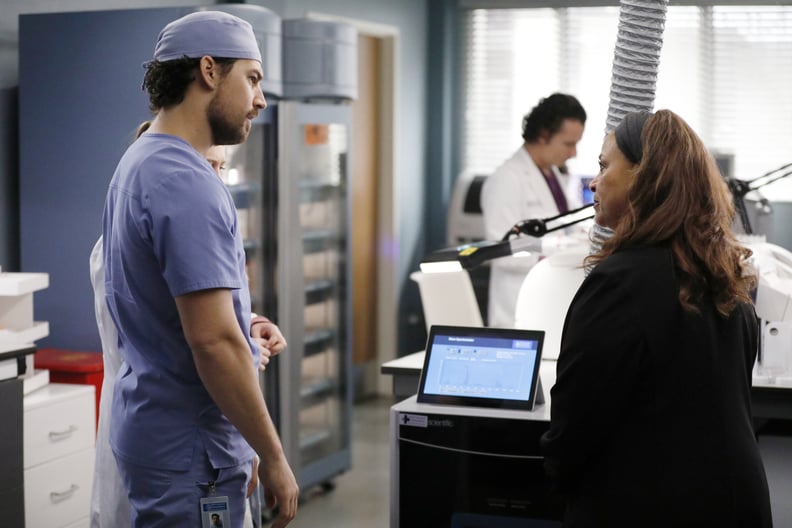 Link is called in to extract and replace the hip (taking him away from the birth of his son), with DeLuca nearby to watch because it was his diagnosis. When Richard wakes up at the end of the episode, he's a sight more coherent than he's been for several episodes, which is sincerely a relief. But everything isn't rainbows and butterflies; when Catherine joins Jackson and Maggie by Richard's bedside, he reveals that whatever goodwill he felt toward her during his illness is gone. He wants nothing to do with her and his anger over her past transgressions is still alive and well. "Did you stand by me while I was being fired? You buy my hospital to humiliate me, or is that my mind playing tricks, too?" he argues, before kicking his estranged wife out of the room.
DeLuca is also going through it at the end of the episode, as we catch him having a breakdown outside of Richard's room. It's further evidence of the bipolar disorder-like symptoms he's been experiencing throughout the season, but luckily Meredith is the one who finds him slumped on the floor and offers to take him home. We won't be getting any answers to that mystery this season, but the ending does inspire hope that whenever DeLuca begins to seek help, he'll do so with Meredith by his side.
In an interview with Deadline, Grey's showrunner Krista Vernoff, she revealed that there are no plans for season 17 yet, but that the writers have been brainstorming. "I have a feeling that their stories are going to change some from what we had planned, and that we'll repurpose some of what we had written [for season 16] and use it in the early episodes of season 17," she said.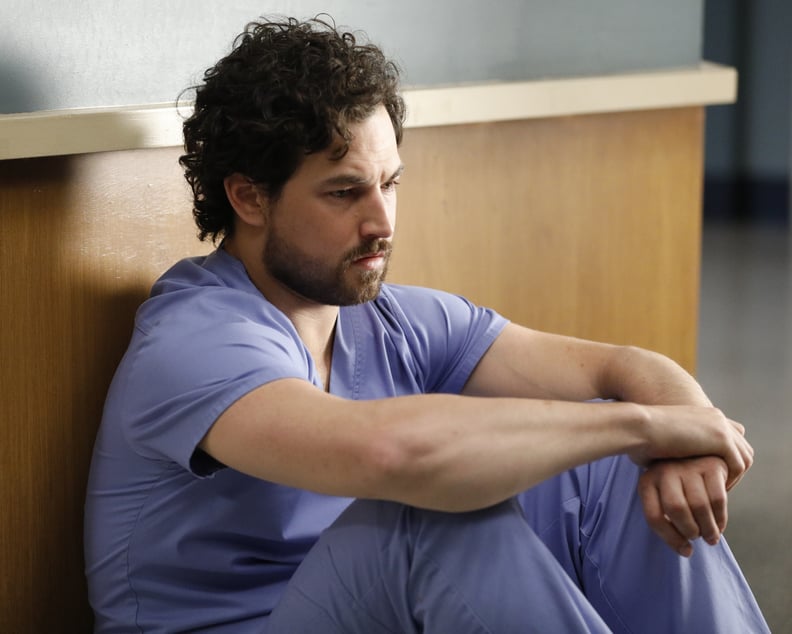 Vernoff also admitted that the unplanned ending of season 16 left many storylines hanging, but she was especially disappointed that production wasn't able to explore Teddy's behavior and the storyline about the human trafficking victim that DeLuca attempted to save on the March 19 episode, "Give a Little Bit." She explained that a planned episode would have articulated Teddy's reasoning for cheating on Owen with Koracick, but it wasn't possible. "We've left her in a strange place," she noted. "Why would she sabotage — why, when she was finally getting her happy ending, did she sabotage it? I think it's a super-rich area, personally."
As for the human trafficking victim DeLuca was concerned about — whom he tried to save by convincing Bailey and Meredith that she was being held against her will, but no one would listen to him because he was in a manic state — Vernoff revealed that she was meant to return in a later episode because "it felt important to offer that kind of hope to people who are living that experience." Though season 17 still isn't quite in the works, the showrunner claimed she might still complete that story. Hopefully, DeLuca will be in a mental state where he can appreciate seeing her free from her situation!