This Harpist's Songs Are So Heavenly, She Was Scouted to Perform at the Grammys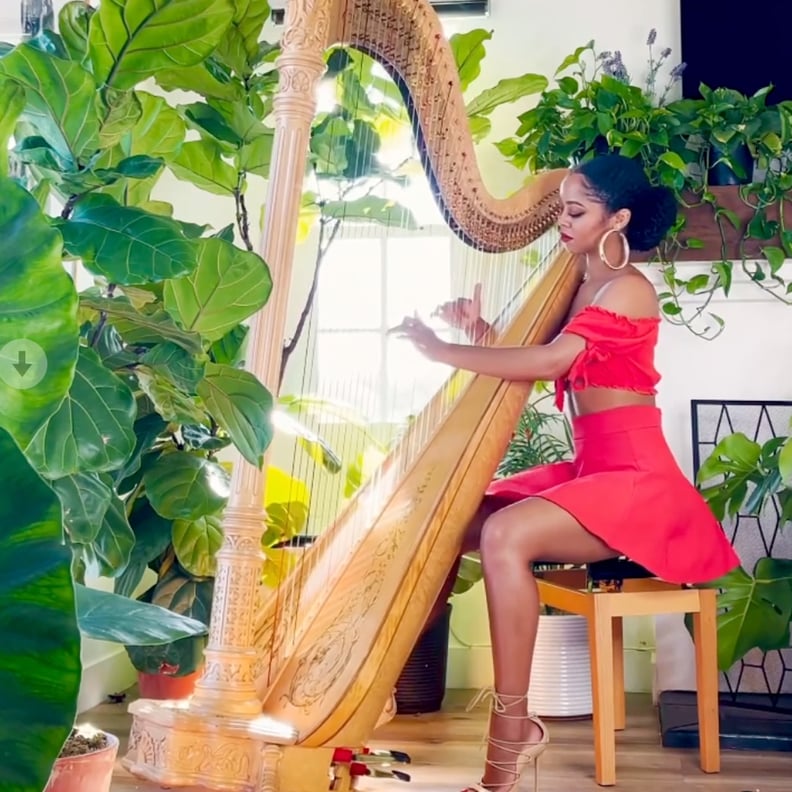 At 4 years old, Madison Calley was serenaded by a harpist playing some of her favorite Disney songs at a restaurant in Alexandria, VA. More recently, she took the stage alongside Roddy Ricch at the 63rd annual Grammy Awards with her own harp by her side. For the past 18 years, Calley's instrument of choice has been the Lyon & Healy Style 23 Natural Finish Harp, which weighs 81 pounds and stands a towering six feet tall. "Music's pretty prevalent on my mom's side of the family," Calley told POPSUGAR, adding that her grandfather was Lionel Richie's first music teacher in Tuskegee, AL.
Before she could even read, Calley had fallen in love with the instrument and began precursory piano lessons at age 6. When she was 8, she got her first lever harp and began taking private lessons, and she's been playing ever since. "My family still can't believe it because I put up such a fight practicing as a kid," she said. "I started to just really resent and hate the instrument once I learned how hard it was [but] my mom definitely made me stick with it."
After graduating high school, Calley went on to study music at Carnegie Mellon University and realized that she wanted to branch out past the classical songs taught in her orchestra classes. Instead, she prefers to perform unique takes on modern hits like John Legend's "Ordinary People" and Alicia Keys's "If I Ain't Got You," which can take her anywhere from two to three weeks to compose on the harp.
"I'm hoping that through teaching and through just posting consistently that more people will see the instrument and see how beautiful it is."
Currently, Calley is in the beginning stages of planning out an album composed of melodic R&B, pop, and soul covers with the possibility of a few original compositions. Some of her favorite artists include Beyoncé, Rihanna, Adele, Alicia Keys, Sade, and Eartha Kitt, but she says Israel Kamakawiwoʻole's "Over the Rainbow" has been her go-to song for virtual performances. "R&B is my favorite genre of music. It has been since I was a kid," she said. "Jazz is also pretty big in my life. There's actually a jazz harpist, Dorothy Ashby, who's like the legendary Black harpist. I look up to her a lot."
After college, Calley moved to LA, where she met a friend of a friend, who happened to be Willow Smith and Jaden Smith's manager. A year later, he contacted Calley to recruit her for a performance with Willow. "When I did that performance was when I realized like, wow, there's a whole other industry of music here in LA," she said. "That's when I was like, 'Let me try some R&B songs that I like on the harp.'"
When she's not raking in hundreds of thousands of views on Instagram, Calley enjoys soaking up the sun, going to the beach, and practicing her African harp — a string instrument that combines elements of the lute and harp. She also teaches private harp lessons for students as young as 5 years old. "I start a lot of my students on piano," she added, pointing out that many harp students learn piano first because it makes the process of learning a new instrument easier.
Through offering private harp classes, Calley hopes to inspire more Black musicians and musicians of all ages to discover their own passion for the instrument. "I've noticed a lot of reception from the minority community to my videos are people asking, 'What is this instrument?' Or, 'How much does this cost to learn and how do I get my kids involved,'" she said. "I'm hoping that through teaching and through just posting consistently that more people will see the instrument and see how beautiful it is. The instrument originated in Africa. It would be great to see a lot more Black harpists in America." Enjoy some of Calley's most gorgeous harp covers ahead.
Madison Calley Playing "If I Ain't Got You" by Alicia Keys on the Harp
Madison Calley Playing "Für Elise" by Beethoven on the Harp
Madison Calley Playing "Halo" by Beyoncé on the Harp
Madison Calley Playing "Just the Two of Us" by Grover Washington Jr. on the Harp
Madison Calley Playing "Ordinary People" by John Legend on the Harp
Madison Calley Playing "B.S." by Jhené Aiko on the Harp
Madison Calley Playing "Focus" by H.E.R. on the Harp
Madison Calley Playing "One Wish" by Ray J on the Harp
Madison Calley Playing "So Sick" by Ne-Yo on the Harp
Madison Calley Playing "Diary" by Alicia Keys on the Harp
Madison Calley Playing "Clair De Lune" by Claude Debussy on the Harp
Madison Calley Playing "All My Life" by K-Ci & JoJo on the Harp