Interview With Diet Paratha Founder Anita Chhiba
Diet Paratha Founder Anita Chhiba Wants South Asians to Break Free From Cultural Stereotypes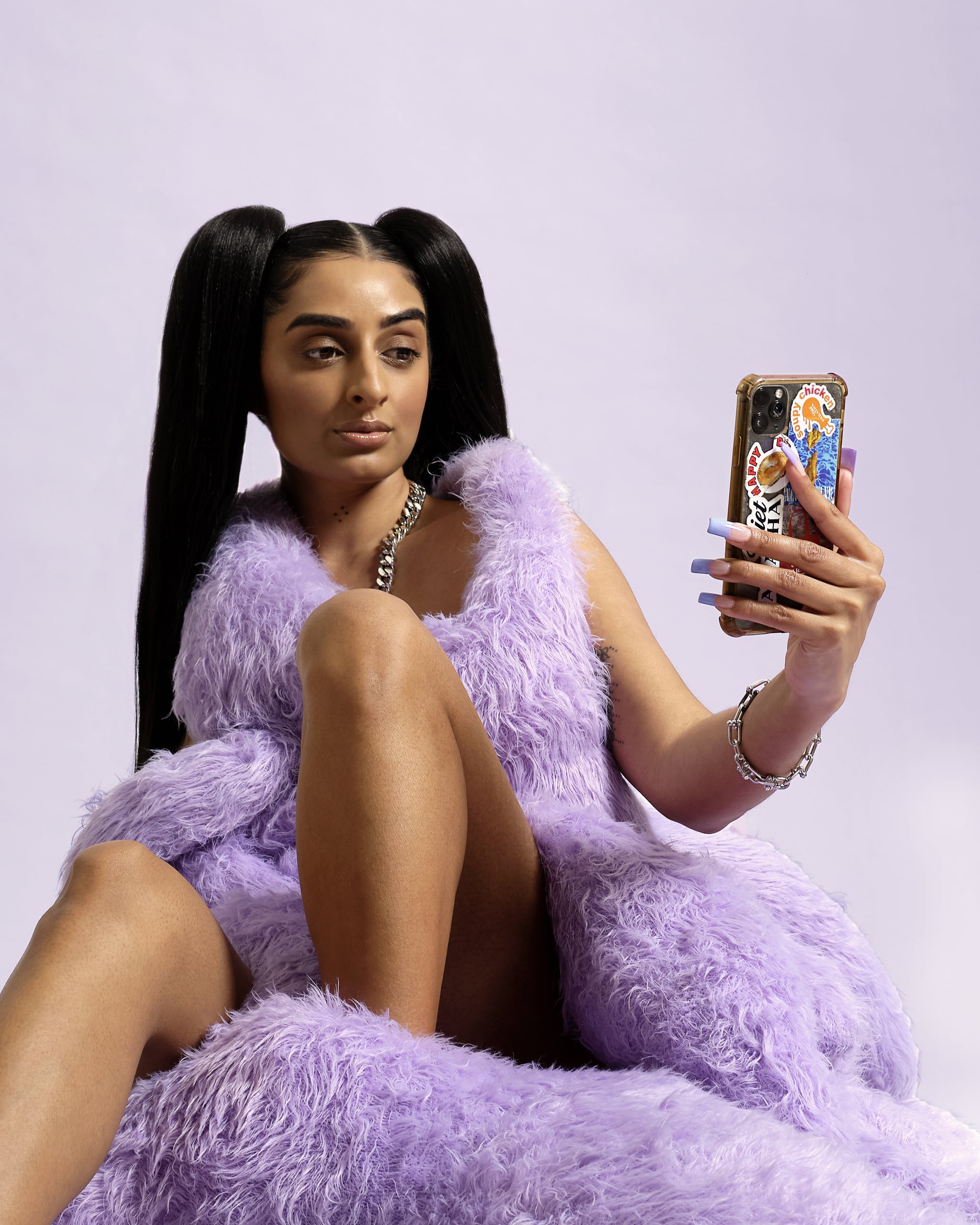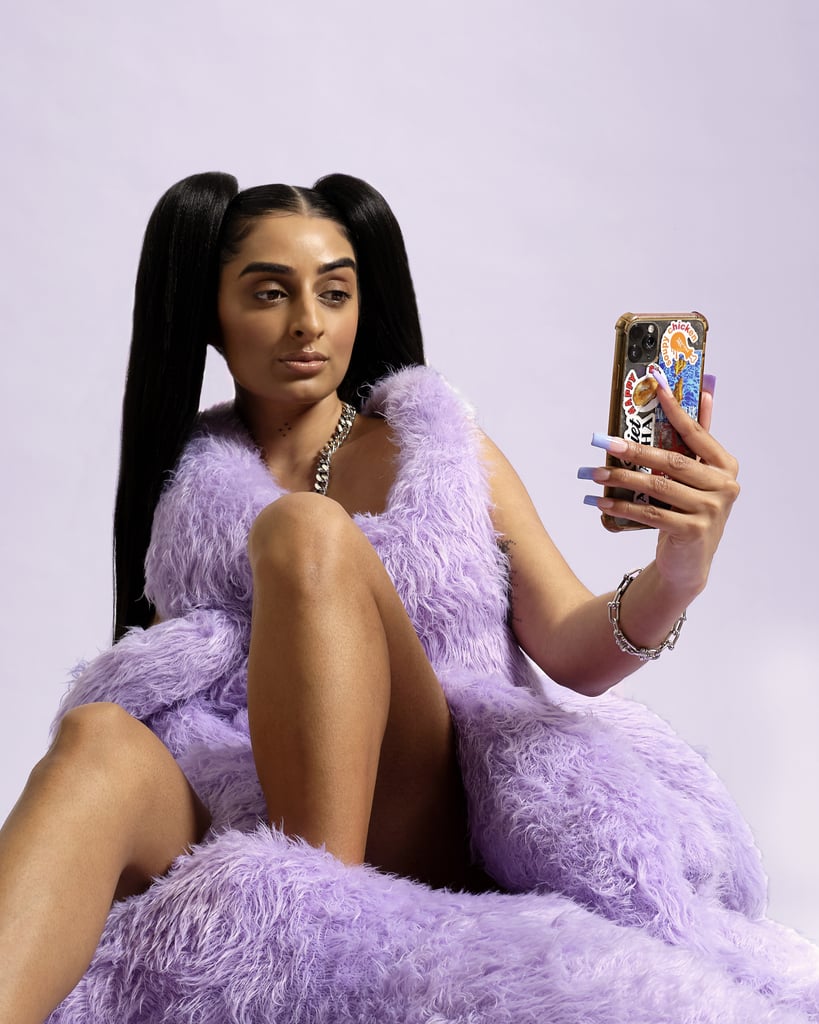 For the longest time, there's been a lack of representation for the South Asian community within the creative industries. Whether it's radio, TV and film, or beauty and fashion, South Asians have long been forgotten. In recent years, the perception has changed thanks to influencers like Anchal Seda, magazines like Burnt Roti, and TV shows like Never Have I Ever, but the community surrounding these cultural phenomenons still ceased to exist. Until now, that is. Diet Paratha is a community platform on Instagram run by Anita Chhiba, which exists to celebrate the range of talent across the South Asian diaspora. We caught up with Chhiba to talk about how the page first came about and why it's so important.
"Diet Paratha is a place where we truly celebrate a very high caliber of creativity, and I haven't seen anyone do that before," Chhiba told POPSUGAR. She explained: "I'm from New Zealand, and we've only got two generations of South Asian people there. We're still a young country, so that representation on a minority scale is extremely low. I started exploring the internet and following influencers from the UK and America, and that was kind of when Reclaim the Bindi was floating around. I was just like, 'I feel like I'm part of something.'"
"Instead of cancelling people, it's about celebrating people. Diet Paratha is for the people."
Diet Paratha is, of course, inspired by Diet Prada; however, according to Chhiba, "Instead of cancelling people, it's about celebrating people. Diet Paratha is for the people." The page initially began as a repost page for vintage Bollywood posters, until Chhiba realized that she wanted to do more than just reshare the past. "I felt like we needed to see what was happening now," Chhiba said, adding, "I started reposting influencers and shoots that they were doing, and then I started to discover South Asians in high-end fashion." Chhiba comes from an advertising background, and as she began to connect with artists and art directors through Diet Paratha, she realized that there were a lot more South Asians like her, creating high-quality content for themselves in a way that she'd not seen done before.
The message that Chhiba hopes to spread with Diet Paratha? "You don't have to be tied to these cultural stereotypes to be relevant," she said. "You can grow outward, and that's the only way we're going to kind of break free from these cultural restraints. We're so much more. That stuff is so important. By [growing outward], it aids my position to strengthen or like to expand the view that people have of us."
Chhiba went on to collect illustrations and images created by people who looked like her and began to notice the page taking a turn for the better. The contemporary representation that she began to have on Diet Paratha was exactly the thing that she wished she had growing up, which is also what inspired her to create the page itself. "The other main driving force [for the page] was because I needed this when I was growing up. I didn't have this. I never saw myself anywhere, and then I started to see myself, not just in people that looked like me, but in people that were fully interested and doing stuff that I wish I had done," she explained.
Since Diet Paratha began, Chhiba has noticed a huge growth in the community of South Asian creatives, and she's felt a tremendous amount of support from followers of the page, too. "We're very young as a creative generation, because of the restraints we've had culturally," she told us, adding: "Now it really feels like there's a surge of people and there's a full-on community, wanting to support one another. It's hard to showcase this, but the connections other South Asians have made through the page are amazing. People have been in Vogue and people have talked to Netflix. The power of the people is so strong, and it's just a really special place."
"If you need to reach a South Asian audience, I have it. But it's not just South Asians — it's cool South Asians doing things."
In receiving that support, it's become clear to Chhiba that the people who are supportive are most likely going to be South Asian, too. "All of this press, all these interviews that I'm doing, it's only South Asian people that are putting me on," she said. "Representation and inclusivity, from the ground up, is so important. Otherwise, I wouldn't be anywhere near where I am." Chhiba's also just been included in this year's Dazed100 list, which seeks to support and champion diverse creatives with innovative ideas.
In terms of the future of Diet Paratha, the goal is simple: to keep the community growing. "I really want to keep it at a place where the page maintains that very strict level of content curation," Chhiba said. "I want to keep bringing people in and creating my own stuff, and I want to do stuff with brands." She hopes that bigger brands will begin to recognize that the community already exists and that they simply need to work with it instead of alongside it. To Chhiba, "It is so painfully obvious when brands try to jump on board to be part of some kind of cultural movement. Work with us to amplify the message. I want it to be that brands aren't capitalizing off of us, because they need us more than we need them. We are represented because they're just taking from us, they're never giving back to us. Because there's so much trauma around being underrepresented, it's really hard to even process when we are."
The page started out as a mood board and a place to highlight the incredible work that the South Asian community was doing, but in recent months, it's become so much more. With almost 10,000 followers, Chhiba frequently gets requests from members to collaborate on projects, one of which kick-started its playlist feature in collaboration with DJ collective Daytimers UK. "We're using the page as a foundation and a jumping off point to do all these little side things," Chhiba explained. "All my friends are all art directors and photographers, so we've done shoots. I want to make stuff happen. My thinking is that we've got the resources, so let's just do it. If you need to reach a South Asian audience, I have it. But it's not just South Asians — it's cool South Asians doing things."
Image Source: Shaye Laree