Is Andrew Garfield Really Singing in Tick, Tick...Boom!?
Tick, Tick... Boom! Gave Andrew Garfield a Reason to Finally Show Off His Singing Voice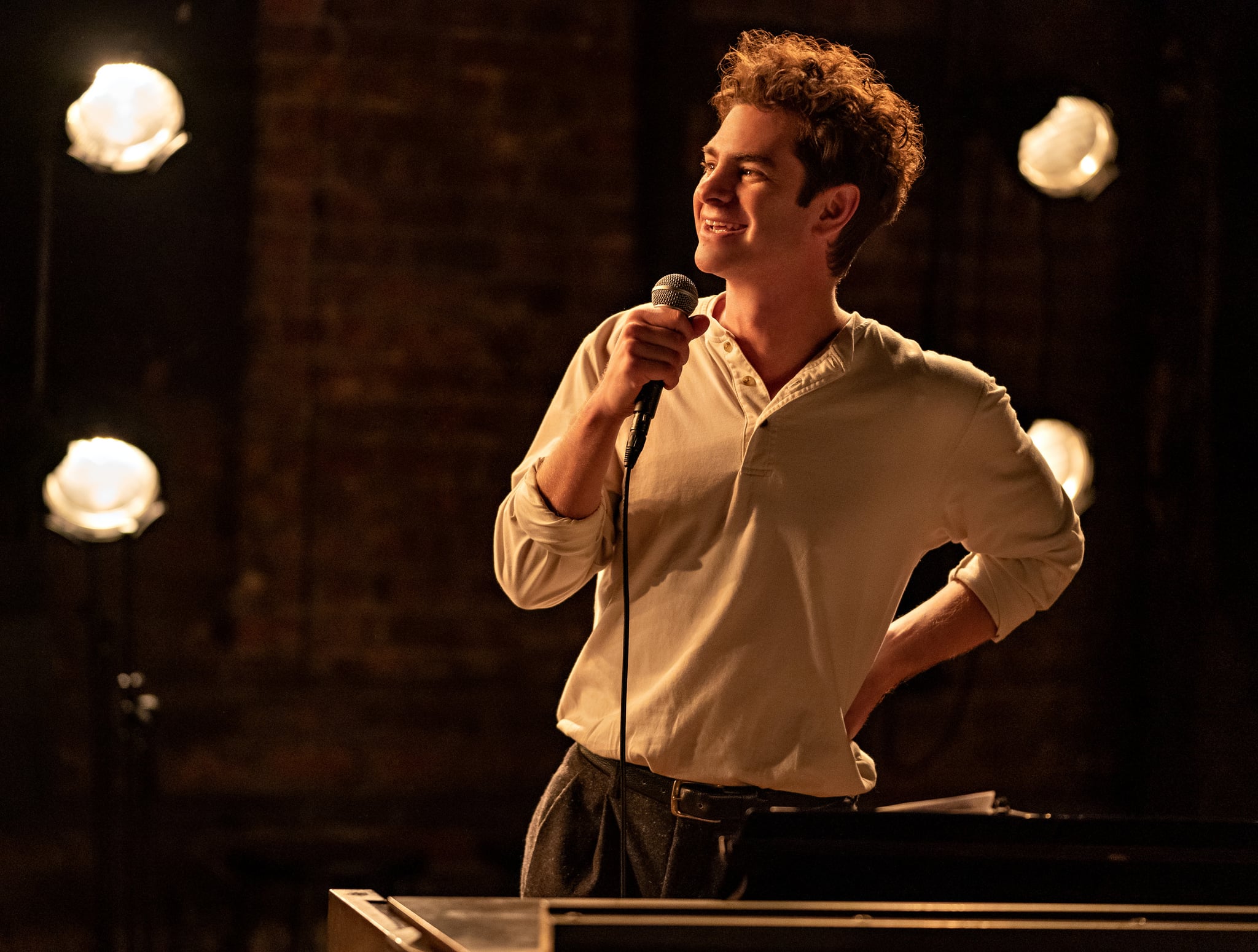 When Netflix released a recording of Andrew Garfield singing "30/90" for the upcoming movie Tick, Tick...Boom! at the beginning of October, fans were both excited for the film about Broadway legend Jonathan Larson and surprised to hear Garfield's voice. In playing the role of Larson — the beloved composer and playwright who passed away just before just before his musical Rent first opened off-Broadway — it only stood to reason that Garfield would have to bring some musical stylings to the big screen. However, Hollywood has been known to cast a star in a leading role, only to have a different actor provide the singing voice. So what's the case with Garfield? It turns out that singing voice is all the Spider-Man actor's own.
This is the first time Garfield has shown off his singing voice, and he apparently never even realized that he could sing until this project came along. In a June interview with Stephen Colbert, when asked why he'd been hiding this voice for so long, Garfield said the "jury's still out," adding, "I've never sung before. It was kind of a shot in the dark."
The project actually came to Garfield when director Lin-Manuel Miranda was speaking with his massage therapist, Gregg Miele — who just so happens to also be Garfield's massage therapist — and asked him if the actor could sing. Garfield told Colbert, "Lin one day goes, 'Hey, Gregg, can Andrew Garfield sing?' And Gregg immediately goes, 'Oh, my God, buddy, he has the most beautiful voice. He's an angel.' ... And then Gregg called [me] and he goes, 'Hey, Andy, can you sing? ... Lin thinks you can sing.'"
Miranda told The New York Times in September that after seeing Garfield perform in Angels in America on Broadway in 2018, he knew he wanted to work with him. "I didn't know if he could sing, but I just felt like he could do anything," Miranda said. "So I cast him in my head probably a year before I talked to him about it."
But even though Garfield didn't have much experience in the way of singing, he told The New York Times that flexing his singing muscles during Tick, Tick...Boom! was an incredibly rewarding experience, thanks to the team he had on the movie. He said the cast and creative team would cheer for him as he was working through performances, adding, "I start crying, and I say, 'I don't know if I've ever been this happy in my entire life, to be surrounded by the most supportive liars I have ever known.'"
Garfield's impressive singing voice will feature throughout Tick, Tick...Boom! when it arrives in theaters on Nov. 12 and drops on Netflix a week later on Nov. 19. The movie follows Larson as he's working on creating his musical of the same name in the early 1990s while navigating living in New York City as a young creative.