Kaya Scodelario Did Some Skating in Spinning Out, but Definitely Not All of It
The Netflix drama Spinning Out features some pretty incredible figure skating in its first season, so we're wondering if any of the actors, such as Kaya Scodelario, are really skating — or if they're using pro skaters as doubles. This wouldn't be the first time that actors underwent serious training for a role, but as you might expect, it's not always Scodelario pulling off Kat's impressive moves on the ice. In fact, Kat's skating prowess is the work of no fewer than five separate people!
In a tweet from December 2018, Scodelario referenced the skating training she did have to do. "Very excited to start work on this in the new year . . . Kat's story is so beautifully complicated and near to my heart. This isn't just girl meets boy . . . I promise. Now, time to train!! #mybuttsgoingtobesobruised #watchoutxmasicerinks." The exact extent of Scodelario's training is unknown, but it seems safe to assume that her training was so that she could do the easier moves and avoid needing to use a double and/or CGI in the simpler scenes on the ice.
When it comes to the jumps, throws, and lifts that are a spectacular part of pairs skating, Scodelario had four skating doubles, according to Refinery29. Kim DeGuise Léveillée, a former Canadian junior national champion, was her jump double (and also pulled double duty as the skating double for Willow Shields, aka Kat's younger sister Serena). For non-jump, non-pairs moves that were still too tricky for an untrained skater like Scodelario, Michelle Long (below), a current Canadian skater, stood in as Kat.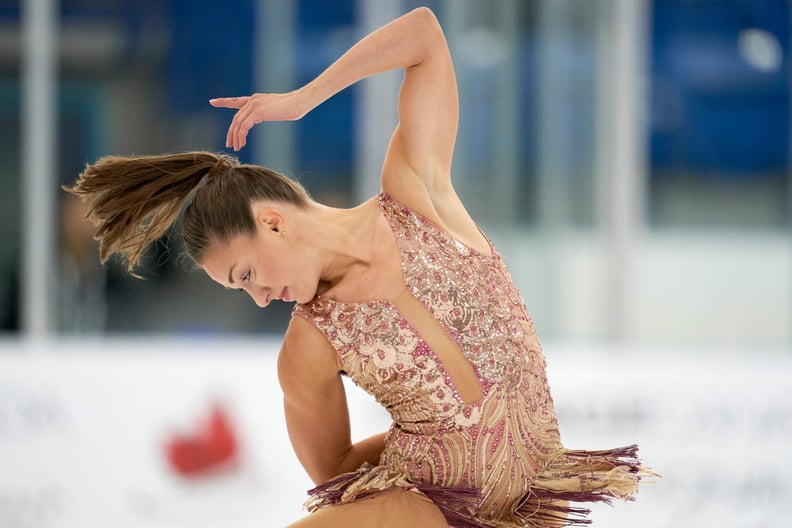 The complicated, risky pairs moves (throws and lifts) were done by experienced pairs skaters who stood in for both Scodelario and co-star Evan Roderick, who plays Kat's partner Justin. Scodelario's half of the moves were done by Elizabeth Putnam, a retired Canadian pairs skater, in episodes 3 and 4. In episodes 7 and 10, Evelyn Walsh skated as Kat. Walsh is currently competing in pairs skating alongside partner Trennt Michaud (who skates with her as Roderick's pairs double in these episodes) and the two are the reigning Canadian silver medalists.