Karla Souza Talks Day Shift and Working With Jamie Foxx
Karla Souza Says She and Jamie Foxx Salsa Danced Her First Time on "Day Shift"'s Set
Watch out! This post contains spoilers.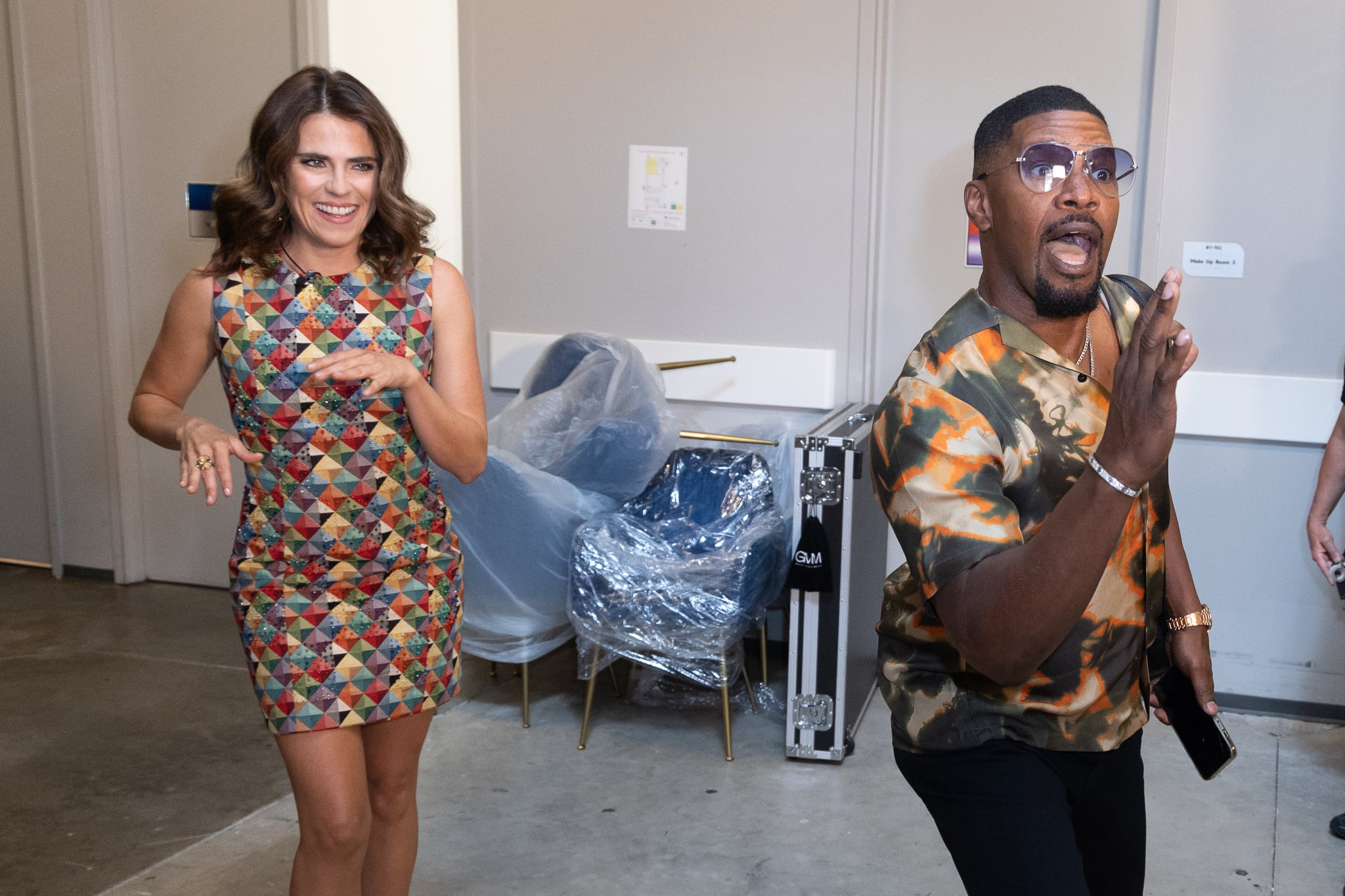 Image Source: Getty / John Parra
Netflix's "Day Shift" isn't your average vampire-hunting movie, and film star Karla Souza can attest to that. The "How to Get Away With Murder" alum stars in the action sci-fi-comedy as Audrey, a ruthless, ancient vampire boss who just so happens to be San Fernando Valley's most powerful real-estate agent, too.
"I felt like it was a really strong female character, and it was breaking that stereotype of what normally is asked of Latinas in these type of films."
"Day Shift," directed by J.J. Perry, follows blue-collar vampire hunter Bud Jablonski (Jamie Foxx) as he tries to earn enough cash hunting down vampires to prevent his wife (Meagan Good) and daughter (Zion Broadnax) from moving away from the Valley. In the process, he unknowingly kills Audrey's daughter and must team up with some unlikely allies — fellow vampire hunter Big John Elliott (Snoop Dogg) and timid union rep Seth (Dave Franco) — to stop her from killing his family. But Souza's vampire character still has secret plans to gentrify the city with her own blood-thirsty spawns in the wake of her daughter's death.
Souza is best known for playing a law student in her ABC legal drama, but "Day Shift" is a nice change of pace for the actor. "I really wanted to do an action movie," she tells POPSUGAR. "Normally, in these big franchise action movies, the female protagonist is very sexualized. This time, I read ['Day Shift''s script] and I thought, 'Wow, this is just a strong, ambitious businesswoman. She's a mother, taking her land for her family.' I felt like it was a really strong female character, and it was breaking that stereotype of what normally is asked of Latinas in these type of films."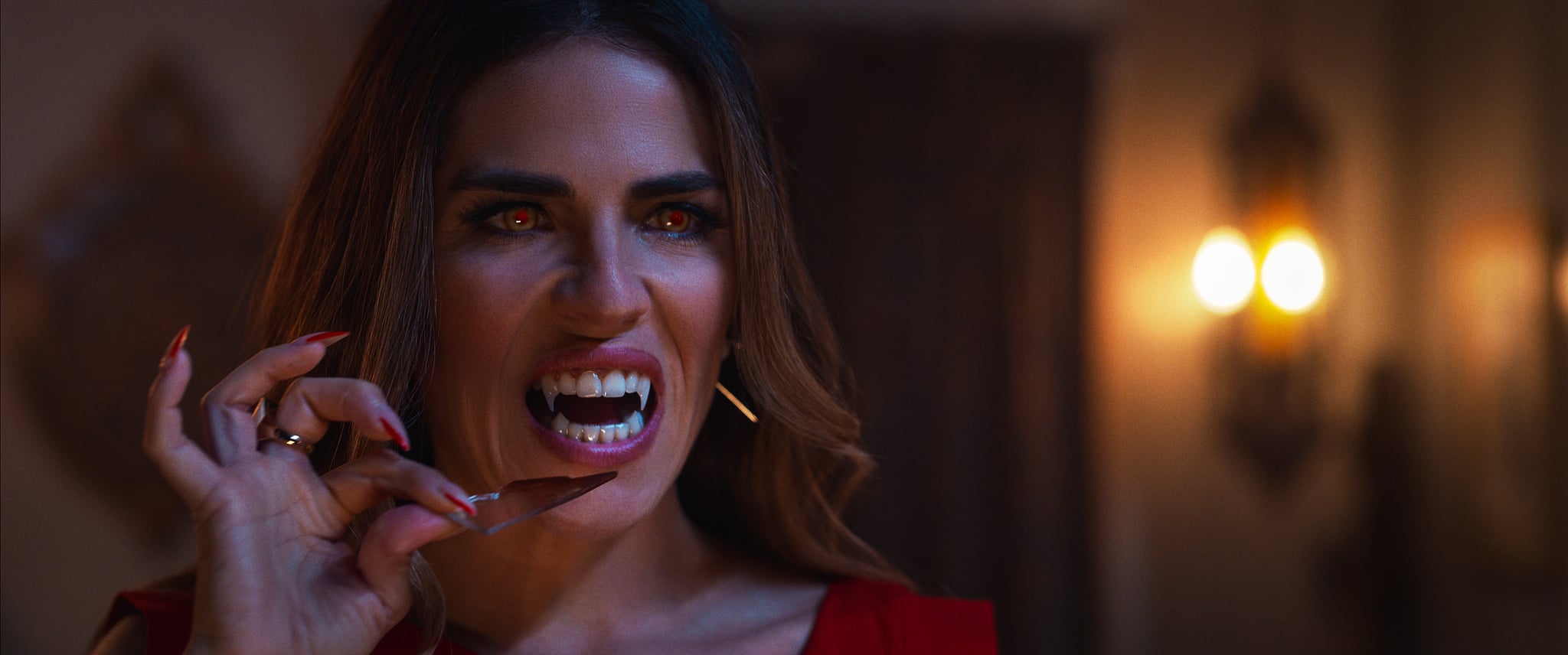 Image Source: Netflix
"Day Shift" is an action-packed flick filled with fast-paced fight scenes, so playing a character who was allowed to do her own stunts was a plus for Souza, along with getting to work with a star-studded cast. While filming, the actor says she especially connected with costars Franco and Natasha Liu Bordizzo (who plays citizen-turned-vampire Heather), but Foxx and Snoop were equally welcoming. "Snoop Dogg was the kindest [and] sweetest. Every day he would be on set, there was a present for me in my trailer," Souza shares, adding, "Jamie's an incredible, generous leader. He's crazy and has so much energy. My first day on set, I was already salsa dancing with him, so I was like, 'Alright, this is going to be fun.'"
Souza admits she had to do some thorough research to prepare for her vampire role as she "didn't know any of the rules." "I didn't know they can't have garlic, blink, or cry. There are so many rules, and so rather than reading up on it, I was like, I'm just going to watch a few things," she adds. "From 'The Lost Boys' to 'Only Lovers Left Alive,' just the most random things of vampires . . . it's very overwhelming and daunting. You're like, 'Are we going to live up to the standard of vampire world?' But I think we did a pretty good job."
Doing her own stunts was one thing, but physically getting into character was a whole other challenge for Souza. "Are you kidding me? I had a lisp every time I had the fangs in. I couldn't be menacing in any way; they would make fun of me," she says, adding that "having the contact lenses in, it's like you can barely see. So to act as if that's my comfort zone and my normal thing, that was a little bit of a stretch for sure."
Souza makes for a pretty convincing vampire, but even her terrifying character couldn't stop Foxx and Perry from poking fun at her frills when the cameras stopped rolling. "J.J. and Jamie were laughing at me when I was talking," Souza says of having to wear fangs. "I was trying to be all menacing, and it just wasn't working."
"Day Shift" is available to stream now on Netflix.