Kelly Clarkson and John Legend "Baby It's Cold Outside" Song
Kelly Clarkson and John Legend's "Baby, It's Cold Outside" Duet Will Feature Less Creepy Lyrics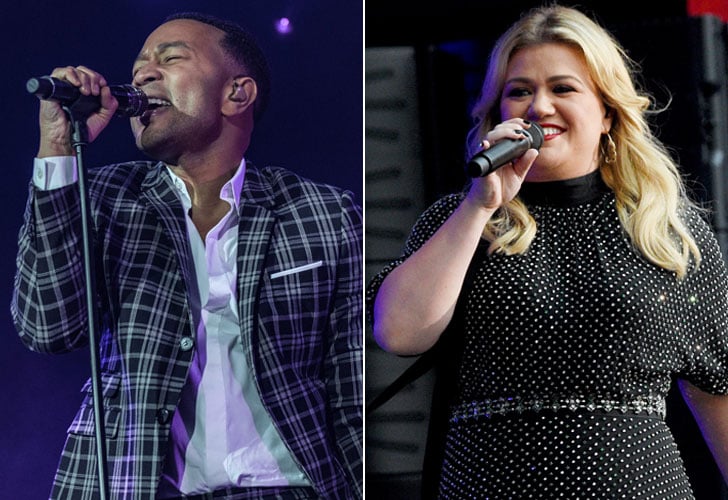 Let's face it: while "Baby, It's Cold Outside" is one of the catchiest classic Christmas songs around, the lyrics have not aged well. In fact, the tune has sparked multiple controversies in recent years due to its questionable lyrics, which have led many to wonder if they describe an instance of date rape. But now, thanks to The Voice judges Kelly Clarkson and John Legend, a new edition of the song will be sufficiently less creepy.
Per Vanity Fair's new cover story featuring Legend, the more-woke take on the holiday song will debut as a standalone single closer to the holidays. Legend is penning the new lyrics along with Insecure's Natasha Rothwell, and it will reportedly be "every bit as fun and swinging as the original." Legend even gave the magazine a taste of the new lyrics:
"What will my friends think . . ." sings Clarkson.

"I think they should rejoice," Legend responds.

" . . . if I have one more drink?"

"It's your body, and your choice."
The song was first penned by Guys and Dolls' Frank Loesser, who wrote it as a duet for him and his wife to sing at parties. The song was later sold to MGM to be used in Neptune's Daughter, in a scene where a male character is trying to keep a woman from leaving. "My answer is no," she says, before he responds that she can't possibly leave because of the heavy snow. "What's the sense of hurting my pride?" he asks as she tries to leave again, before she eventually exclaims, "Say, what's in this drink?"
It's that line, especially, that has made people question if the man in the scenario has slipped her something stronger than just alcohol. Additionally, "Baby, It's Cold Outside" is also plays pretty fast and loose with the idea of consent in general. Luckily, Clarkson and Legend are going to dust off this holiday bop and let us all listen to it guilt-free, for once.