Source: Amazon Prime Video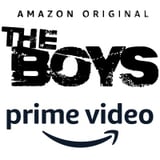 We've partnered with Amazon Prime Video to give you a sneak peek of what you can expect in season two of The Boys. Binge the first season on Amazon Prime Video now before the first three episodes of the new season drop on Sept. 4!
The Boys isn't your average superhero series. This dark, gritty Amazon Prime Video show had our jaws on the floor from the first few minutes. Packed with complex characters, explosions galore, plot twists and turns, and special effects that almost seem too realistic, season one of The Boys has it all — and season two is about to up the ante.
Adapted from Garth Ennis's comics by Eric Kripke, the dark comedy upends what you think a superhero TV show looks like. For one thing, the so-called heroes aren't really heroic: most of them are riddled with issues, from narcissistic personalities to perverse obsessions to drug addictions. And that's just scratching the surface: what's going on behind the scenes at the megaconglomerate that controls the world's foremost team of superheroes is even more disturbing.
Intrigued? That's just a small taste of what's in store for first-time viewers of season one. Here's why you should binge season one on Amazon Prime Video before season two premieres on Sept. 4.