Kristian Flores on Playing Simon in "School Spirits"
Kristian Flores Says His "School Spirits" Character Taught Him to "Really Love Again"
Watch out! This post contains spoilers.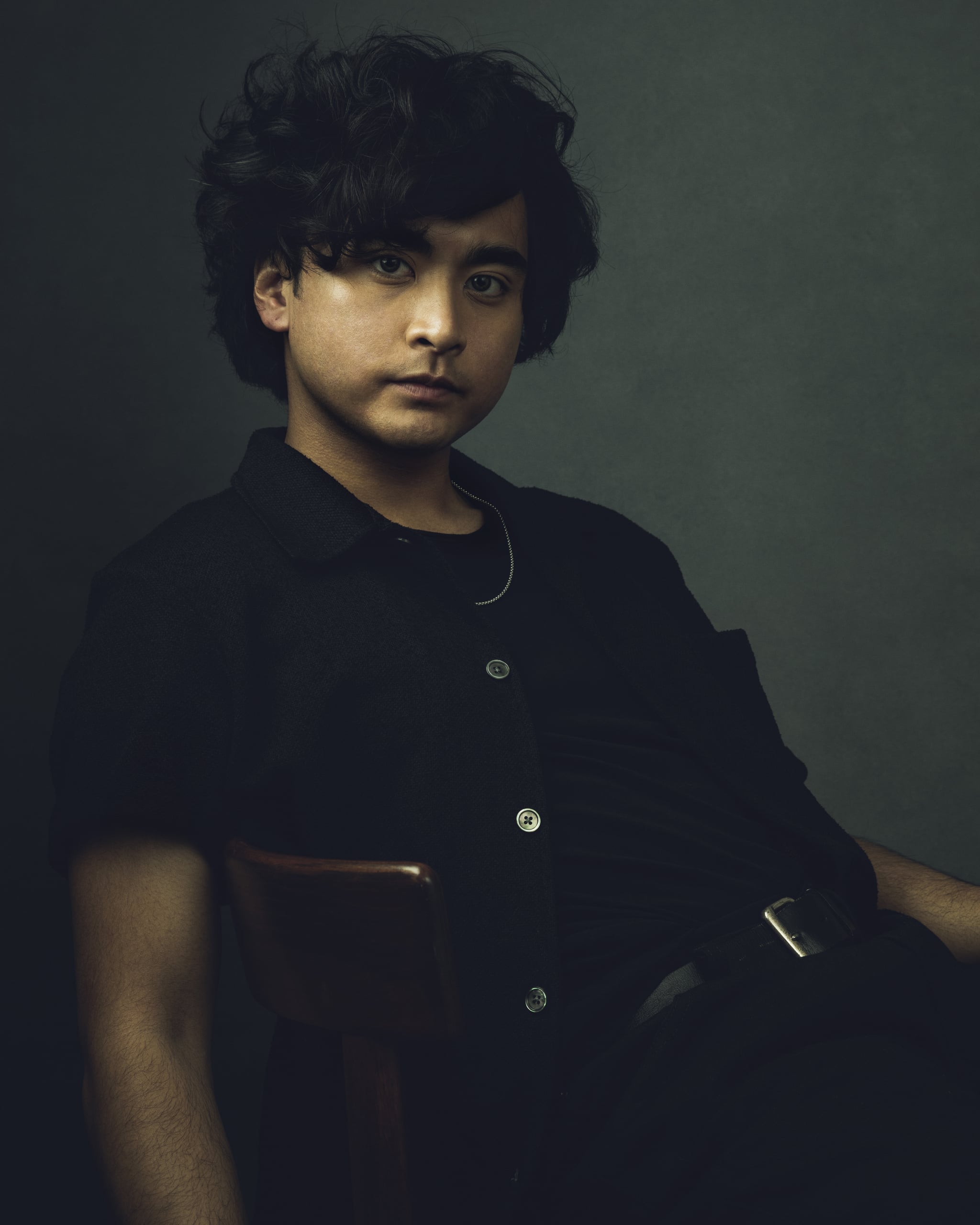 In "School Spirits," Kristian Flores plays Simon Elroy, a high school student struggling to come to terms with the unexplained death of his best friend, Maddie (Peyton List). For Flores, whose masterful and nuanced performance is one of the show's highlights, the role was an opportunity to use some of the past challenges that have peppered his life to add layers to his character.
"School Spirits" finds Maddie just as she discovers that she's a ghost who's trapped in high school forever. But the show isn't merely a teen dramedy or an exploration of the paranormal — it's also a layered tale about trauma, friendship, and love that transcends life. In her afterlife, Maddie worries about her alcoholic mother, whom she had to take care of extensively while she was alive, while Simon worries that he'll never see his friend again. The show's complex themes were a big draw for Flores.
"I lost a lot of things and people early on," he tells POPSUGAR. "So when I take a project, I don't want to dance. I call it dancing — when I read a script and the character isn't really doing anything. I like scripts that have something to say . . . I'd say that 'School Spirits,' at least, just cuts right into the meat. In the first five minutes of the show, you know it's going to ask good questions and that the creators are up to something."
For Flores, embodying a character like Simon — who shares such a profound bond with his best friend, Maddie, that he's even able to communicate with her after her death — was an opportunity to explore a kind of love he says he's tried to hide from. "Sometimes you get hurt a little bit too much to want to love again, right?" Simon, though, is "just the purest example of unconditional love, because his whole objective is to find the truth in the show," and Flores says that playing the character "kind of taught me that you could really love again."
Simon starts out as someone who is "sort of a critic" and "thinks he's above education," Flores says, and doesn't take much self-motivated action. But when Maddie dies, he suddenly finds himself obsessed with solving the mystery of her murder. "A teacher told me that we only have five to eight events in our life that change the course [of it] forever," he says. "I think this was the most important for him." When asked if he can name any of the five to eight events in his own life that have changed its course forever, Flores thinks before he settles on one. "There's a decision I made that kind of changed everything, which was I stopped watching movies and TV shows," he says. "I noticed that it hurt my acting, in a way. Alfred Hitchcock said, 'The more virgin our eyes are, the more we have to say.' And that sort of clicked in me."
Though Flores doesn't watch many TV or movies, he does spend his time engaged with many different forms of creativity. "When I'm not filming, I'm writing," he says. "I just finished my first novel, called 'The Happy Ghost.'" He's also a poet and is the author of two collections, "Can I Tell You Something?" and "The Goodbye Song"; the latter won the 2021 American Fiction Awards in Poetry: Anthologies. He's such an art devotee that, Flores says, if he were forced to stay in one place forever after he dies, like in "School Spirits," he'd pick the Louvre. "I would have to be in that museum forever, because that takes months — no, I think it actually takes years to fully look at every single painting and sculpture with enough time to understand it," he says.
But it's not only because of the art — it's because of the life-changing experiences the art creates for the real people who travel to see it, day after day and year after year. "How cool [would it be], just to watch dates, people go on dates, and people cry in front of these French paintings?" he muses.
When it comes to thinking about what actually happens in the afterlife, Flores isn't certain. "I think death is a concept that is outside the realm of our understanding. Still, unlike some of his other "School Spirits" costars, he's open to the possibility of ghosts and life after death. "Within that lack of comprehension, I think there's an eternity," he says. "I don't think we really die. I think we're with the stars."
For now, though, Flores is fully engaged in making the world a better place for the living. He also spends a lot of his time volunteering by raising money for homeless shelters, food banks, and disaster relief efforts. In 2017, he was awarded President Obama's Volunteer Service Award for his contributions to UNICEF.
We can expect to see him a lot more on our screens in the future, too. Flores has already starred in a number of movies and TV shows, including Hulu's "Reboot," and is carefully considering his next projects, looking for the ones that will cut through all the noise. "My goal is to find people in the industry who like the same thing as I," he says, adding that he's looking for stories about "textured human behavior, or any kind of layered emotion." "You don't find that very often in the industry," he continues. "I think there's just a select group of people who really want to make the same kind of movies. That's on the horizon for me — to search for people who love the same thing and want to make important films."
The first four episodes of "School Spirits" are now streaming on Paramount+.