Why Were Galadriel and Elrond Recast in "The Lord of the Rings: The Rings of Power"?
When you tune into Prime Video's "The Lord of the Rings: The Rings of Power," you'll see some familiar characters, but not necessarily familiar faces. For this epic prequel series, beloved characters Elrond and Galadriel will be playing major parts in the story, but they won't be played by the actors you recognize.
Who Played Galadriel and Elrond in "The Lord of the Rings" Movies?
In the early-2000s Lord of the Rings film trilogy, Cate Blanchett portrayed Galadriel, while Hugo Weaving played Elrond.
Who Plays Galadriel and Elrond in "Lord of the Rings: The Rings of Power"?
For the TV show, Morfydd Clark plays Galadriel, and Robert Aramayo is playing Elrond.
Why Were Cate Blanchett and Hugo Weaving Recast in "Lord of the Rings: The Rings of Power"?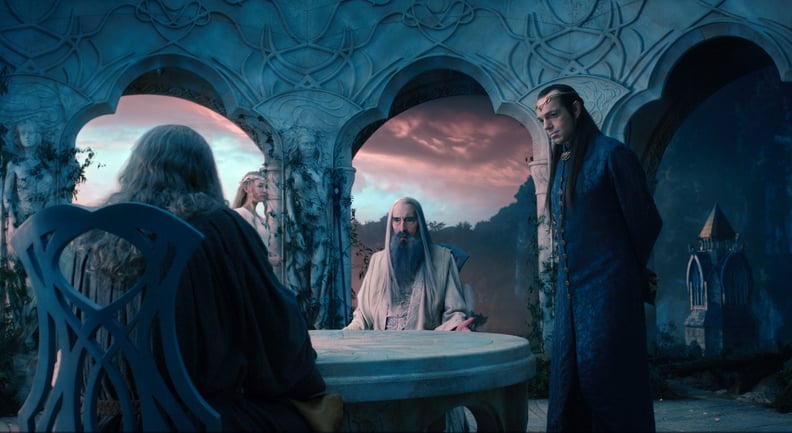 From a practical standpoint, it just makes sense for the characters to be played by different (and younger) actors. The TV series takes place thousands of years before the events of the original Lord of the Rings trilogy, so even near-immortal beings like Elves would look a little younger. The characters certainly wouldn't look older than they were in the original trilogy, which would be inevitable if they were played by the original actors, given two decades have passed since they were last seen in character.
The option for makeup effects and digital de-aging would be on the table, of course, but for characters who will have so much screen time, it's not very budget-friendly to have to use those effects too much. Even if the show had been interested in having Blanchett and Weaving return, it wouldn't make sense on a scheduling level. Both actors are full-fledged movie stars and likely wouldn't have committed to a TV show that, if well-received, could run for several years.
"Lord of the Rings: The Rings of Power" Cast and Crew Quotes About the New Galadriel and Elrond
Casting Clark and Aramayo took serious work on the part of the creative team for "The Rings of Power." After all, recasting such iconic characters is bound to create some strong opinions.
"What I really like about Morfydd is that kind of mystery," director J.A. Bayona told GQ. "She has this aura of mystery, an ethereal presence that fits so well with Galadriel. You can see how strong she is but at the same time, the mystery."
Aramayo, meanwhile, has some experience playing a younger version of an already-iconic role: he portrayed a young version of Ned Stark (played as an older adult by Sean Bean) in flashbacks on "Game of Thrones." "My job on that and my job on this were very different," he told Variety. "There, I was recreating the young Ned that we all knew and saw. That was the job. Whereas here, it's way more important ... for me to study First Age stuff, and bring the legendarium to the table in this interpretation ... [Young Elrond has] a complicated relationship with his dad, with what he achieved. His dad saved the world, his mum saved the world, his brother created Númenor. It's a lot of pressure on young Elrond."
It's a lot of pressure on these new actors, too, but we can't wait to see their takes on these iconic characters!