Mia Isaac and John Cho on Driving in Don't Make Me Go
Mia Isaac Says the "Don't Make Me Go" Cast and Crew Didn't Believe She Could Drive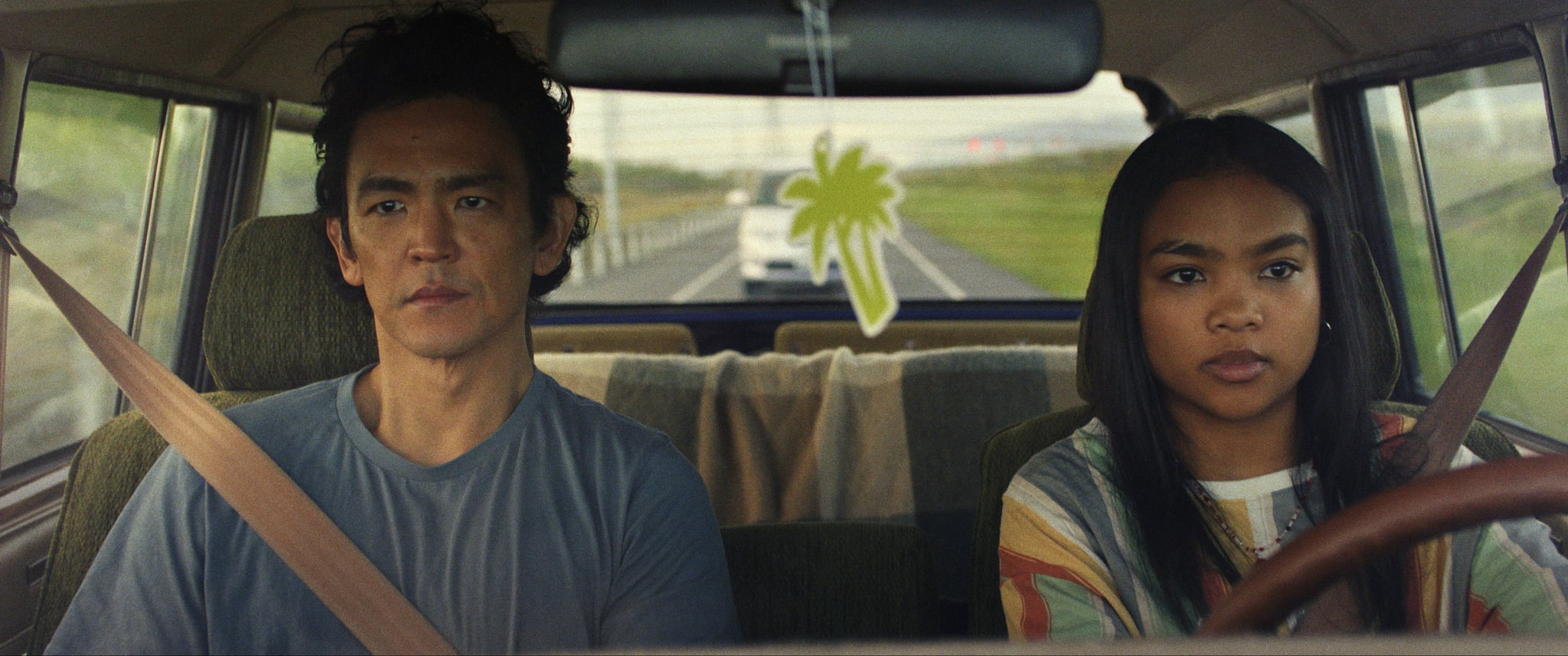 Mia Isaac is having a huge month. First, the 18-year-old stars with John Cho in the Hannah Marks-directed movie "Don't Make Me Go," which hit Prime Video on July 15. Later this month, she'll also appear alongside Zoey Deutch and Dylan O'Brien in the influencer satire "Not Okay." And while the young actress had the full faith of the "Don't Make Me Go" cast and crew despite being early in her career, there was apparently one thing they weren't so sure she could do: drive. That's a big deal in a movie about a road trip.
"I did know how to drive, but nobody believed me," Isaac tells POPSUGAR. In the film, Isaac's Wally is learning to helm a vehicle for the first time — with some disastrous results. Isaac says that in reality, neither she nor Cho was actually driving the car most of the time during filming; a pod on top of the vehicle took care of that to keep everyone safe.
"But we had to do this one free-driving scene where I actually had to drive the car, and everybody was like, 'Mia, are you sure you can do this?'" she says. "I was like, 'I have my license. I've had my license for almost a year. I promise I can do this.' And no one believed me, but I did really great, I think."
In the film, Wally and her dad, Max (Cho), are driving from California to New Orleans in search of her mom, who abandoned the family. But Wally doesn't know that's why they're making the trek — and she doesn't know her dad's ulterior motive: he has terminal cancer, and he's decided not to have surgery. Despite the sad topic, the film has a lot of joy, thanks to the amazing chemistry between Isaac and Cho.
"I think it came really naturally for us," Cho tells POPSUGAR. "It was not something we had to work on very, very much, I have to say. She felt like family to me pretty immediately, and then [the script] really guided us."
Cho says he was attracted to the project because he's a father himself and the relationship on screen resonated for him. "But in a bigger sense, also, it just seemed timely. I just feel like in our country, we're just becoming more and more fractured, and this was something about the thing that everyone can relate to, every person has in common," he says.
Isaac also says she instantly fell in love with the script. It helped that she wasn't a road-trip newbie coming in. "I've been on many road trips with my family. They've been very cramped," she says. "We have one small, small Prius, and there are five people in my family, and we're all just cramped into that car and go where we want to go. . . . It's like one of those clown cars, and everyone fits in."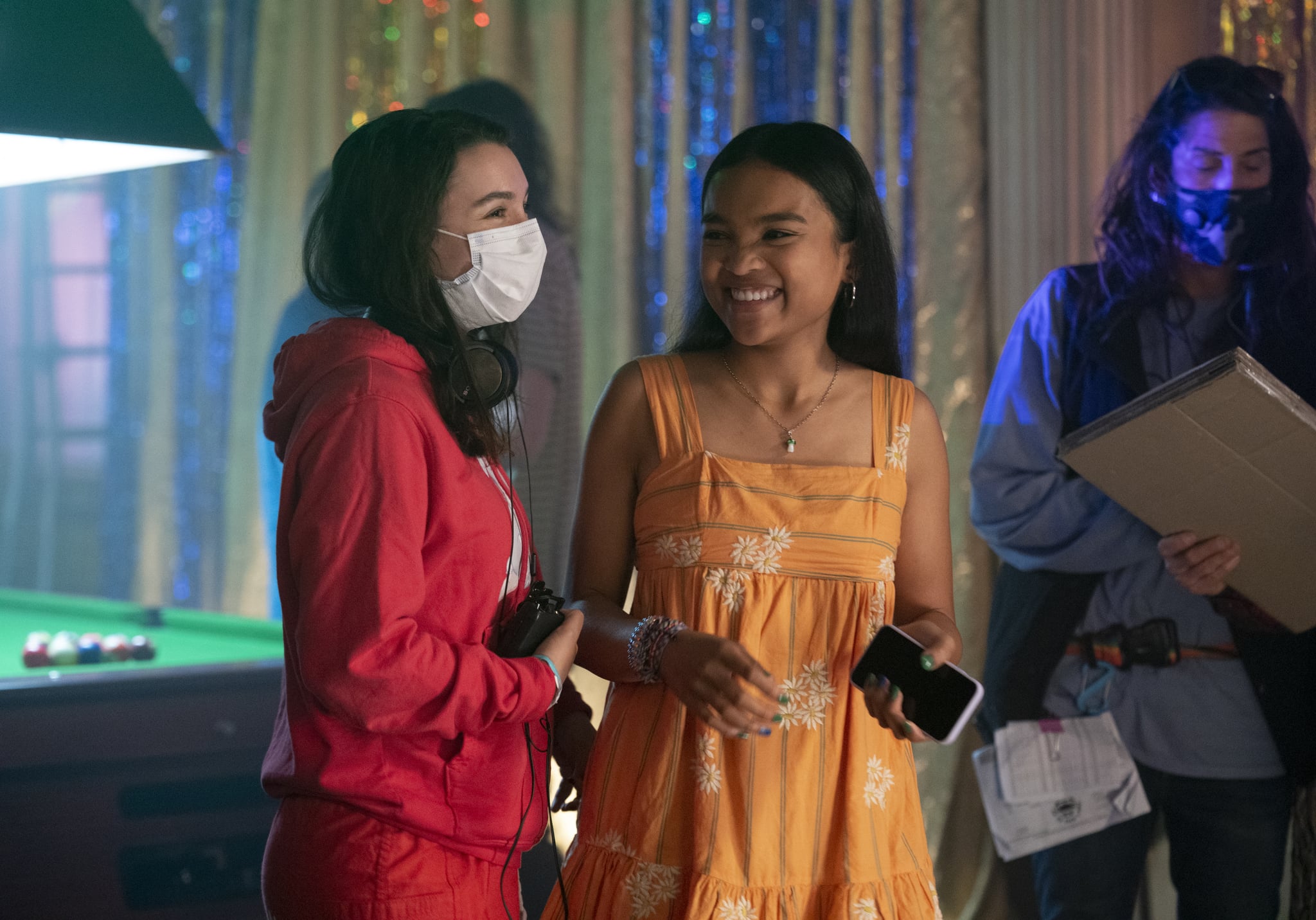 Director Marks says actually making the film was "really, really challenging" because they shot the whole thing in New Zealand, which had to stand in for multiple American states. "But at the end of the day, what mattered was the chemistry and the relationship between John Cho and Mia Isaac. And I kept reminding myself of that, that their relationship was most important," she says. "And thankfully, our local New Zealand crew and cast, they were incredible and so supportive."
Marks also had a personal connection to the story; her dad is a cancer survivor, and he taught her how to drive. And she thinks the film is particularly resonant in a world that's experienced COVID-19. "It's a movie about human connection and love, and it felt like something that was important and pure to put into the world," she says.
"Mia Isaac is incredible. I feel so lucky to be a part of the beginning of her career."
Marks has a lot of praise for her young star. "Mia Isaac is incredible. I feel so lucky to be a part of the beginning of her career," she says. "I think she's so talented, and beyond that, she's just a wonderful person. It was so exciting to help guide her through her first movie and, certainly, her first lead role in a movie."
"But she handled it with such grace, and she was so prepared," Marks says. "The girl never even had her cell phone on set, which is pretty unheard of for a teenager. She was so focused, and I just felt really, really lucky that she gave it her all."
"Don't Make Me Go" is streaming now on Prime Video.