Miley Cyrus Reminds Us She Doesn't Belong to Anyone in Disco-Tastic "Midnight Sky" Video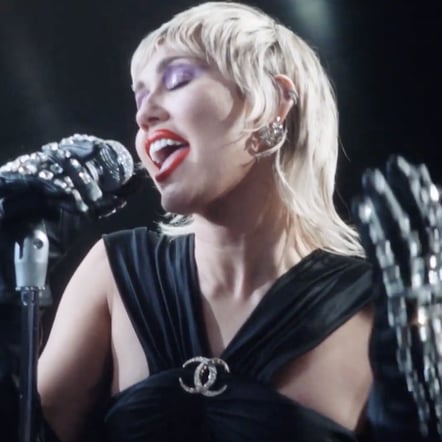 Miley Cyrus is back with new music! After giving fans a bunch of teasers about her newest single, the singer finally dropped "Midnight Sky" after midnight on Aug. 14, and it was well worth the wait! Cyrus exudes boss b*tch attitude in every scene of the video, wearing head-to-toe designer labels in rock-star looks or lounging in a candy-filled room in her birthday suit. The song is a powerful anthem of independence, as Cyrus sings, "I was born to run / I don't belong to anyone / Oh no, I don't need to be loved by you." Sounds like a pretty timely reminder, doesn't it?
On Aug. 10, the singer dropped the most recent of many teasers for the single, including a Rocky Horror-esque video of her lips and a clip from her "Start All Over" video, which she simply captioned "Meet Miley Cyrus..... again." It seems like "Midnight Sky" could be hinting at a new era of music for the singer following her 2019 She Is Coming EP since the song is more of an electro-pop vibe, complete with a light helping of synth. We'll have to wait to see, but in the meantime, we can watch this new music video and dance the night away!
Watch Miley Cyrus's "Midnight Sky" Music Video