Music Mood Board: Revisiting the Black Panther Album in Honor of Chadwick Boseman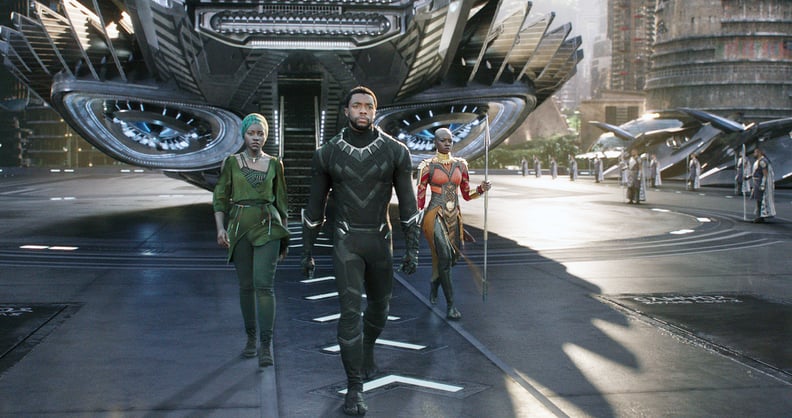 I was watching The Fresh Prince of Bel-Air on HBO Max last Friday when I got an alert that Chadwick Boseman shared a new Instagram photo (because yes, I had his post notifications on). I didn't open it, opting to finish watching Will Smith get into all sorts of shenanigans before checking social media. But moments later, I got a push notification: "Chadwick Boseman has died at age 43 after 4-year battle with colon cancer." And after that came an influx of texts.
Did you hear?
Is it true?
I hate 2020.
Stunned and speechless, I opened the post notification from Boseman's account to see the heart-wrenching confirmation of his death. "It is with immeasurable grief that we confirm the passing of Chadwick Boseman," a statement from his family read. "Chadwick was diagnosed with stage III colon cancer in 2016, and battled with it these last 4 years as it progressed to stage IV. A true fighter, Chadwick persevered through it all, and brought you many of the films you have come to love so much."
I wasn't in a Fresh Prince mood anymore. It felt like I had the wind knocked out of me, and, quite frankly, I felt sick. It was news that I never expected to see. Of all people, Chadwick Boseman? King T'Challa? The brilliantly charming talent behind powerful films like 42, Get on Up, Marshall, and Da 5 Bloods? It can't be.
This struck a chord for various reasons. Boseman was a genuine light in this world, and all of the heartfelt tributes from his costars and loved ones will back that. He was a beautiful, kind soul that illuminated a certain poise that I can only attribute to divine grace. He had the type of laugh that instantly brought you joy and a fierce passion that pushed him to give his all in everything that he did — even while going through one of the most brutal, taxing challenges a person could ever experience.
I know what it's like to see a loved one battle such a destructive disease. I know the mental, physical, and emotional toll it takes on the person, as well as everyone who cares about them. It's one of the most excruciating and exasperating experiences, so seeing this news hit close to home, and it cut me deep. It hurt, and it still does.
Overwhelmed with joy and gratitude, I absorbed every melanin-infused moment in the film with pure admiration, even shedding a few tears by the end.
I hope Boseman left us knowing that he made an indelible mark on the world. He led the charge in one of the most inspiring cultural phenomena in recent history and made this little Black nerd feel like there's a front-and-center place for me in the comic book film genre. I will never forget the excitement I felt on Thursday, Feb. 15, 2018 — the opening night of Black Panther. I went to a 7 p.m. showing with a group of friends at the Forum 8 theater in Columbia, MO. It was a sold-out venue with a diverse audience that included young Black children filled with a particular enthusiasm that I recognized within myself. Overwhelmed with joy and gratitude, I absorbed every melanin-infused moment in the film with pure admiration, even shedding a few tears by the end. God, what a time.
What made Black Panther even more special for me was its Kendrick Lamar-curated soundtrack, Black Panther: The Album. Lamar is one of my all-time favorite rappers, so February 2018 was a darn good month for me. The Compton-raised rapper created an extension of Wakanda through the musical project, incorporating sound bites, themes, and sequences that perfectly parallel the movie. Everyone attached to this film successfully built an extraordinary universe for Black people, comic book lovers, and Black comic book lovers. And for anyone who simply enjoys an enthralling action flick, they produced a truly delightful watch. In honor of Boseman, this week's Music Mood Board is dedicated to my favorite songs from Black Panther: The Album.
"All the Stars" by Kendrick Lamar and SZA
"All the Stars" has a special place in my heart. After I graduated from college, I listened to the song on the plane ride back to California. With a significant chapter of my life closed, I felt open to a world of new possibilities. I looked out the airplane window, cherishing the beautiful colors of dusk as the moon faded into the dimmed sky and SZA sang, "This may be the night that my dreams might let me know / All the stars are closer." It was one of those inexplicably magical moments that I'll never forget.
"X" by Kendrick Lamar, 2 Chainz, ScHoolboy Q, and Saudi
I didn't know how much I needed to hear Lamar say "F*ck the place up" six times in one chorus until this dropped. Why does it hit so hard?
"Paramedic!" by SOB x RBE, Kendrick Lamar, and Zacari
Lamar created this track as a sort of anthem for Michael B. Jordan's Black Panther character, Erik Killmonger. He enlisted the help of hip-hop collective SOB x RBE, which was birthed out of Northern California — where Killmonger was born and raised. And is it a coincidence that Killmonger's first appearance in the movie involves him fleeing a crime scene in an ambulance with his love interest posing as a paramedic? I think not!
"King's Dead" by Jay Rock, Kendrick Lamar, Future, and James Blake
The amount of times I blasted this song while driving to and from campus when I was in college is almost embarrassing. But, man, this is a banger, and it definitely hits differently now.
"Big Shot" by Kendrick Lamar and Travis Scott
If Spongebob took place in Wakanda, I'd imagine this would be the theme song. That's the vibe I get. Is that just me?
"Pray For Me" by The Weeknd and Kendrick Lamar
The beat, The Weeknd's vocals, and Lamar's verse on "Pray For Me," still gives me chills. And, now, the lyrics, "Who gon' pray for me? / Take my pain for me? / Save my soul for me? / 'Cause I'm alone, you see" have added value that make this listening experience all the more meaningful and heart-rending.