10-Year-Old Music Prodigy Nandi Bushell Performs Rage Against the Machine to Fight Racism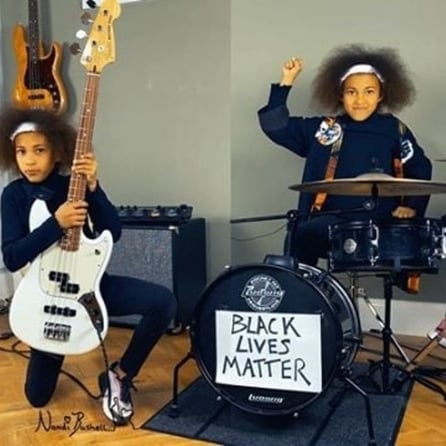 Nandi Bushell is a 10-year-old Zulu-British musical prodigy hailing from Ipswich, Suffolk. She's shared her skills on The Ellen DeGeneres Show, and her roster of fans include Lenny Kravitz and Dua Lipa. Now, Nandi is using her incredible talent to help in the fight to end racism and support the Black Lives Matter movement with an impressive cover of Rage Against the Machine.
"Solidarity in the Fight to End Racism!," reads a caption on Nandi's Instagram, added to a video of her covering "Guerrilla Radio" by Rage Against the Machine. "This song is one of Nandi's favourite songs. Nandi has loved @rageagainstthemachine since she was a baby." Nandi's superstar talent is undeniable, as she actually played all three parts of "Guerrilla Radio" — including the lead guitar, bass guitar, and even the drums. Her passionate cover of the song was shared with over 404,000 Instagram followers on her personal account, which is managed by her loving parents.
Watch Nandi rocking out and sharing her amazing talent above while supporting the fight to end racism.
Nandi Bushell Performs Rage Against the Machine to Help Fight Racism