Why Netflix's Holidate Is a Bad Movie
I Was Excited For Holidate to Be a Fun Holiday Rom-Com — Boy, Was I in For a Bad Time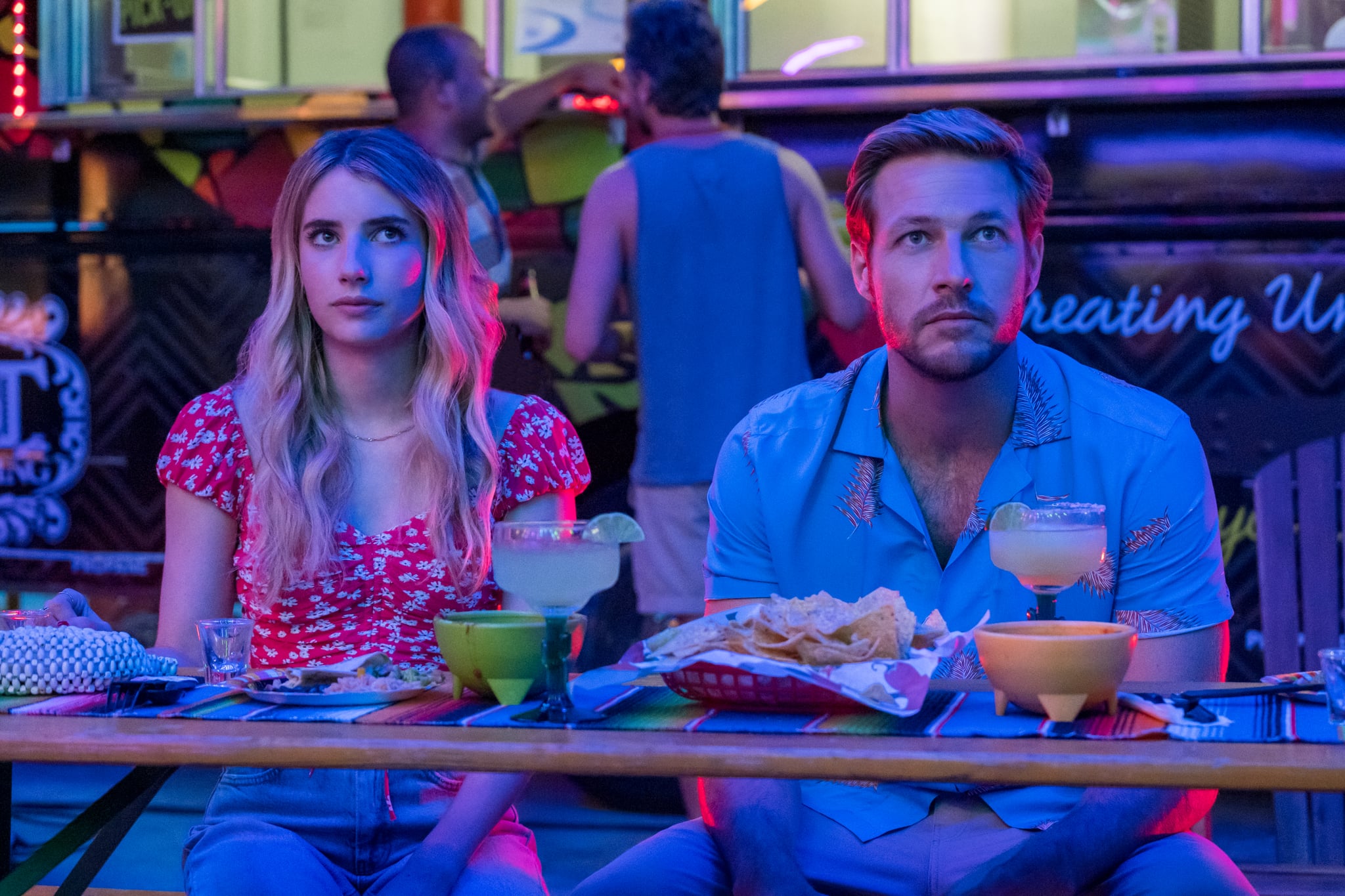 Holidate has maintained a spot in Netflix's Top 10 since its release on Oct. 28, but let's be real: the film is a flimsy excuse for a holiday movie — in fact, it isn't one. No matter how many fleeting ugly Christmas sweaters, picturesque locations, and holiday-themed posters the factory-made film throws at us, Holidate is still NOT a Christmas movie. Nor is it, unfortunately, a good romantic comedy.
OK, yes, the movie does start on Christmas. Sloane (Emma Roberts) is still reeling six months after catching her French boyfriend cheating on her with a Starbucks barista named Rainbow. Insert tired jokes about sitting at the kids' table and dying alone. Meanwhile, her equally cynical yet far more charismatic counterpart Jackson (Luke Bracey) receives oral sex as bland as the three khakis he later opens, and he finds out the girl he casually was hooking up with is "crazy" because "that's what the holidays does to women." This sequence is the first of many crude scenes designed to let you know that this isn't your mom's feel-good holiday film — it's raunchy!
Jackson later meets Sloane in a department store, and they vow to become one another's "holidate," aka obligatory fake date for every holiday. Even though they only speak on holidays, over the course of a year Sloane changes Jackson's perspective on relationships because this is what the modern rom-com cliché has apparently been boiled down to.
Despite its paint-by-numbers formula that reeks of committee approval, Holidate makes no sense. There is no character development, no real romance, and absolutely no heart. Even Luke Bracey's Australian accent and sexy charm can't save the story as it resorts to diarrhea, flashing, and racial stereotypes. Finally, do we really need to watch all the Cinco de Mayo cheers, Mother's Day toasts, and St. Patricks' Day drunken festivities that we missed in 2020 while in quarantine?
What's most frustrating is that Holidate acknowledges the genre its trapped in, and attempts to make a point of telling us what type of movie it isn't. At their first holidate, a New Year's Eve bash, Sloane bemoans to Jackson that romantic comedies are so out of touch and real life isn't as simple as dancing with Ryan Gosling in Crazy, Stupid, Love. No, Gosling does not have a cameo in this movie (presumably because he has taste in his filmography).
Holidate could have worked. Just shift the timeline and it's immediately better: start with two bad Thanksgivings followed by Sloane and Jackson becoming one another's faux dates to every holiday event leading up to Dec. 25 — including Christmas office parties, friends' Hannukkahs, Christmas Eve and Christmas Day — and then finally overcoming their respective fears of commitment and professing their love on New Year's Eve. It's simple. It could have been so easy. Why did we end up with this holiday headache instead?
Instead of watching Holidate, just turn on some of the much smarter movies Holidate tries to make fun of, like When Harry Met Sally, Plus One, or even Love Actually.