As an Office Fan, Space Force Wasn't What I Expected, but I'll Keep Watching
As a huge fan of The Office and Steve Carell, I couldn't have been more excited for Greg Daniels's new show Space Force. Called "a workplace comedy centered around the people tasked with creating a sixth branch of the armed services," I immediately assumed that Space Force would follow in the documentary-style steps of both The Office and Parks and Recreation. I was incorrect. Instead, it is a single-camera spoof of the actual Space Force, with a focus on four-star General Mark Naird (Steve Carell), his daughter Erin Naird (Diana Silvers), and those he works with like Dr. Adrian Mallory (John Malkovich).
At its very core, the humor I loved on Daniels's other shows is present. There are even a few moments with Mark Naird alone that I could certainly feel the presence of Michael Scott. Similarly to Daniels's other shows, Space Force uses its short first season mainly to set up all the main players. Even some of the most memorable episodes of The Office aren't in its first season. They're found later on when you've had a chance to become attached to the characters and fully understand their motivations. For Space Force, the most memorable moments are those that let the ensemble cast shine.
When it comes to cast moments on the show, it's hard to pick a favorite one. There's the bromance with Dr. Chan Kaifang (Jimmy O. Yang) and F. Tony Scarapiducci (Ben Schwartz) that starts as they look for the perfect gift for the president. Then, there's the friendship between Angela Ali (Tawny Newsome) and Erin Naird (Silvers) as Ali helps Naird find a way to feel more at home. It also wouldn't be a Daniels show without a central triangle, this one being between General Mark Naird, Dr. Adrian Mallory, and General Kick Grabaston (Noah Emmerich) — although they're more like if Jim hated Michael and Dwight wasn't strictly loyal to Michael.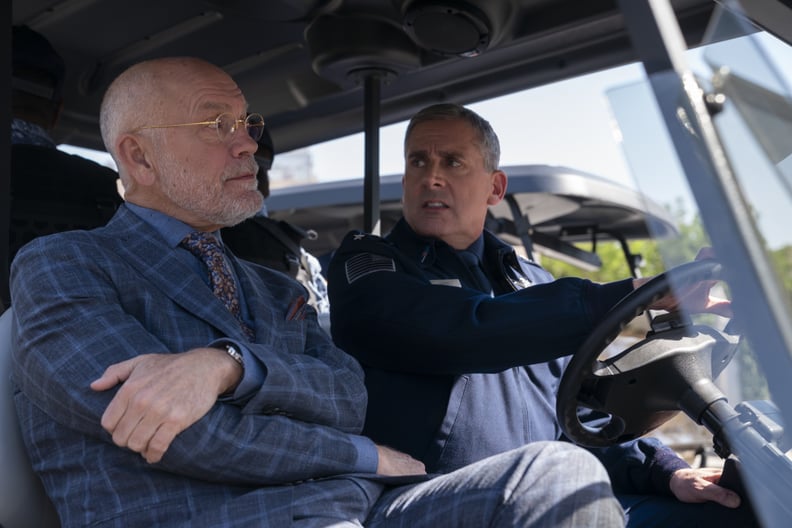 If Space Force was just The Office in space, then it wouldn't have many places for the story to go and it would have to continuously try to live up to its predecessor. By trying something new, Daniels is able to explore storylines and archetypes that haven't been done a million times in his other shows. It also allows for the audience to stop thinking in the "I'm a Dwight" or "I'm a Pam" style and really connect to multiple characters (and their relationships) at once.
At the end of the day, it's fine that Space Force isn't The Office. If you're just looking for something similar or familiar, then you might as well give The Office a rewatch to catch up with the Dunder Mifflin gang. However, if you're looking for something new, give the Space Force crew a try.