Netflix's Unorthodox Tells an Important True Story About 1 Woman Leaving Her Hasidic Home
Have you ever had the fleeting thought of leaving everything behind? That's what Deborah Feldman (above) did, and now, the true story of how she cut ties with the Hasidic community will be the basis for Unorthodox, one of Netflix's latest offerings. In her early 20s, Feldman moved away from her conservative Hasidic home in New York with her son. Years down the road, she eventually made her way to Europe, just like the protagonist in the series. She later published her bestselling memoir Unorthodox: The Scandalous Rejection of My Hasidic Roots, which would inspire the new adaptation starring Shira Haas (The Zookeeper's Wife). Feldman's life, undoubtedly, has been full of twists and turns — here's how her journey unfolded.
What Feldman's Hasidic Upbringing Looked Like
Feldman was born in 1986 in Williamsburg as a part of the Satmar Hasidic community, a sect of ultra-Orthodox Jews from Hungary and Romania known for their segregation from the outside world. Her grandparents raised her, as her mother left when she was young and her father was mentally impaired. When she later reconnected with her mother, a teacher, Feldman learned that she was an atheist and a lesbian. Feldman's upbringing was fairly conservative. Ideas that she grew up with included the sinfulness of the female body and the English language. She believed that the only roles for her in this community were those of a wife and mother.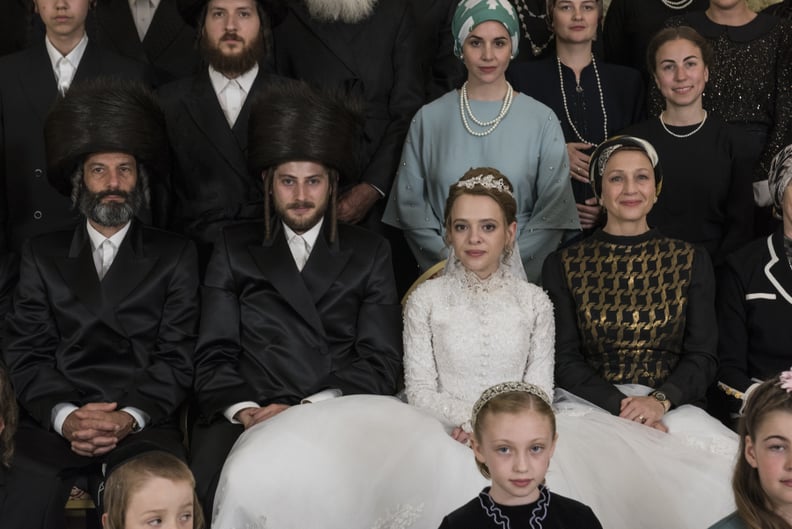 How Feldman Started Breaking Rules
According to Feldman, she began breaking Hasidic rules with small acts, painting her nails with clear polish and reading books in English at the library. When she was 17, her grandfather arranged her marriage to a Talmud student named Eli. Soon after, she gave birth to her son at 19. She started enrolling in classes at Sarah Lawrence College in Bronxville, NY, where she studied literature and feminism. (Feldman told her husband that she was taking business classes to add to his income as a copywriter at a Hasidic newspaper.) Around this time, her rule breaking also included getting a driver's license and growing out her hair.
How Feldman Became Inspired to Write Her Book
Feldman eventually left her marriage at age 23, only taking her son and garbage bags of clothes. Around this time, she lived with friends and consulted lawyers to maintain custody of her son. Her struggles inspired her to publish her revealing memoir at age 25 in 2012. While a bestseller, her book, suffice to say, has been controversial. In one chapter, Feldman talks about how her husband told her of a father who slit his son's throat after catching him masturbating and how the Hasidic community helped him hide the crime. The Hasidic community has since denied this claim.
According to her website, Feldman and her son live in Berlin, where she's currently working on her first German-language novel. In 2014, she followed up Unorthodox with a second memoir, Exodus, which details her trip across Europe and her investigation of her grandmother's life during the Holocaust.