The Friday Drop: Zayn, Jazmine Sullivan, Taylor Swift, and More New Music This Week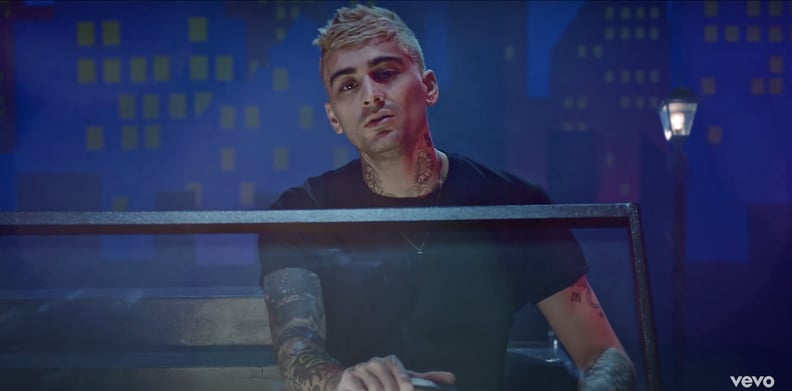 YouTube | Zayn
YouTube | Zayn
You already know what day it is, and this week, musicians really came through for us with new music. Zayn returned with his dreamy R&B vibes, and his sexy new single is just a taste of what he has in store for us with his upcoming third album, Nobody Is Listening. Speaking of albums, have you already checked out Jazmine Sullivan's Heaux Tales? Her collaboration with H.E.R. is a must listen! Taylor Swift also dropped the deluxe version of Evermore, which includes two brand-new bonus tracks. As POPSUGAR editors, my colleagues and I love discussing our new weekly music finds, so check out our recommendations in the latest edition of The Friday Drop ahead.
"Use Somebody" by dvsn
"The Canadian R&B duo really did their thing with this cover of "Use Somebody" and "Sex on Fire" by Kings of Leon. Not only are those two of my favorite songs, but dvsn really managed to make them their own. The vibe of this track is so sensual and emotional, I love it! I'm anxiously awaiting their upcoming album, Amusing Her Feelings. In the meantime, I'll be listening to this on repeat until it drops on Jan. 15." — Monica Sisavat, editor, celebrity and entertainment
"Vibez" by Zayn
"I have MISSED musical Zayn for so long now! I'm one of the many stans who enjoyed both of his previous eras and was really worried that the drama with his studio would mean no new music ever. But thankfully, we're back in business, baby! 'Vibez' is the perfect fluffy single after the more lovelorn 'Better' (which is also a bop), and have I mentioned how much I love R&B Zayn?
He's a master at the sexy mumble music that has the corniest lyrics, but will have you giggly and feeling cute. It's perfect for his 'vibez' because while listening to him croon about how he's been waiting to get closer, he looks more aloof than anticipatory in the music video. But that's Zayn in a nutshell: so intimately distant that you'll be wanting him forever even though you know he's untouchable. It's the perfect balance to allow me to enjoy his angelic vocals, appreciate his ethereally beautiful face (which currently features the return of blond Zayn!!!!!), and still root for he and Gigi Hadid to live happily ever after. I'm VERY ready for Nobody Is Listening to come out now!" — Mekishana Pierre, associate editor, celebrity and entertainment
"Talk About Love" by Zara Larsson feat. Young Thug
"This song is super catchy, and I love that it's about someone who avoids becoming too invested in a romance — can relate!" — Brea Cubit, assistant editor, celebrity and entertainment
"Girl Like Me" by Jazmine Sullivan feat. H.E.R.
"This is the collaboration the girls have been waiting for. Sullivan and H.E.R. came together like musically-anointed Wonder Twins for an acoustic anthem dedicated to women who have loved and lost. Laced with the slow drag of guitar strums, 'Girl Like Me' paints the confusion of the jilted and the yearning of the undesired with the velvety vocal stylings of the R&B heavyweights. Add this to that playlist you made about him, beloved." — Iyana Robertson, content director, celebrity and entertainment
"It's Time to Go" by Taylor Swift
"As if I wasn't already replaying Swift's Evermore, the singer gave me something new to obsess over by sharing the album's bonus tracks this week. While 'Right Where You Left Me' is taking me right back to her country music days, 'It's Time to Go' has really struck a chord with me. The lyrics about letting go and moving on are just so beautiful!" — Kelsie Gibson, editor, celebrity and entertainment
"Flames" by Mod Sun feat. Avril Lavigne
"OK, I'll admit I've never listened to anything by Mod Sun until now, but boy, did this song take me back to high school. Lavigne's vocals are insane and the beat and lyrics had me bobbing my head back and forth the entire time. There's also rumors of an upcoming collaboration between Sun, Lavigne, and Machine Gun Kelly, and if it's anything like MGK's Tickets to My Downfall album, consider me ready!" — Monica Sisavat, editor, celebrity and entertainment
"Antidote" by Nao feat. Adekunle Gold
"This track is incredibly heartwarming as Nao and Gold's vocals come together to create a blissful tune. 'Baby, I'd love to have you / Take me from myself,' Nao sings. 'You save me / You bring me life, you bring me joy.' Yep, this is officially on my secret 'Future Wedding' playlist." — Brea Cubit, assistant editor, celebrity and entertainment
"Drivers License" by Olivia Rodrigo
"I seriously can't get over how talented Rodrigo is. At only 17 years old, her songwriting abilities are already right up there with Lorde and Taylor Swift. From the emotional lyrics to the beautiful melody, everything about this song is perfection. And don't even get me started on the visuals for the music video! The fact that this is only her debut single makes me even more excited for what she has in store." — Kelsie Gibson, editor, celebrity and entertainment