Is Tom Hardy in Peaky Blinders Season 6?
What to Know About Tom Hardy's Role in "Peaky Blinders" Season 6
Watch out! This post contains spoilers.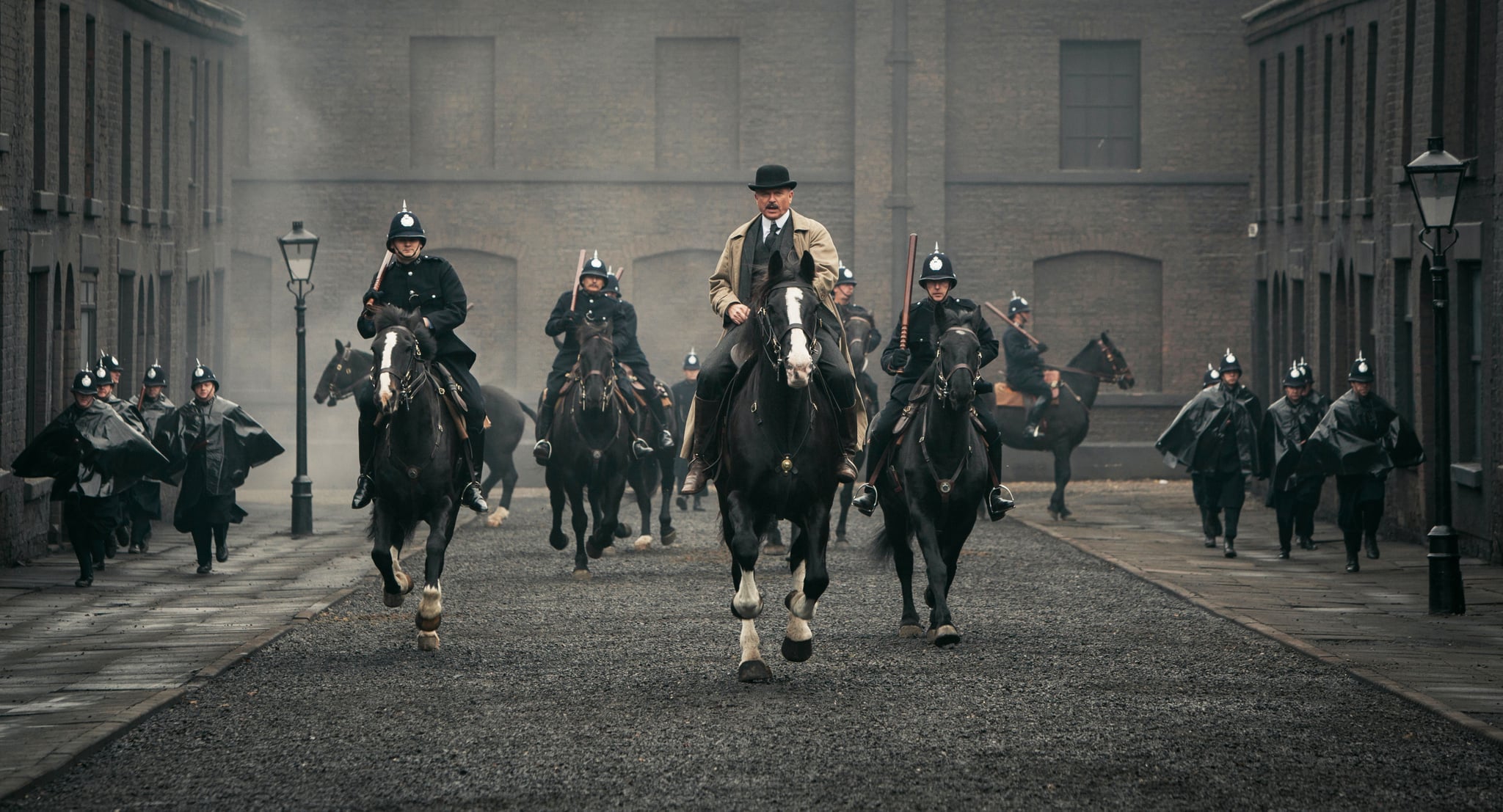 "Peaky Blinders" is back again for one last round on Netflix! The beloved historical drama is concluding its 9-year-long journey with a sixth season. Though the latest installment of the popular BBC One show has already finished airing in the UK, the six-part last season will hit Netflix globally on June 10. The British series traces the journey of the namesake Birmingham criminal gang in the wake of WWI. In the globally-loved show, which boasts talents like Cillian Murphy, Helen McCrory, and Sam Claflin, one character, in particular, has garnered a unanimous soft spot with legions of fans — Tom Hardy as Alfie Solomons. The fan-favorite quippy gangster's fate hangs in the balance following his season five surprise appearance. And after his fatal brush with death, fans are wondering if he'll somehow reappear in the final season.
What Happened to Alfie Solomons in "Peaky Blinders" Season 4 and 5?
In season four, when Tommy Shelby gets wind of Alfie making a deal with Luca Changretta, he confronts Alfie for his apparent betrayal. However, Alfie reveals that he learned not long ago that he's suffering from cancer, and, as it turns out, this was all an elaborate ruse to get Tommy to put him out of his misery once and for all. Tommy, at last, pulls the trigger, and Alfie is presumed dead.
In a shocking twist during the season five finale, however, we learn that Alfie is alive and living in secrecy in Margate, where Tommy visits him following receiving his whereabouts in a letter penned by the Jewish mafioso. His physical demeanor displays the repercussions of the gunshot, which left behind a nasty facial scar. He also lost sight in his left eye. When the two frenemies meet up, it's apparent that the former adversaries harbor no hard feelings toward one another.
Is Tom Hardy's Alfie Solomons in "Peaky Blinders" Season 6?
As the UK season six premiere drew nearer, fans wondered in agitation if they had seen the last of Alfie. Having kept their eyes peeled for Hardy's character, viewers finally got a glimpse of the life he had created for himself after going into hiding. Leaving behind his Peaky Blinders life, he's started a new life for himself in Boston as the premier bootlegger of the territory and has tied the knot with a woman named Edna. We also get one last heartfelt moment between Tommy and Alfie as the latter banters and waxes poetic about life in a typical Solomons manner.
Will Tom Hardy's Alfie Solomon Be in "Peaky Blinders" Spin-Off(s)?
Though the period crime-drama may have come to a close with its successful six-season run, spin-offs and a movie based on the franchise are already in the works. Meaning we may still see Alfie playing a major role in the future as the fascinating franchise expands. After all, we know that the "Mad Max: Fury Road" actor loves his onscreen persona and, barring a schedule conflict, would be game to return to the "Peaky Blinders" universe if and when the storytelling opportunity presents.
Steven Knight, the creator and showrunner behind the successful drama, explained the simple reason why he brought Alfie back from the dead in a February 2022 interview with RadioTimes. "It seemed ripe for Alfie not to be around, but Tom loves the character. A lot. And so basically, we can't kill him," Knight said about reviving Alfie in season five. Let's hope we do see a lot of him going forward!