From Elvis to Nirvana, These Are Post Malone's Best Covers
Post Malone (née Austin Post) is best known for his massive pop-rap earworms like "Circles" and "Better Now," but the singer has released a number of covers over the years that show off his range and talent. He's put his own spin on famous tracks by musical greats from Elvis Presley and Bob Dylan to Nirvana and Hootie & the Blowfish. A country-folk or grunge-rock Malone album may not actually be on the way anytime soon, but when listening to these covers, you get the feeling that he could easily pull off a rebrand to a rock or country star.
Malone has a lot to celebrate lately. On June 3, he released his fourth studio album, "Twelve Carat Toothache." He also recently collaborated with The Weeknd and just announced a 2022 American tour.
As for his personal life, he recently became a dad and got engaged. "I'm excited for this next chapter in my life. I'm the happiest I've ever been," he told TMZ in a May 3 interview. "Time to take care of my body and my family and friends and spread as much love as we can every day."
Ahead, check out some of Malone's best covers.
"Don't Think Twice, It's Alright" by Bob Dylan
Before he was Post Malone, the singer was Austin Post, sharing covers on his YouTube channel. His cover of Bob Dylan's "Don't Think Twice, It's Alright," which he shared in October 2013 along with the caption "Excuse my hair haha," has since gone viral — and for good reason.
"Heart-Shaped Box" by Nirvana
Skip to 24:34 to see Malone expertly cover Nirvana's "Heart-Shaped Box" with Travis Barker on the drums. The cover is part of a fundraiser for the World Health Organization, which streamed on April 24, 2020.
"Better Man" by Pearl Jam
Malone performed a stripped-down version of Pearl Jam's "Better Man" on The Howard Stern Show on June 14, putting an emotional twist on the classic song.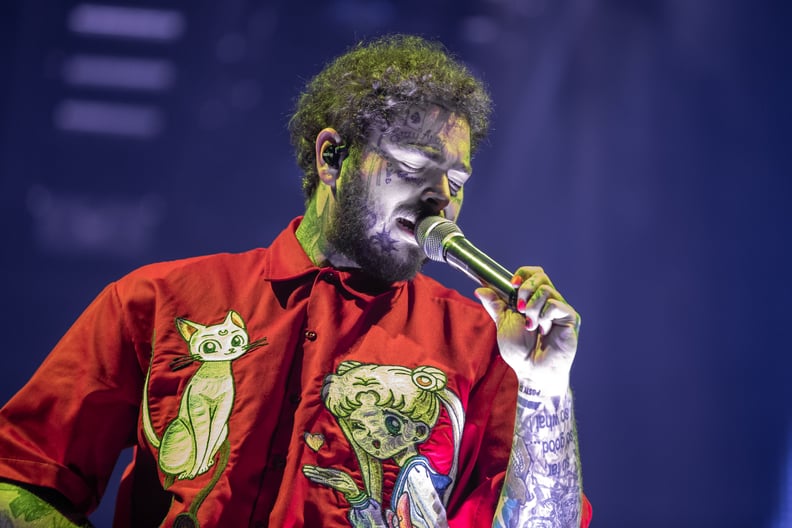 "Heartless" by Kanye West
In 2015, Malone covered Kanye West's "Heartless" for BBC Radio 1, and his slowed-down version places emphasis on the song's bitter lyrics.
Watch it here.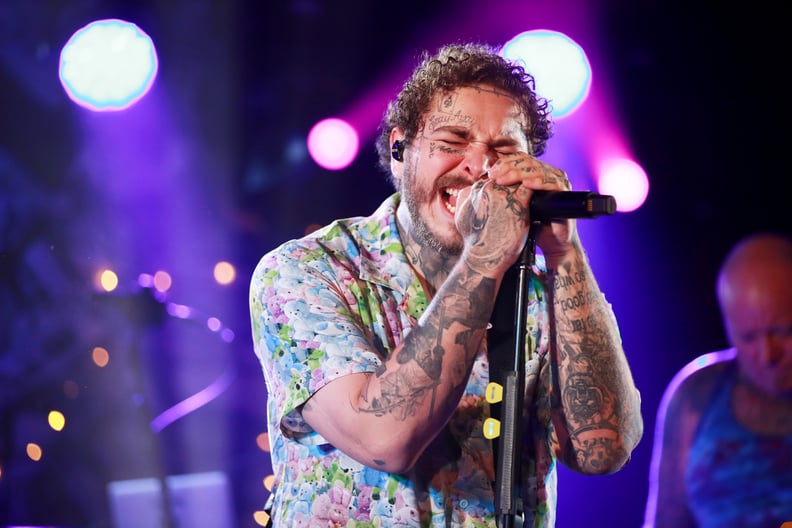 "Cocaine Blues" by Johnny Cash
Malone joined Billy Strings on April 13 to cover Johnny Cash's "Cocaine Blues." Malone shows off his expert country chops with this cover.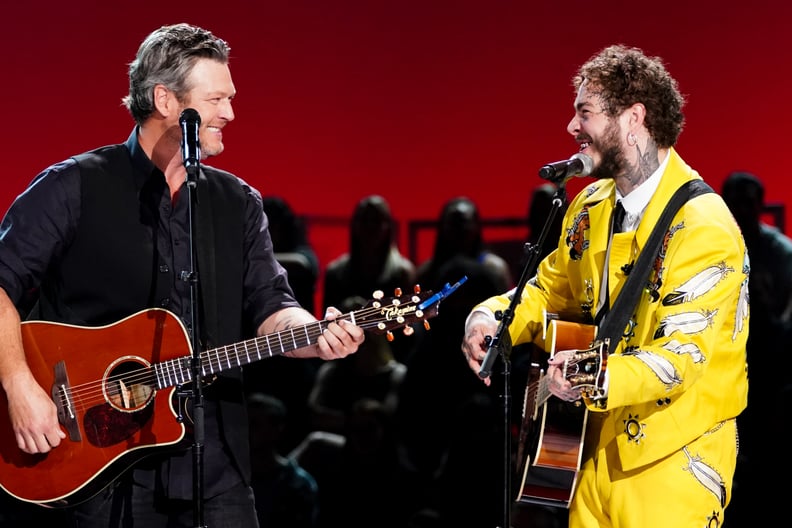 "Blue Suede Shoes" by Elvis
In February 2019, Malone joined "The Voice"'s Blake Shelton and Keith Urban to pay tribute to The King, and he does a great job at covering Elvis's "Blue Suede Shoes," showing that he could easily take his place in country music if he wanted to.
Watch it here.
"Only Wanna Be With You" by Hootie & the Blowfish
On Feb. 25, 2021, Malone released a cover of Hootie & the Blowfish's classic "Only Wanna Be With You," threading a sample from an early Pokémon game through the track to create something very original.
"You Can Have the Crown" by Sturgill Simpson
Malone covered Sturgill Simpson's "You Can Have the Crown" in March 2021 as a part of Matthew McConaughey's benefit show for Texas, and it's yet another showcase of the "Sunflower" singer's country chops.