Prince's "Love Symbol" Album, 30 Years Later
Prince's "Love Symbol" Era Was the 1992 Definition of a Cultural Reset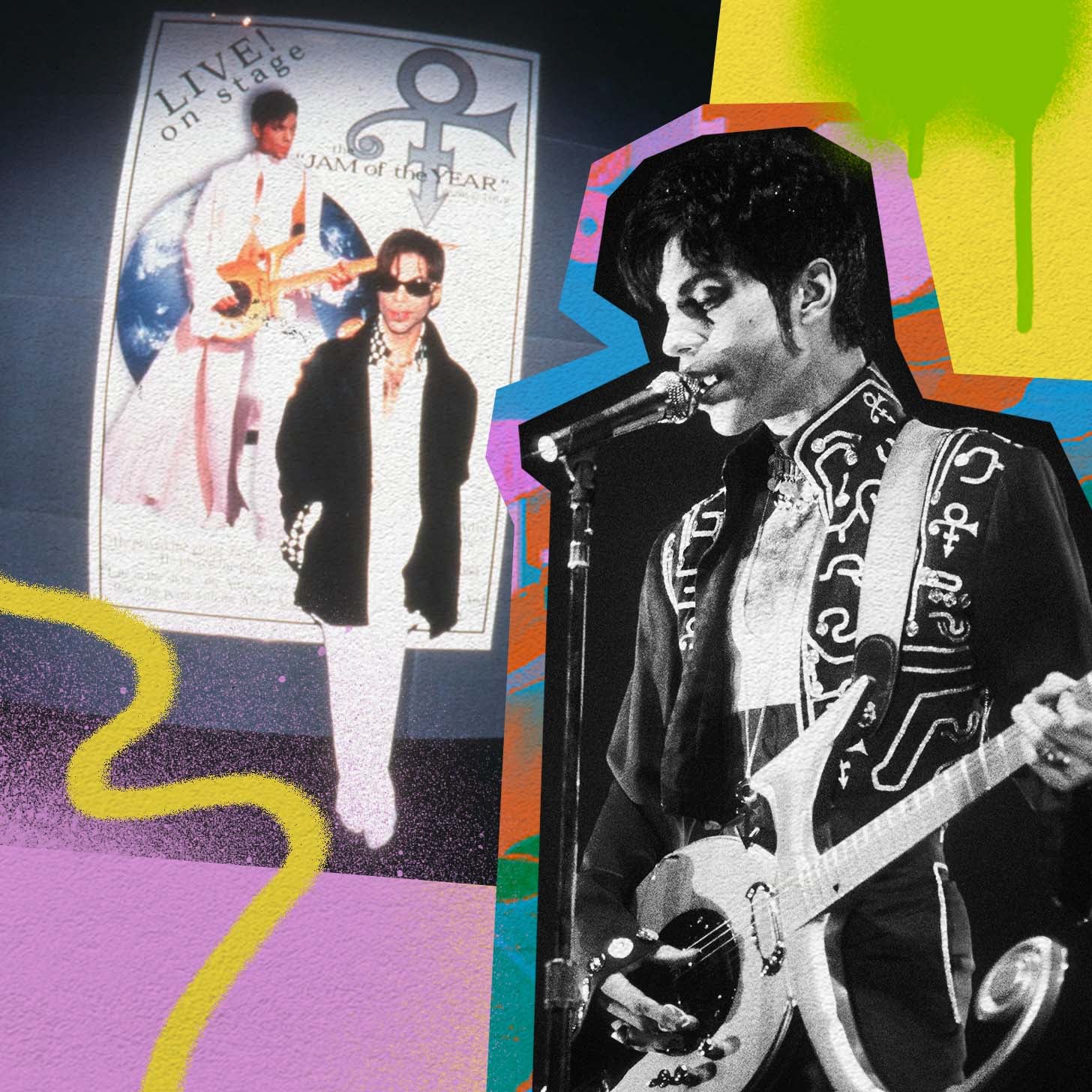 Morris Hayes didn't know what to expect. It was early June of 1992, and the loquacious keyboard player was summoned to the Munich, Germany, hotel suite of mercurial music superstar Prince. For the past few months, Hayes had been out on the road as a member of the band for Prince's one-time muse, Carmen Electra, on the Diamonds and Pearls tour's European leg. The opening act was largely forgettable. But Hayes turned His Royal Badness's head during one of the star's legendary after-show jams. The Arkansas native found himself not only in the presence of arguably the most gifted musical act of his generation, but a certifiable rock star. He had no idea he would soon be added to the artist's New Power Generation lineup.
"Prince's suite was bananas," Hayes tells POPSUGAR. "Everywhere he traveled, he wanted a grand piano in the room. But at this particular hotel, they had to take a crane and hoist this thing through the window to get it into his penthouse. I asked him, 'Prince, why does the piano say 'Damn U' on it?' And he said, 'Oh, that's the name of a song off the next album.' And I'm like, 'next album?' We are on the Diamonds and Pearls tour right now [laughs]. I had no idea he had an entire album done."
"He told me, 'I'm not Prince anymore. I don't expect people to understand it. That's cool. It's not for them to understand it. It's my own journey . . . my own thing."
Prince Rogers Nelson's fourteenth studio album — released on Oct., 13, 1992 — ignited a pivotal era in his boundless, and at times confounding, career. By the summer of 1993, the restless visionary — who died at age 57 in 2016 from an accidental overdose — would legally change his name to the album's title: an unpronounceable combination of the male and female glyphs. By that fall, Prince publicly declared war on his label Warner Bros. over artistic control of his work, backed by a new moniker with no contractual obligations.
People called him mad. Warner Bros. executives were shocked, and Prince's peers were bewildered. Was the Grammy- and Oscar-winning icon self-sabotaging? Even those in Prince's camp were utterly dumbfounded.
"I mean, I thought the name change was crazy, too," laughs Hayes. "I asked Prince jokingly, 'Man, what the hell you do now?' Because I heard about the name change through the press like everyone else. And he told me, 'I'm not Prince anymore. I don't expect people to understand it. That's cool. It's not for them to understand it. It's my own journey . . .my own thing. But I expect people to respect my wishes.'"
Before "The Love Symbol" album, Prince was on fire. He was just coming off his bestselling studio work in years, "Diamonds and Pearls" (1991), a commercial return-to-form that would sell nearly seven million copies worldwide. Most guitar gods in his high heels would have eagerly taken a victory lap for two-plus years touring the globe. Yet the meticulous multi-instrumentalist and composer — who made the '80s his personal libidinous, status quo-smashing playground, highlighted by the celebrated landmarks "Dirty Mind" (1980), "1999" (1982), "Purple Rain" (1984), and "Sign o' the Times" (1987) — had other ideas.
Prince dreamed up a fantasy rock soap opera concept album inspired by NPG member and future wife Mayte Garcia. Its accompanying film, "3 Chains o' Gold," starred "Cheers" actress Kirstie Alley as a journalist and Garcia as a princess from Cairo. Thankfully, a needless plotline that was intended to make the album (Alley's invasive reporter Vanessa Bartholomew questioning Prince about his alleged seduction of an Egyptian royal) was edited down to include more music.
The 18-track "Love Symbol" checks more genre-hopping boxes compared to the laser-focused R&B of "Diamonds and Pearls." While the nine-piece New Power Generation never reached the experimental bliss of Prince's most famous backing band, the Revolution, or the sheer ferocity of his LoveSexy outfit, they proved to be a more potent live conduit for his breakneck spontaneity. They could "actualize absolutely anything he envisioned," NPG keyboardist Tommy Barbarella explained to Rolling Stone in 2016.
Early '90s music saw a major shift, moving away from the bland pop balladry that smothered radio. Although grunge rock was still rolling, the counterculture revolution led by Nirvana was about to be overshadowed by gangsta rap. And R&B was a few months away from completely taking over the mainstream. So, on "Love Symbol," Prince responded by balancing his timeless funk-rock-soul excursions with an even more conspicuous nod to hip-hop.
He cleverly bypassed MTV with the X-rated "Sexy MF;" instead, he sold his raunchy 10-minute video to fans for $9.95. "I got wet dreams coming out of my ears/I get hard if the wind blows your cologne near me," he raps to the object of his perpetually horny desires. Prince had a complicated relationship with hip-hop; he went from dissing the genre on the 1987 track "Dead On It," to championing Public Enemy, to elevating cartoonish NPG rapper Tony M. on songs like the chest-beating single "My Name Is Prince."
Despite the ever-changing music landscape, no one could keep the card-carrying genius down. The spiritual "7," "Love Symbol's" biggest hit (ironically peaking at No. 7 on the Billboard Hot 100), with its trippy Middle Eastern guitar riff and funked-up sample of the 1967 classic "Tramp," is a strong case study in Prince's masterful production ingenuity. Prince also invited the Hornheads — a five-piece horn section act on the Diamonds and Pearls tour — to appear on "Love Symbol." During one session for the mid-tempo pop soul cut "Morning Papers," Prince's brilliance was on full display.
"We watched Prince teach ["Morning Papers"] to the rhythm section, and it still gives me chills thinking about hearing him singing it for the first time," remembers Hornheads leader and trombonist Michael B. Nelson. "I was busy writing down some simple ideas for when we went in to track our parts, but like all the songs on this album, it's mainly Prince's arrangement."
The "Love Symbol" album went double platinum, a success for most acts. But for Prince, who reportedly signed a $100 million deal with Warner Bros. in 1992, a bigger payoff was expected. It was the only label home he had known since he was an 18-year-old kid in 1977. By 1984, Prince was a global megastar, propelled by the culture-shifting box-office hit "Purple Rain" and its seminal soundtrack, which sold 13 million copies in the United States alone. This was the bar that had been set — and it was massively high.
Years after Prince's massive "Purple Rain" success, Prince and Warner were now at a stalemate. The label demanded that its flagship act cut down on his musical output, Prince told reporters, implementing an 18-month interval between releases. After announcing his name change, "The Artist Formerly Known As Prince" clapped back by refusing to release new music, opting instead to compile songs from his famed vault.
The battle escalated when the The Artist demanded the rights to his master recordings in 1995, scrawling "slave" across his cheek in protest. After his 1996 split with Warner, Prince took back his name and continued to be an outspoken change agent. By 2014, he re-signed with Warner in an unprecedented deal that saw him regain full ownership of his catalog. And a year before his death, Prince removed his music from other streaming platforms and signed an exclusive deal with JAY-Z's TIDAL, a move that was largely motivated by Black empowerment, according to comments he made to USA Today.
For Hayes, who would go on to become the longest-running member of the NPG, he looks back at the "Love Symbol" period as the catalyst for Prince's awakening as a maverick disrupter in the music industry.
"I think this record represents a significant change in the Prince world," Hayes says. "Prince was not afraid to speak truth to power to these folks. He would definitely appreciate someone like Taylor Swift and how she has shown her power when it comes to streaming and fighting to own her masters. She's been one of the young people that has taken Prince's lessons to heart."