Regina King's One Night in Miami Is a Timely, Star-Studded Masterpiece
Regina King may want to start making room on her mantel, because she's probably going to need it come award season. The 49-year-old Oscar-winning actress (and now director) is coming in swinging with her feature directorial debut, One Night in Miami. The film — which is based on the 2016 stage play by Kemp Powers of the same name — reimagines a fictional conversation between four Black icons — Cassius Clay (aka Muhammad Ali), Jim Brown, Sam Cooke, and Malcolm X — on the night of Feb. 25, 1964, the historic date that Clay became the world's heavyweight champion after defeating Sonny Liston.
It stars Leslie Odom Jr., Kingsley Ben-Adir, Eli Goree, and Aldis Hodge, and it's a beautiful, gripping, and incredibly timely tale that tackles an often-untold story about the Black experience in the '60s. One Night in Miami will not only captivate you from start to finish, but it will also hopefully inspire some much-needed conversations about race, religion, and personal responsibility. Ahead, check out all the reasons One Night in Miami is a must watch.
01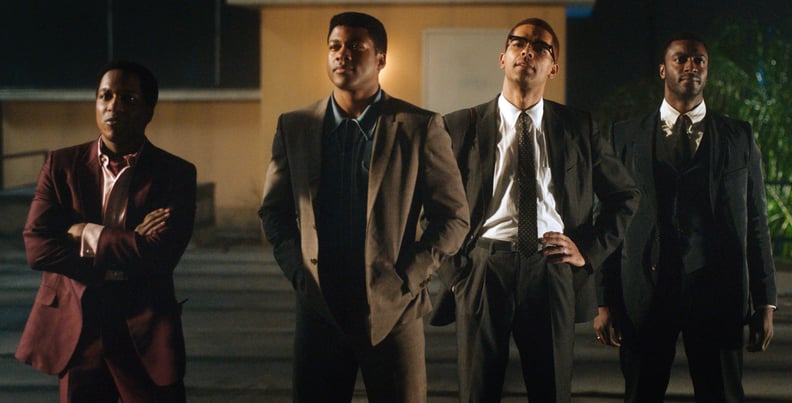 The Star-Studded Cast
The film stars Kingsley Ben-Adir as Malcolm X, Eli Goree as Cassius Clay, Aldis Hodge as Jim Brown, and Leslie Odom Jr. as Sam Cooke — need I say more? The actors are so committed to their roles, you almost feel as if you're watching an actual documentary and not a movie based on the stage play by Kemp Powers.
To prepare for his role as Brown, Hodge told Variety that he studied the NFL icon's interviews from the '60s to see how Brown spoke about "the power of Black economics" and to get an idea of how he became "so forward-thinking in that particular time." Goree did the same, and he even got a dialect coach, a boxing coach, and a personal trainer. "I totally immersed myself in trying to understand why he became who he was and where he was coming from and all the things that went in to him that allowed him to overcome everything that he overcame," Goree explained to Entertainment Tonight.
As for Ben-Adir, he immediately found himself attracted to the script when he first read it. "You read this script and you just go, 'This is Malcolm in a whole new light. This is an opportunity to investigate him on a particular night,'" he explained to Variety. "I didn't know as much as I do now at the time, but the more and more you dig into where Malcom was at psychologically, politically, [and] emotionally at that time, like facts, the more this script just bounces out."
On the other hand, Odom Jr. was initially hesitant to take on the role of Cooke. "They had to chase me a little bit, only because I didn't see what they saw in myself. I did not see Sam Cooke in me," he told Entertainment Weekly. However, that all changed once he received a call from both his manager and agent asking him to reconsider. "I gave the script a second look, and I saw beyond that. I saw beyond my fear, and I really saw what Kemp was doing in that script. He was having a very private conversation publicly . . . These are the kinds of conversations we've been having for a very long time, but it was the first time that I had seen it in a script, and certainly, the first time that I was being offered the opportunity to be that raw and to be that honest. So I was going to have to find my way there through my fear. I had to, because Sam was having the conversation. It wasn't me, but I saw the value in it, and I was willing to take the leap."
02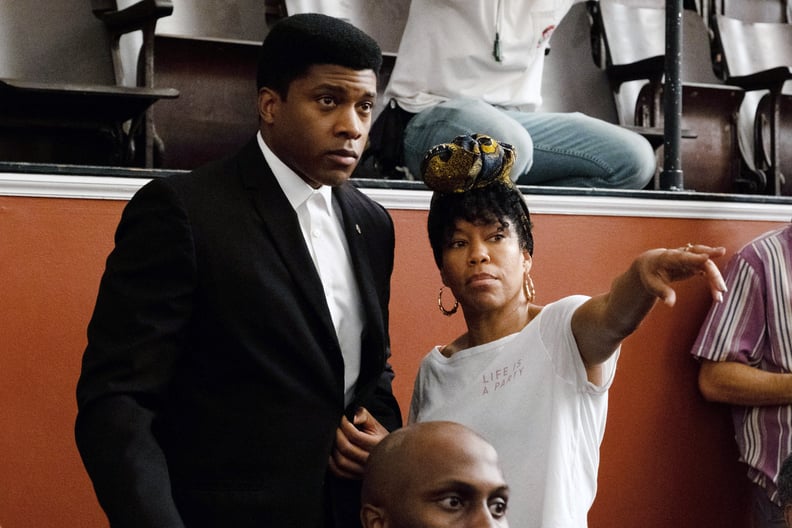 Regina King's Directorial Debut
The reimagining of Powers's 2013 stage play marks King's directorial debut, and she's already made history with it. Though the film doesn't hit Amazon Prime Video until Jan. 15, One Night in Miami previously premiered at the Venice Film Festival in September, making King the first Black woman director to be included in the festival's history.
When asked why she chose One Night in Miami as her feature directorial debut, King told Variety that Powers's play simply blew her away. "I felt like I had never seen conversations like this on screen before . . . so I just felt like what Kemp wrote was just so beautiful and I felt I wanted to be a part of this . . . As a mother, as a niece, as a daughter of a Black man, I just felt like I wanted to tell a story or be a part of telling a story that every Black man that I know and love can see a bit of himself."
03
Leslie Odom Jr.'s Singing
We already know Odom Jr. can hit those vocals, so it should come as no surprise that he does his own singing as Cooke in the film. In fact, he's even responsible for the song in the credits, which is titled "Speak Now" and was cowritten with Sam Ashworth.
"The movie is so special to me. Sam Cooke is dear to us all. We tried to hide that in the song we wrote," the actor told Rolling Stone about the civil-rights song. "In 'Speak Now,' we've called out to young people. It is an urgent call to action — to speakset alongside our urging them to first listen. Listen . . . and then speak. We listen for instruction, for inspiration. Malcolm left them for us. Sam left them. So, Sam Ashworth and I listened to them all. And then we wrote."
04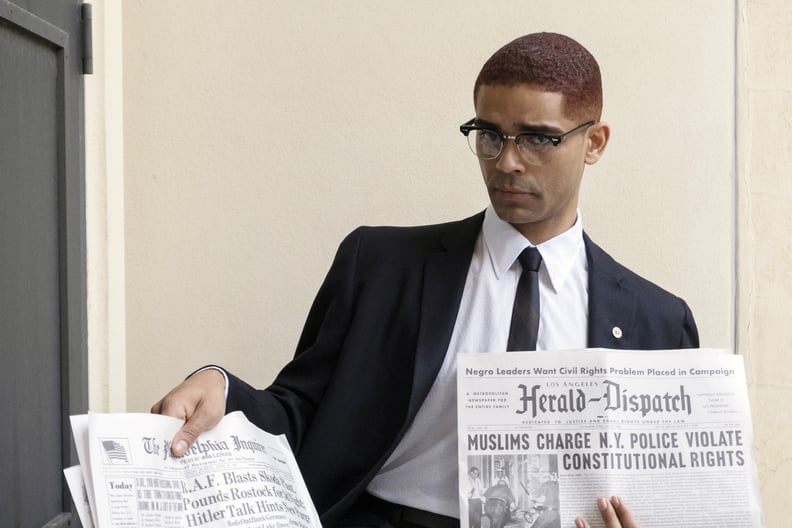 It's a Timely Tale
On the surface, One Night in Miami is a fictionalized account of a meeting that took place between Clay, X, Brown, and Cooke on Feb. 25, 1964, but at its core, it's a powerful story about racial injustice, religion, and personal responsibility. As the group spend a night in Miami discussing their roles as activists, leaders, and revolutionaries, the conversations that take place are some of the same discussions we are still having today amid the racial reckoning sparked by the killings of George Floyd, Breonna Taylor, Ahmaud Arbery, and countless other Black men and women at the hands of police officers.
"Going into it, I knew how powerful these conversations were because, unfortunately, 60 years later what these men were talking about are being discussed now," King told ET Canada. In a separate interview with Variety, Hodge added, "We can put that conversation on a grand stage and help to either teach people what it is we're going through and also teach us how to have that conversation within our own circles, so that we can keep moving forward towards real progress."
As for what King hopes viewers take away from the film, she told InStyle that she wants every Black man she knows and loves to see their own self in it. "Nobody is perfect, and we are just trying to do our best," she said. "While these men are legendary, they were trying to do their best. It's as simple as that."
One Night in Miami is available on Amazon Prime Video on Jan. 15.