Is One Night in Miami a True Story?
Is One Night in Miami a True Story? Yes, but the Writer Took Some Creative Liberties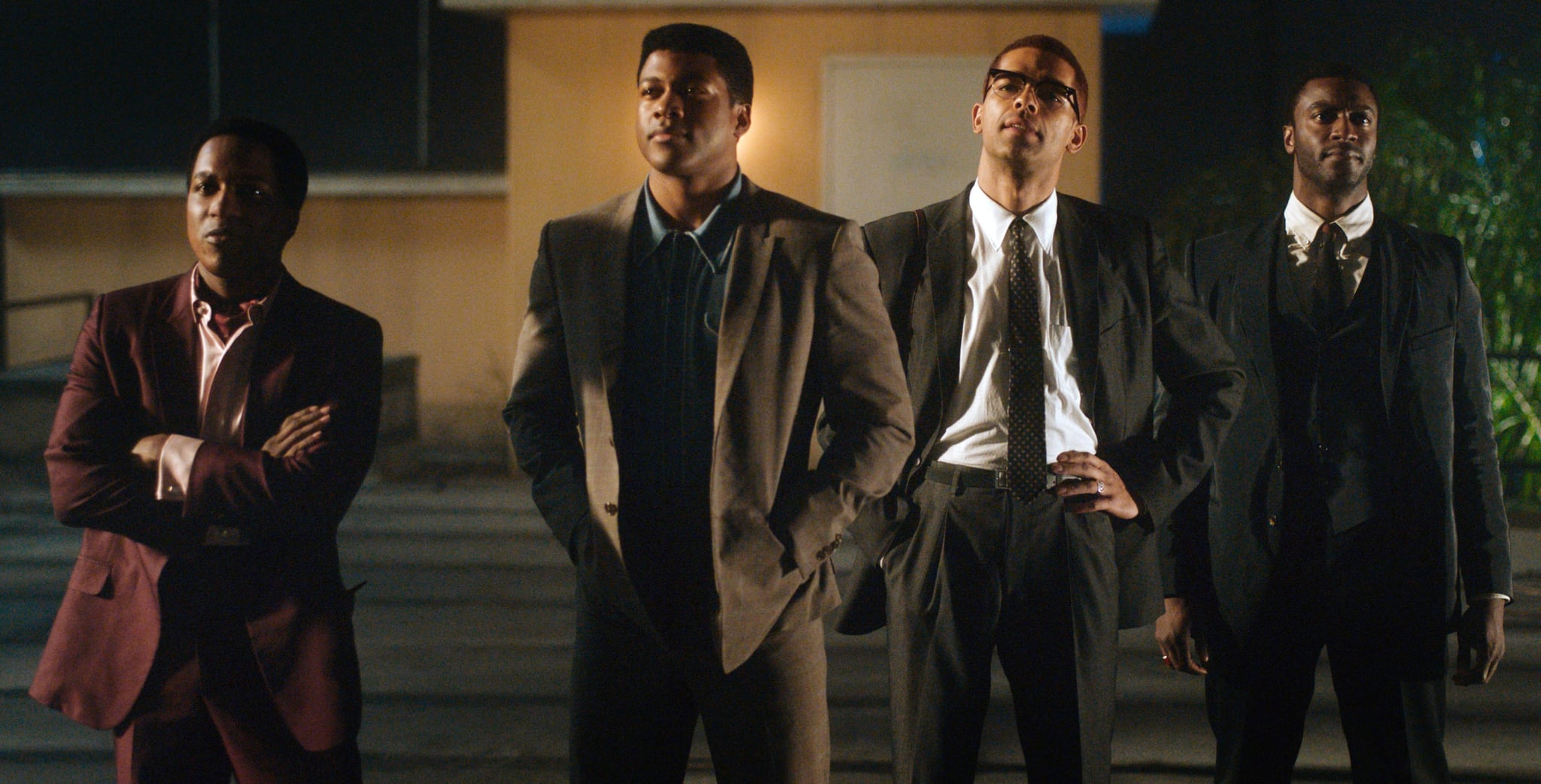 Watchmen's Regina King has graced us with her feature directorial debut, and it's already swarming with critical acclaim and Oscar buzz. Based on the play by Kemp Powers, One Night in Miami follows a fictional conversation between four Black icons: boxer Muhammad Ali, aka Cassius Clay (Eli Goree); football player Jim Brown (Aldis Hodge); soul singer Sam Cooke (Leslie Odom Jr.); and activist Malcolm X (Kingsley Ben-Adir). The film takes place on the night of Feb. 25, 1964, the historic date that 22-year-old Clay defeated Sonny Liston and became the world's heavyweight boxing champion. Clearly, the characters are based on real people. But is One Night in Miami based on a true story? The short and sweet answer is yes — we just don't know what the men actually said to each other.
Where Does the Story Come From?
In the original Olivier Award-nominated play, Powers, who is also the codirector of Disney's Soul, imagines that the men discussed both their personal relationships and the radical culture of the '60s during that night. The play made its world debut at the Rogue Machine Theatre in Los Angeles in June 2013. When she first read Powers's script, King had been picking up directing credits on television on shows such as Scandal and This Is Us. While filming Watchmen, King called Powers and told him, according to a profile by The New York Times, "I felt like you've written a love letter to Black men."
What Happened the Night of Feb. 25, 1964?
The four men really did meet up the night of the boxer's victory. Malcolm X, a longtime mentor and friend of Clay's, was at the ringside during the fight. He believed that Clay's win was preordained and that Allah would guide him in the ring. To commemorate his victorious night, Clay opted for a more low-key gathering of friends. He went to Miami's Brownsville neighborhood, where Malcolm X was staying at the Hampton House, a motel that Black celebrities often frequented back then. The two men then later met with Cooke and Brown. As a writer, Powers fills in the gaps during the hours that they spent together.
During a press conference the morning after his victory, Clay told reporters that he would go by the name Cassius X. Just a few weeks later, he publicly joined the Nation of Islam and announced that his new name was Muhammad Ali. Less than a year after this summit took place, a motel manager fatally shot Cooke on Dec. 11, 1964, at the Hacienda Motel under suspicious circumstances, and Malcolm X was assassinated on Feb. 21, 1965, while he was giving a speech at the Audubon Ballroom in Harlem. Ali passed away in 2016. About two years after the night portrayed in the movie, Brown announced his retirement from the NFL in 1966, although many felt he was in the prime of his career.
One Night in Miami comes out in select theaters on Dec. 25 before hitting Amazon Prime for streaming on Jan. 15.