Princess Rhaenyra's Many Romantic Relationships, Explained
As POPSUGAR editors, we independently select and write about stuff we love and think you'll like too. If you buy a product we have recommended, we may receive affiliate commission, which in turn supports our work.
"House of the Dragon" is full of dangerous plots and political maneuvers, but there's also plenty of time for romantic entanglements, both happy and not so much. For Rhaenyra Targaryen (Milly Alcock and Emma D'Arcy), her love life is every bit as messy and difficult as the rest of her life, filled with forbidden affairs and high-profile marriages. It's a part of her life where she tries to seize her own power but often with unexpected results.
At the beginning of the season, Alcock reflected on how Rhaenyra's relationship with Daemon gets so messy in a conversation with POPSUGAR. "But I wanted to make sure with Rhaenyra that she wasn't aware of what she was feeling and she wasn't fully aware of what this attraction meant to her because she hadn't experienced love or sex yet," Alcock said of Daemon and Rhaenyra's loaded interactions in the first episode. "So she didn't know what was going on, but something was definitely going on, and she's unaware. So I hope that me and Matt left quite an ambiguous scene." Both the viewers and Rhaenyra have been able to see their dynamic blossom over the course of season one.
While "House of the Dragon" has dramatized Rhaenyra's story on screen, George R.R. Martin's book "Fire & Blood" covers her entire life, from start to finish, including all of her known romances. Ahead, we're breaking down what we know about Rhaenyra's romantic relationships on screen, plus how they're a little different than they are in the books!
Sign up for HBO Max now to watch "House of the Dragon."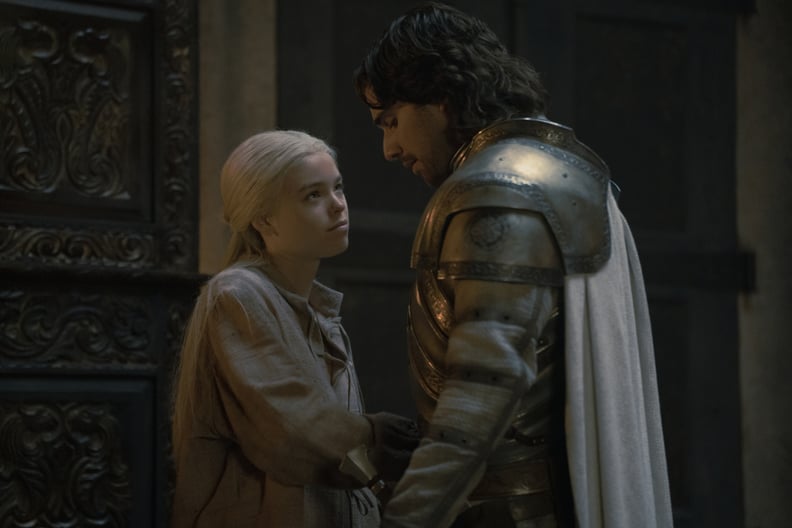 Ser Criston Cole
Rhaenyra's first notable relationship is with Ser Criston Cole, her sworn shield and a member of the Kingsguard, making any relationship between them utterly forbidden. In the book, the exact nature of Rhaenyra and Criston's relationship is unknown, and different sources report different rumors. The general gist seems to be that she had a crush on him for years. One source suggests she convinces Daemon to teach her how to seduce Criston, but Criston then rejects her. Another source suggests Criston asks her to elope with him, but she rejects him as unsuitable for a princess.
Whatever the reason, a rift between them develops, which is worsened when Criston kills the closest friend of Rhaenyra's new husband, Laenor, at their wedding tourney. During the Dance of the Dragons, Criston sides with Aegon and Alicent.
"House of the Dragon" offers more clarity on what really happened between Criston and Rhaenyra. After nearly hooking up with Daemon at a brothel, Rhaenyra returns to the Red Keep and convinces Criston to sleep with her. She's disappointed when he returns the next day and tries to put the night behind them, crushing her romantic hopes and foreshadowing the rift that is fast approaching. After she agrees to marry Laenor, she asks him to carry on the affair and rejects an offer to run away with him in the process, leaving him furious. That leads him to kill Joffrey at her wedding.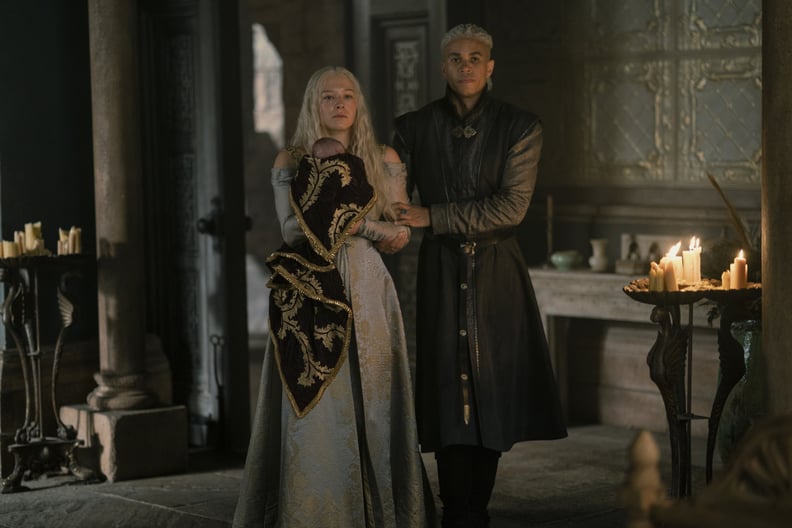 Ser Laenor Velaryon
Laenor, the son of Corlys and Rhaenys Velaryon (and second cousin of Rhaenyra), becomes the princess's first husband as a strategic move to unite the two most powerful houses and end the question of Rhaenyra's marriage. In the book, Laenor is not a bad man but one completely disinterested in marriage — or women at all. His best friend and "favorite," Joffrey, is killed at the wedding tourney, and rumors spread that he spends his time grieving his favorite rather than consummating his marriage.
Rhaenyra and Laenor's marriage produces three sons: Jacaerys, Lucerys, and Joffrey. Because none of the sons resemble Laenor — and because of Laenor's rumored sexuality — rumors abound that the children are actually the sons of Ser Harwin Strong, a knight who becomes Rhaenyra's sworn shield.
In the book, Laenor dies relatively young, following a fight with one of his rumored lovers.
In "House of the Dragon," the rumors about their sons are true. In episode seven, Rhaenyra reveals she and Laenor tried to have children but just couldn't make it work. Laenor is seemingly killed by his lover Ser Qarl Correy, but it turns out that Rhaenyra, Daemon, Laenor, and Qarl worked together to fake his death so the two lovers could escape across the Narrow Sea. For the world of "Game of Thrones," that's a pretty happy ending.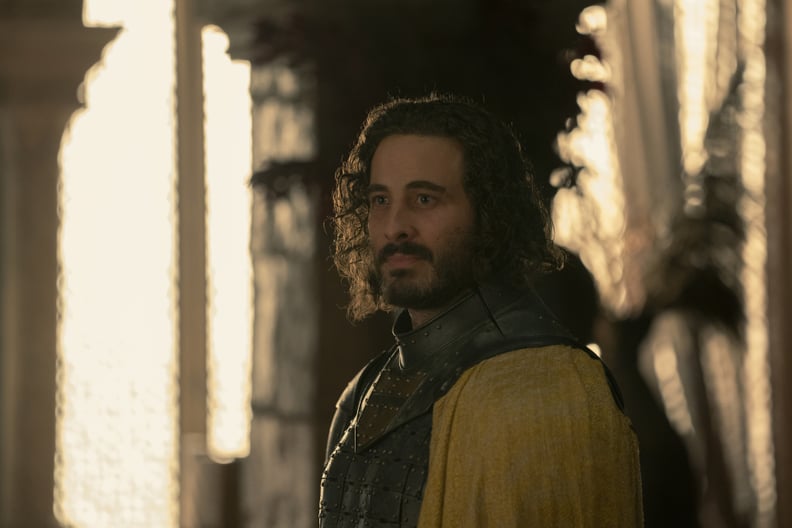 Ser Harwin Strong
In the books, during her reportedly unfulfilling marriage to Laenor, Rhaenyra is rumored to have taken Ser Harwin Strong as a long-term lover. Given that she's married, their relationship is certainly forbidden, but it reportedly lasts for several years. Rumors also spread that all three of Rhaenyra's sons, legally the products of her marriage with Laenor, are actually Harwin's children.
Like so many things in Rhaenyra's life, her relationship with Harwin also does not end happily, at least in the book. After a fight sparked by more accusations that Harwin fathered Rhaenyra's sons, he is removed as her sworn shield. He dies later that year, along with his father, in a terrible fire at Harrenhal. The fire is reported to be an accident and blamed on a curse, but some suspect more human (and vengeful) causes.
In "House of the Dragon," we learn the rumors of Harwin and Rhaenyra's relationship were true. Harwin and his father are killed by Harwin's brother Larys, Alicent's strongest ally. The curse of Harrenhal, their House seat, lets him get away with it.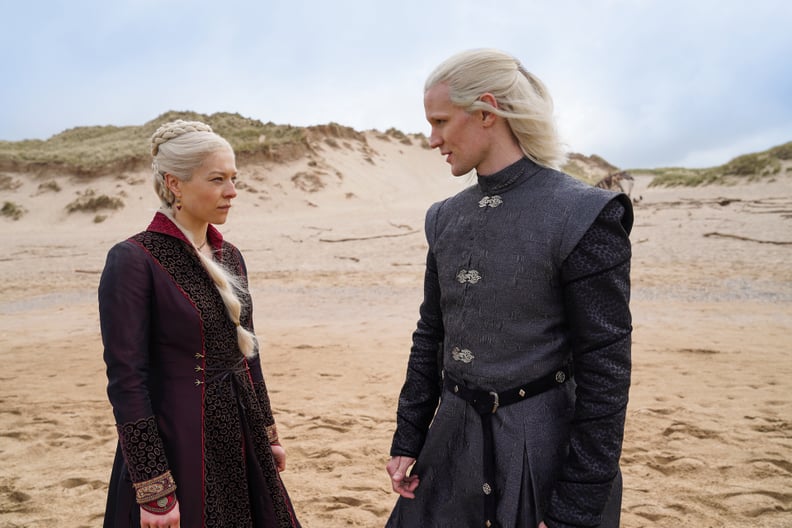 Prince Daemon Targaryen
In "Fire & Blood," Rhaenyra's longest-lasting relationship is with her uncle, Prince Daemon Targaryen. In addition to the age gap and the incest, their relationship starts off on an especially controversial foot, with rumors that he either seduced her or taught her to seduce Ser Criston Cole, resulting in his exile. In the book, Daemon was married twice before, first to Rhea Royce, then to Laena Velaryon, sister of Rhaenyra's husband, Laenor.
However, both Velaryon siblings die, leaving Rhaenyra and Daemon both widowed and with children. Months later, Rhaenyra and Daemon marry, causing a scandal with the sudden nature of their marriage and with its secrecy, performed without King Viserys's knowledge or permission. Nevertheless, their marriage is ultimately accepted, and they have two sons, Aegon and Viserys.
On "House of the Dragon," Rhaenyra and Daemon have a very flirty relationship dating back to when she's a teenager. He takes her to a brothel and kisses her but flees before they can have sex. Rumors of their encounter spread anyway, and he tries to get the king to let him marry Rhaenyra, but Viserys refuses. Years later, after both their marriages to the Velaryon siblings and Laena's death, they fake Laenor's death together so they can marry. Technically, Rhaenyra has two husbands now.