Kaitlyn Dever Is Romeo's Ex in the Hilarious "Rosaline" Trailer
Think back to when you had to read "Romeo and Juliet" in English class (or when you first saw Leonardo DiCaprio and Claire Danes in "Romeo + Juliet"). Before Romeo falls head over heels for Juliet, he's obsessed with Rosaline, Juliet's cousin. He only attends Lord Capulet's party in order to get a glimpse of Rosaline — and instead he sees Juliet. The rest of the story you know already, and Rosaline doesn't even have a line in the script.
So what about poor Rosaline? That's the question asked by "Rosaline," the new romantic comedy starring Kaitlyn Dever and coming to Hulu this October. In the movie's trailer, released Sept. 22, when Romeo (Kyle Allen) moves on and sets his sights on Juliet (Isabela Merced), Rosaline is furious. She'll do anything she can to get her "boyfriend" back. By Rosaline's side is Dario, played by "Reign"'s Sean Teale, and it looks like sparks fly between the duo.
"Rosaline" is another film in Dever's already-impressive résumé. The 25-year-old actor made her big breakout in 2019's "Booksmart" with Beanie Feldstein. She was also Emmy nominated for her role in 2019's "Unbelievable" and in 2021's "Dopesick." This October, she's also starring in "Ticket to Paradise" with George Clooney and Julia Roberts.
Read on for everything we know about "Rosaline," including the cast, trailer, and release date.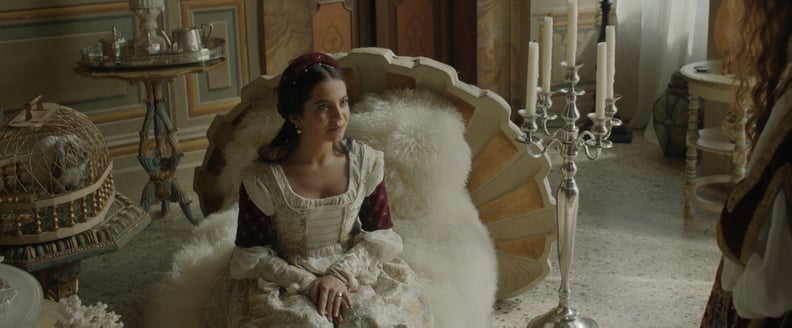 "Rosaline" Cast
Dever stars as Rosaline with Merced as Juliet, Allen as Romeo, and Teale as Dario. Bradley Whitford plays Friar Laurence and Minnie Driver plays the Nurse, who act as mentor figures to the teens of Verona. Spencer Stevenson plays Paris, whom Shakespeare nerds will remember is the one who's supposed to marry Juliet before Romeo gets involved.