Old Features a Song by M. Night Shyamalan's Daughter Saleka
Saleka on Writing a Song For Dad M. Night Shyamalan's Old: "I Didn't Want to Let Him Down"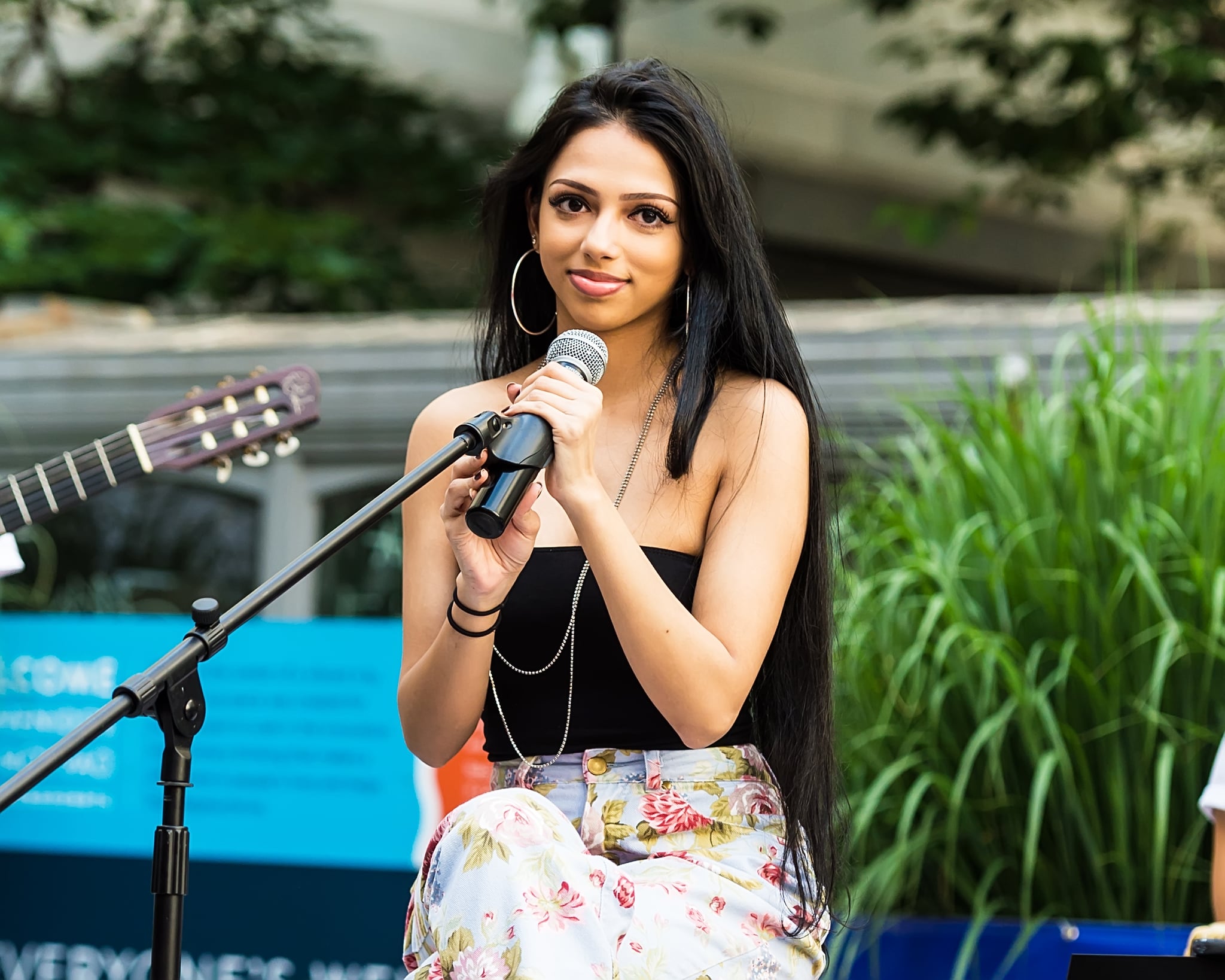 Image Source: Getty / Gilbert Carrasquillo
M. Night Shyamalan is teaming up with his talented daughters for his latest film, Old. While his daughter Ishana served as the second unit director for the film, his daughter Saleka wrote a beautiful track for the film titled "Remain." As the supernatural thriller follows a family that travels to a mysterious beach that makes them age rapidly, the song is utilized throughout the film's storyline. "I don't want to give too much away, but one of the characters sings it in the beginning of the film, and then again when she is older," Saleka told POPSUGAR about the special significance behind the track. "It creates a sort of full-circle feeling, but is also a marker of how much has changed in that time. There is also a lot of emotional meaning behind that later moment when the song is sung. It is an expression of forgiveness and vulnerability and a vow of love."
Having previously worked with her father on his Apple TV+ series, Servant, Saleka said he approached her about writing a song for his movie Old. "He gave me the script to read and told me that one of the characters in it sings a song, and he wanted me to write it," she said. "The script was such a masterpiece, suspenseful, emotional, chilling, there was so much to draw from artistically. My dad told me he wanted the song to emphasize the love story between Guy (Gael García Bernal) and Prisca (Vicky Krieps), and especially the feelings and perspective they have at the end of the film." She added that he actually looked at U2's "With or Without You" as the "lyrical inspiration for the type of tumultuous and all-consuming love he wanted the song to describe."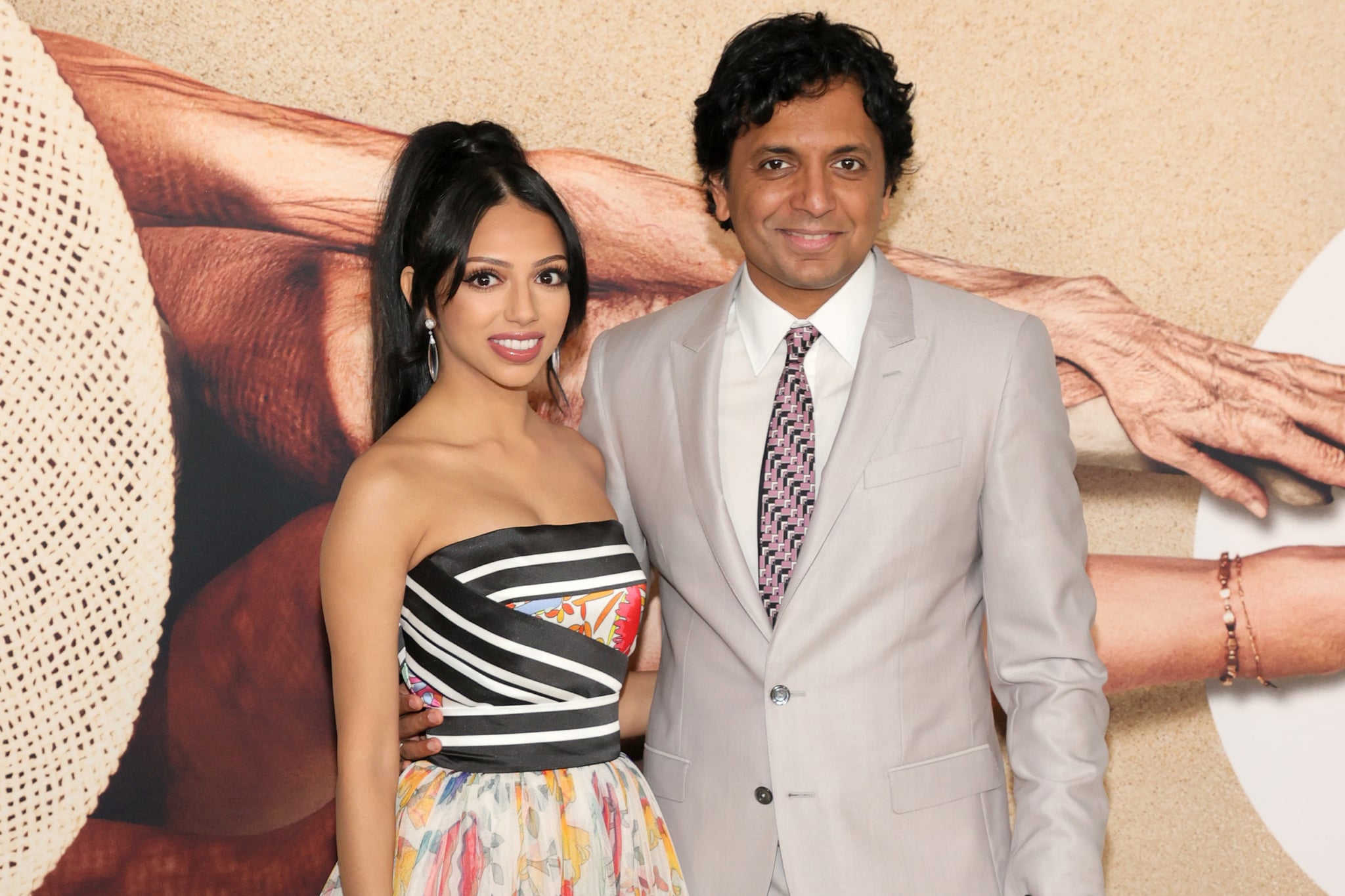 Image Source: Getty / Dia Dipasupil
Though Saleka has released a handful of songs — including "The Sky Cries" for season two of Servant — she says this one is certainly one of her most meaningful. "This was one of my favorite songs to write, because the script of Old was the most inspiring prompt I could ever ask for," she said. "We talk about film, music, [and] art a lot in my family, and often help each other with ideas for projects we are working on. So collaboration with my dad actually felt very natural."
"He had a vision of the song and how it would fit, and I didn't want to let him down!"
She noted that writing music for Servant helped her write this track for Old. "I was especially nervous to write a song for the film because it is so large scale, and my dad is very specific about every little thing," she said. "He had a vision of the song and how it would fit, and I didn't want to let him down! He did give me a lot of artistic freedom and trust, though, to create anything I want. I was able to bring out some of my classical piano roots for this one and record a piano-based piece. I was even able to arrange the string parts myself, which was the first time I did that solo! The composer of the film, Trevor Gureckis, shared some of the atmospheric sounds he used in the movie score, and I snuck some into the song as well to create some subliminal continuity. What a wild feeling to start writing this song on a keyboard in my bedroom and then hear it months later in this incredible film!"
Following the release of Old, Saleka has a few other exciting projects in store. She teased that she possibly has "a couple more" songs on future episodes of Servant, and she has a new single coming out this August, with a full album releasing this fall. "I'm also so excited to be performing and traveling again," she said. "I will be playing Music Midtown festival in Atlanta in September and Austin City Limits in October!" We certainly can't wait to hear what else Saleka has in store. You can hear her new song in Old, which is currently playing in theaters.