The Secret Talker by Geling Yan Review
A Woman, Her Stalker, and a Dark Mutual Obsession Unravel in This Psychological Thriller
As POPSUGAR editors, we independently select and write about stuff we love and think you'll like too. If you buy a product we have recommended, we may receive affiliate commission, which in turn supports our work.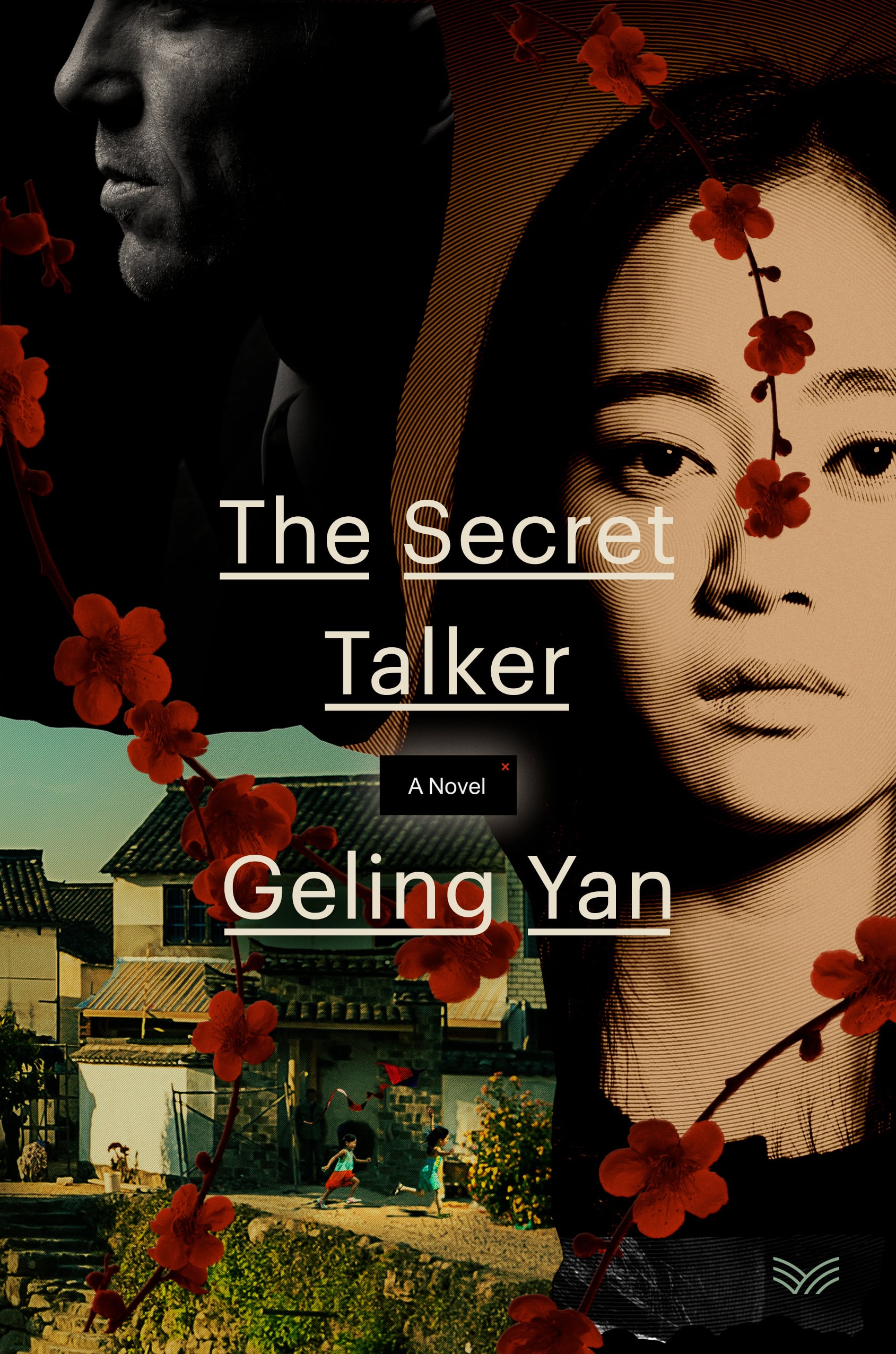 The Secret Talker by Geling Yan (out May 4) is a deliciously dark and twisty novel all about uncovering new things about each character — and it's not until the end that it all completely clicks. Qiao Hongmei, the protagonist, has left everything for her husband: her military intelligence job in China, her ex, the childhood village she's eager to forget. Glen, a well-off American professor, sweeps her off to a life of leisure and study in the San Francisco Bay Area. "If this were the ending," Hongmei says, "it really would be a very sweet fairy tale."
But that is only the beginning of the novel, originally published in 2005 and newly translated from Chinese by Jeremy Tiang. The plot picks up years after Hongmei leaves China, and her relationship with Glen is disintegrating. Her skin crawls when he touches her, and they communicate via notes left on the kitchen counter. Worst of all, she's shrunk to fit the stereotype he wants: a quiet, obedient wife, beautiful but passive. When we meet her, Hongmei is shattered by disappointment. "She'd always thought there would be an even bigger world in front of her, an even more perfect man waiting for her love," Yan writes. "In the end, this wasn't the case."
Then Hongmei receives an intriguing, disturbing email from an anonymous admirer. The dark emotions she's kept so tightly bound are suddenly set loose, and she can't help but start a correspondence with this person, whom she calls "the secret talker," fascinated by their obsession with her. The secret talker teases out her past in painful shards, revealing shocking violence, a grim determination to do whatever it took to escape her small, haunted hometown, and gaping wounds in her relationship with Glen. Hooked by the adrenaline rush and caught up in her own growing attraction, Hongmei can't stop responding, even as the secret admirer becomes a stalker who seems to track her every move — then tells her about it afterward, relishing each word.
"Without transgression, happiness wasn't real."
What makes Hongmei, Glen, the secret talker, and the rest of Yan's small cast of characters so fascinating is that you believe they might be capable of anything. This is especially true as we dive deeper into Hongmei's past and get tantalizing glimpses into the truth of her relationship with Glen. It's not just her dissatisfying marriage or the steamy attraction that drives Hongmei to investigate the secret talker's true identity, intently pursuing a face-to-face meeting; it's a burning desire to be truly understood, a connection only the secret talker can give her. And in her raw, stripped-back style, Yan spares nothing for her characters, cutting through the white lies and platitudes they use to comfort themselves. "No one can ever be fully aware of how many plans are sprouting in the darkness at the bottom of their heart," she writes.
The final twist is satisfying and well-executed, and late enough that I wondered if it would come at all. Immediately, I wanted to reread the whole book and dig up the clues I might have missed — always a good sign after you finish a mystery, and The Secret Talker is an excellent one. Searing and delicately brutal, it strikes at the heart of what makes a relationship implode.
Standout Quote
"Without transgression, happiness wasn't real . . . She told Glen how much she loved him, and that was the truth — it felt as if her unfaithfulness had made her love him even more. Every woman finds that a secret passion increases her ardor and warmth for her husband, and every lucky husband should thank his shadowy rival, whether real or imagined. The security of a household stems from feelings constantly going their own way, conscience and falsehood adjusting each other, the third point of a triangle forever shrouded in darkness."
Mindset
The strands of this story don't come together until the very end, so get ready to exercise a bit of patience, but don't worry — the intense internet affair between Hongmei and the secret talker propels the book forward fast.
Where You Should Read It
Read this one on a rainy, foggy night (think: chilly San Francisco spring, or as close to that as you can get) with a glass of wine nearby.
Read This If You Like . . .
This book gave me the same claustrophobic, skin-crawling sensation of being watched and hunted as The Woman in the Window by A.J. Finn.
POPSUGAR Reading Challenge Prompt(s)
If you're reading this one for the 2021 POPSUGAR Reading Challenge, use it for these prompts:
A book set in multiple countries
A book published in 2021
How Long It Takes to Read
Two or three days. The Secret Talker is only 150 fast-paced pages, propelled by a mystery that'll keep you reading through the night.
Give This Book to . . .
This is a great one for a book club. Short and full of gasp-worthy revelations, it also brings up questions of relationship morality that are sure to spark debate.
The Sweet Spot Summary
The Secret Talker ($21) by Geling Yan is a psychological thriller that turns a merciless eye on the flaws and failures that doom relationships, following a woman desperate to be understood and afraid she never can be.
Image Source: June Park