The Seven Husbands of Evelyn Hugo Review
After 4 Years of Hearing About The Seven Husbands of Evelyn Hugo, TikTok Convinced Me to Read It
As POPSUGAR editors, we independently select and write about stuff we love and think you'll like too. If you buy a product we have recommended, we may receive affiliate commission, which in turn supports our work.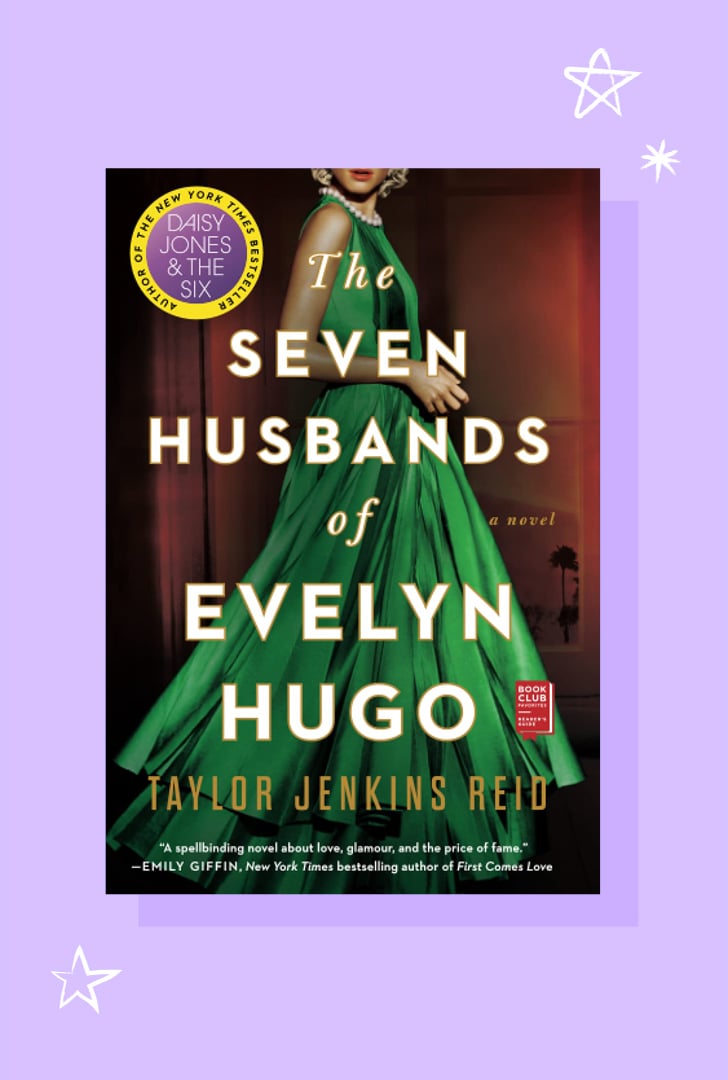 Taylor Jenkins Reid released The Seven Husbands of Evelyn Hugo ($17) in 2017, and one of my biggest, most recent regrets in life is sleeping on the novel for four full years. Thanks to TikTok encouraging me to read the spectacular work of fiction about an Old Hollywood starlet's life, I am now fully obsessed with the story and want to talk about it every waking hour of the day.
In The Seven Husbands of Evelyn Hugo, present-day Evelyn is a 79-year-old recluse, a far cry from the woman she was as she ruthlessly gained stardom through her films and various personal scandals from the 1950s on. However, she's ready to tell her story to the world — the story of her true self, the glamorous and not-so-glamorous parts of her career, and her marriages — to Monique Grant, a seemingly random and unknown journalist who can't believe she's being offered this opportunity. As they sit together and Monique learns everything she needs to know about the real Evelyn to write the actress's biography, it becomes clear why she was chosen for the job and that it wasn't random at all.
If you still haven't read The Seven Husbands of Evelyn Hugo (which is partly inspired by real celebrities and events!), please, let me be the last person to finally shame you into it. Keep reading for my review of what I truly think is my favorite read of the year and one that is going to stick with me for a long time to come.
Standout Quote
"When you're given an opportunity to change your life, be ready to do whatever it takes to make it happen. The world doesn't give you things, you take things. If you learn one thing from me, it should probably be that."
Mindset
Be ready to feel fully immersed in the Old Hollywood scene — you can imagine you're a star sprawled out in a luxurious mansion, wearing a plush robe or evening gown, a glass of Champagne in hand.
Where You Should Read It
Anywhere you can settle in and get comfy — you're not going to want to put this book down from the second you pick it up.
Read This If You Like . . .
Books inspired by historical events and people, pop culture, scandals of all kinds, stories about love — both romantic and platonic — and/or Jenkins Reid's last two books, Malibu Rising and Daisy Jones and the Six, which both feature ties to Evelyn Hugo.
POPSUGAR Reading Challenge Prompt(s)
This novel can check off more than one 2021 POPSUGAR Reading Challenge prompt; just pick the one that fits best for you.
A book by an author who shares your zodiac sign (Sagittarius)
A book everyone seems to have read but you
How Long It Takes to Read
I positively devoured this book in two three-ish-hour sittings. It's a quick read in that you won't be able to put it down, though it clocks in at 400 pages.
Give This Book To . . .
Literally anyone who will read it quickly and talk to you about it afterward.
The Sweet Spot Summary
At 79, reclusive Old Hollywood starlet Evelyn Hugo is ready to tell the true stories of her life as an actress, her seven marriages, and her various personal scandals. Evelyn chooses unknown journalist Monique Grant to write the tell-all biography, and as the pair sit to discuss Evelyn's glamorous (and not-so-glamorous) life, it becomes clear to Monique why she was specifically chosen for this opportunity that will transform her career. The biography will alter the public memory of the famous Evelyn Hugo, but that's precisely what she wants: to take back the narrative and make crystal clear that she never claimed to be a good person.
Emoji Rating
💃🏼 + 🎬 + 💍