Sofia Wylie on Playing Sharpay 2.0 in the HSM Series: "She Knows What She Wants"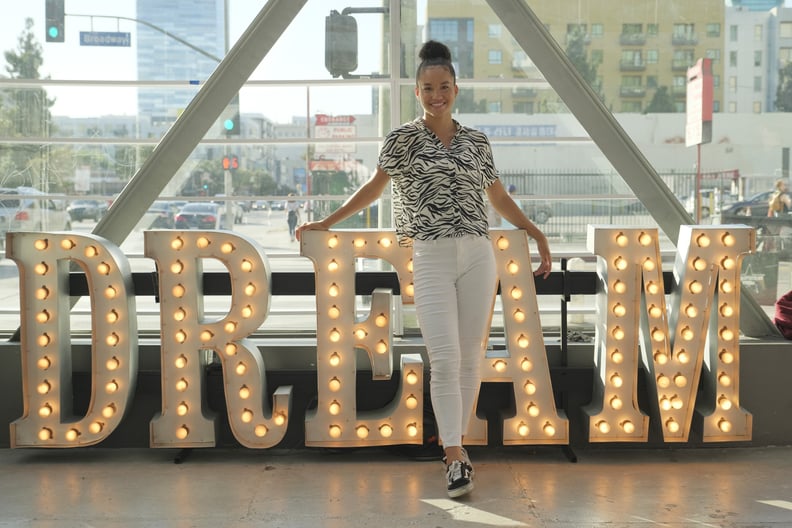 Disney Channel/Tony Rivetti
Sofia Wylie is living out her dream, one role at a time. After growing up watching Hannah Montana and Shake It Up, and idolizing stars like Zendaya when she was younger, Wylie is now experiencing the magical world of Disney firsthand. The 15-year-old got her big break on Disney Channel's Andi Mack in 2016, and she's been on a roll ever since. This year, she's combining both of her loves of dancing and acting with her new short-form series Shook, as well as the highly anticipated High School Musical series, which is a reimagined take on the famous movies.
Shook, which started streaming on Disney Channel's YouTube on Sept. 28, sees Wylie as an aspirational young high schooler named Mia who uses her love of dance to better express herself. Her character, Gina, in High School Musical: The Musical: The Series couldn't be more different.
At first glance she may seem like your typical high school mean girl, but she's so much more than that; if I'm being honest, she's basically Sharpay Evans 2.0. When I recently chatted with Wylie on the phone about her upcoming projects, it was instantly apparent that her passion for her roles is just as strong as her longtime love for all things Disney. However, it isn't just getting to do what she loves that makes each day feel like she's living in a dream — it's that she's able to be a role model to younger audiences as she's doing it.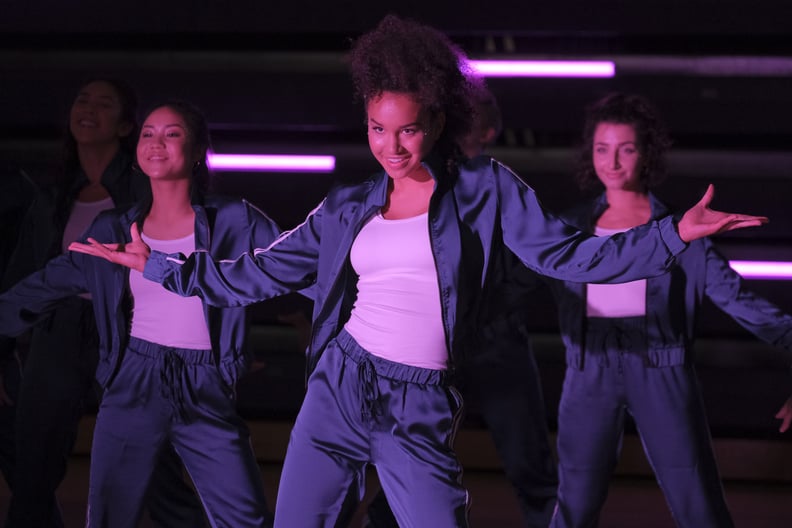 Disney Channel/Tony Rivetti
POPSUGAR: After completing Andi Mack earlier this year, what drew you to Shook?
Sofia Wylie: The show is so versatile. Not only is there so much representation, diversity-wise, but also it's just a fun show for me to be a part of because I get to show the world my passion for dance and acting. Of course, I love acting, but dance is something that I truly have a deep connection with. Being able to show more than just the acting side of me was very fun, and being a part of a project that uplifts and inspires and has a lot of great messages is always a big plus for me because I want people to really take something from it.
PS: Like you said, you're a dancer yourself, and you've been dancing since you were really young. How else would you really say that you relate to your character Mia?
SW: It was quite crazy because I felt really connected to Mia from reading just the script, but once we actually had scene study for the first week of production, and the more and more we got into depth about who Mia was, I realized how 11 or 12 year old Sofia was at the exact stage of life that Mia is at in the show, which is where you're at this point of not really knowing who you are, not being certain with who you are, and not feeling as if that's enough. There's a lot of reasons why Mia feels that way. That comes with growing up, especially within the industry, and having dance as something you want to do when you grow up.
It's scary because it's not a certain future. There's no, "I'll do these steps and then I'll become this." It's very uncertain, but when you have a passion for it, you're going to do it no matter what and you just have to believe in yourself for that. Mia also has a great family system, where she is able to have people who support and love her, and I was lucky enough to have that as well. There are many differences but I just feel for her, and I feel for all of the kids out there who feel as though they aren't enough just as themselves. I think we'll really be inspired by her journey, and her journey to find her own voice.
PS: What is it like to be able to combine both of your loves of dancing and acting with this role?
"You can be more than just one thing. There's no box that any of us have to fit into."
SW: Oh my gosh, incredible! I've grown up as this person who would beg my parents to video me while performing or just going around my house videoing myself, making movies, or shooting my own music videos. So, this has always been my life. Shows like Glee and Shake It Up really inspired me, because I was able to see that I don't just have to be an actress, or just a dancer, or just a singer. I can do it all. So, that's what I really hope kids see from this show, is that you can be more than just one thing. There's no box that any of us have to fit into.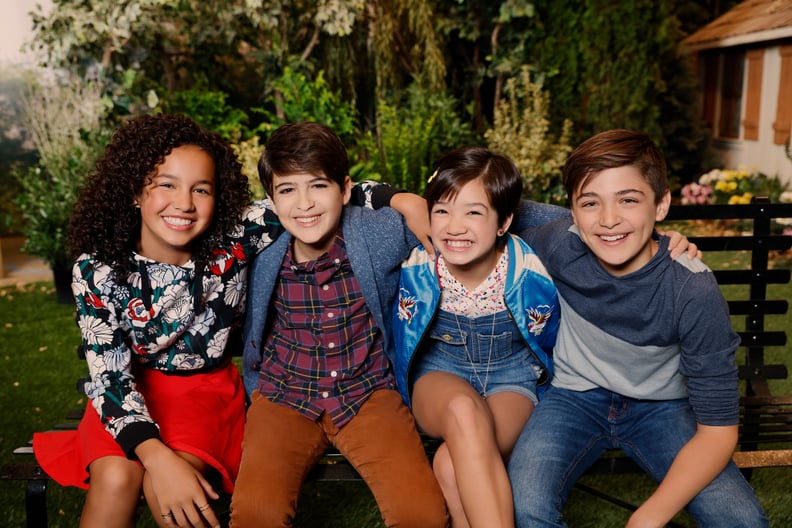 PS: Your first major acting role was on Disney Channel's Andi Mack, which has received a lot of praise for its honest portrayal of young teens. What was it like to be on a show that made such a big impact on its fans?

SW: Andi Mack will forever have such a special place in my heart. First off, it was really the first thing I had ever done, and I'm so thankful to Disney for giving me that platform and experience, and learning so much from those three years of my life starting out in the industry. But also, as you said, just the comfort and inspiration that it gave to so many out there and the representation that they felt from the show was so incredible. That made me want to pursue acting for the rest of my life, because that feeling of actually being able to impact others with my work, and just doing something I love on a Disney Channel show, which was my dream, but then actually really affecting people while doing that, really made it all worthwhile. I think speaking for the whole cast, we had some of the best years of our lives on that show and we learned so much about ourselves. I just couldn't thank that show enough for where I am today.
PS: Do you have a memorable fan moment, maybe on social media or in person, of a fan telling you how much that show meant to them?
SW: There are so many great moments. Something personally for me was one of the first DMs that I really got once the show came out from a fan. Somebody said to me, "I have curly hair, and you have really inspired me because I can identify with you, and I never really felt like I was represented before, and I can see myself on television. So, thank you for being you and being so confident in yourself, because you make me more confident in myself, as well." That was the craziest feeling!
"I always want to be the best role model I can be, not just other young African-American girls out there, but for everybody."
Just knowing that I'm not doing anything other than living my life, and that can make a difference in somebody else's. Growing up, for me, people like Oprah, Zendaya, or Beyoncé really inspired me to know that I could do anything as a young African-American female in this industry. So being able to be that representation for others was a real crazy thing for my mind to grab, but ever since that moment I always want to be the best role model I can be, not just other young African-American girls out there, but for everybody. It's quite impactful.
PS: I know you mentioned Zendaya, but were there any Disney stars that you really looked up to growing up?
SW: Yeah, I mean, Miley Cyrus, Selena Gomez, Zendaya, Raven-Symoné, practically every single Disney Channel actor or actress I grew up watching. I love them, and they inspired me to want to act. Of course, when I was little I didn't really understand that that was something I could really do until much later in my life, but that really sparked so much more interest for me. Being able to see people that I loved pursuing their dreams, and being on shows like Shake It Up, Cheetah Girls, or Hannah Montana — those were all so special to me as a little girl, and even now. I will watch those, day and night. I love Disney, still. So it's really great being a part of the Disney family now, because Disney was still my family when I was little.
PS: Now that you're a part of the Disney family, how do you hope that you can inspire the new, younger audience coming forward and looking at you as a role model?
SW: With any role that I do, I just try to make sure that there is some true inspiration or representation that people can feel from it. For Andi Mack, my character came from a military family — the mom was in the military — and I had a lot of people reach out to me about how they'd never seen a military family [on screen] before, and they're in a military family. Being able to understand that other people are going through that too was really comforting and special to them. For Shook, Mia deals with a lot of adversity in her life following the passing of her father. So, for people who have dealt with losses in their lives too, that can be something for them to realize that they're not alone and that it can get better — you can be happy. It's not going to feel that way forever and you're going to be okay. I could go on and on, but there's always something special inside these roles that I've been able to play within the Disney family, and that's why I am forever grateful to Disney because they've always given me these roles that can really connect to the outside world and that real people can associate with.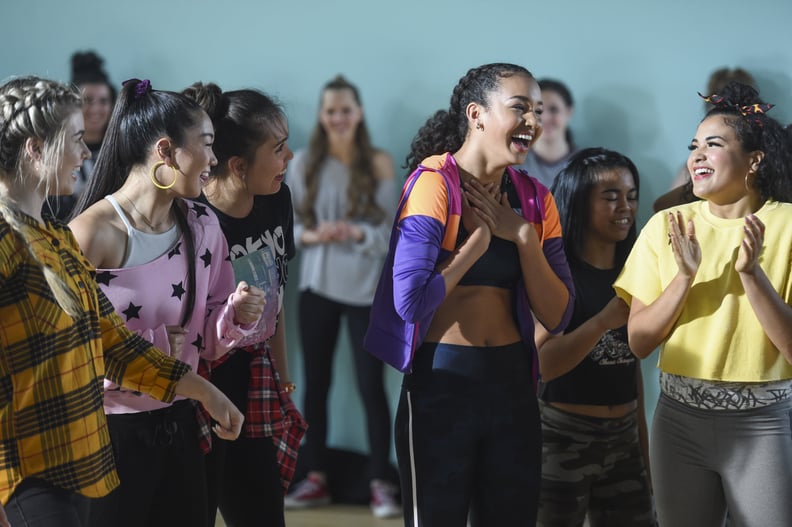 PS: In addition to Andi Mack and Shook, you're also part of the new High School Musical series. Being a big Disney fan yourself, what was your reaction when you found out you were going to be on the show?
"I've idolized this world for so long, being a part of it is now feels like I'm in a dream."
SW: Oh my gosh. I did a little video journal for myself, I started them a little bit before I started auditioning for Andi Mack, so of course, I did it when I was auditioning for High School Musical because that's such an iconic franchise. I definitely grew up watching [the movies] billions of times with my sister. When I started auditioning for it, I was like, "I have to document this because this could be something that changes my life." I was watching the videos [a few days ago], and I was saying to my future self, "I don't know if you've booked High School Musical, but if not, it's okay. Just keep going girl, and I hope you're having a great time if you are shooting it." And it was this weird feeling knowing that was everything I could have wanted and now I'm actually living it. I've been so blessed to be living out my dream. First, with Andi Mack, then with High School Musical, and now with Shook. It's just so weird because I've idolized this world for so long, being a part of it is now feels like I'm in a dream. When I found out that I booked High School Musical, I took a video right after. I was crying, and hysterical, and screaming, and it just felt so strange.
PS: You've said that your character is a little bit like Sharpay. She was always my favorite character from HSM, so I'm curious to know how they're similar.
SW: Yeah, same with me. Sharpay was, and is, my favorite High School Musical character. So being able to play a character that is very similar, [who is] kind of the Sharpay 2.0, it's even more of a dream. I used to recreate all of the iconic Sharpay numbers, like "Fabulous," and "Stick to the Status Quo," and now actually going to East High, shooting at that school, seeing her pink locker, I was just like there's no way I'm actually alive right now.
But yes, Gina is very mischievous. She knows what she wants, she's vicious, she is a fashionista to the max, and she's just very cutthroat. From the second that you see her come on screen, you know that this girl could eat you alive. The best thing about Gina is she has so many more layers than she may come across as. She's not just the stereotypical mean girl who is one way and nothing else. There's always a reason behind the way people are, in my opinion, and we really get to see that for Gina. We really get to see who she is, what makes her this way, why, and that's going to be really fun for the audience to unravel Gina's story throughout this.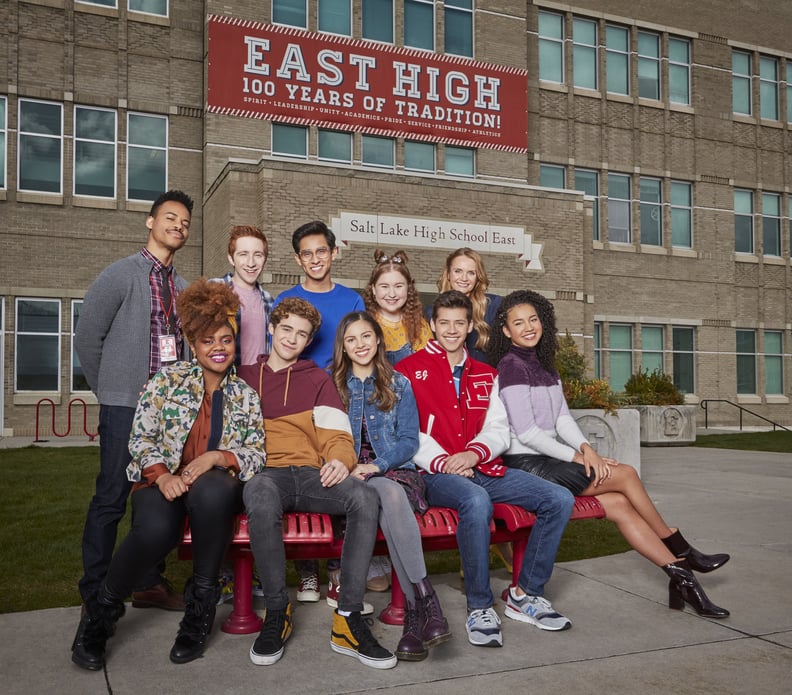 PS: What would you say are some of the biggest differences between this new series and the original films?
SW: A lot of people think that High School Musical: The Musical: The Series is just a series version of the High School Musical movie, and that couldn't be farther from the truth. The show is so different, but of course, we pay our respects to the original movies, and there are going to be songs from the original movies that are reimagined within the series. A lot of the original High School Musical fans are going to love it because of those elements. [There are a lot of references] that we make to the original movies, but the actual show itself is shot so differently, it's docu-style. It gives me a lot of Glee and The Office vibes. There are original songs and numbers, and the characters are so different too.
Each character, you really get to see them shine through. It's truly an ensemble cast, which I love because everyone will have their character that they associate with and that's their favorite. It's just such a good cast, such a good story, and it's very meta too. It's such a cool concept to shoot a show about a musical that was about a movie, that was also about a musical! It's very, very inverted and crazy, but I think people are going to love it so much.