The Song Payton Sings at River's Funeral in The Politician
The Politician: Ben Platt's Performance of "River" Just Might Be the Best Moment From Season 1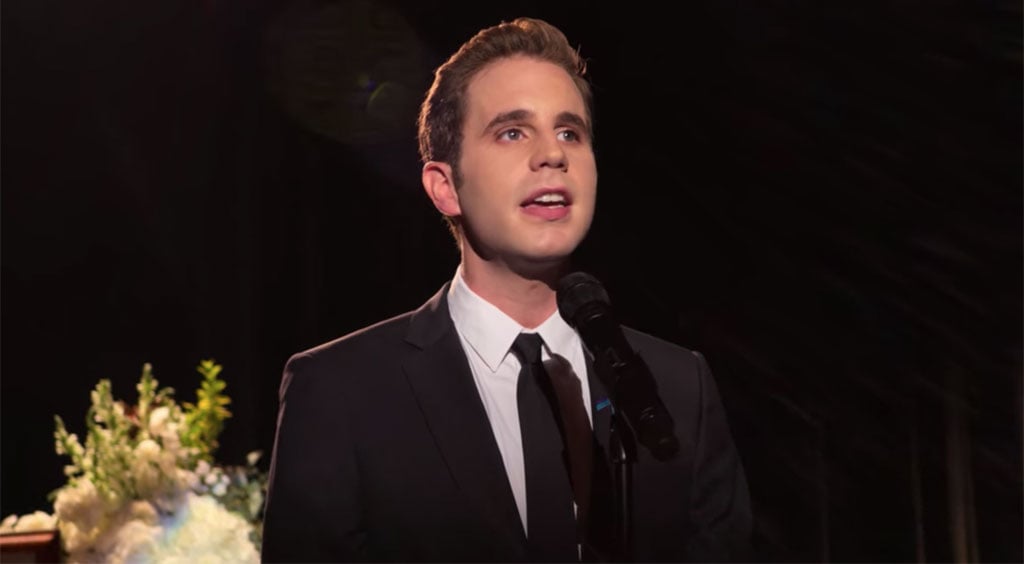 Warning: Spoilers for the first episode of The Politician below.
Once you've seen the entirety of Ryan Murphy's The Politician, the first series to come out of his new partnership with Netflix, you might feel . . . well, a bit all over the place. The storylines that begin in episode one are all but forgotten by the time the eighth episode wraps up, particularly the character of River (David Corenswet), who dies by suicide early on and later appears via visions and flashbacks. Despite not getting to learn nearly as much about River as we might have liked, we have to say that the show gives him one hell of a musical send-off, courtesy of Ben Platt.
The Dear Evan Hansen alum plays high school senior and political hopeful Payton, who memorializes his classmate, former tutor, and sometimes-lover with a moving rendition of Joni Mitchell's "River." The folksy Christmas song is off of Mitchell's 1971 album, Blue, and although it was never released as a single itself, it remains one of her most covered tracks. While the lyrics include references to the holidays, they mostly mourn a recent breakup, so it's an apt choice for Payton to sing (in addition to the title of the song, of course). Listen to the original version of the song below, and then check out The Politician's excellent theme song.
Listen to Joni Mitchell's "River":
Listen to Ben Platt's cover of "River":