All the Evidence Behind a Taylor Swift-Jonas Brothers Collab
The JoBros Can't Stop Mentioning Taylor Swift, So a Collab Must Be Happening, Right?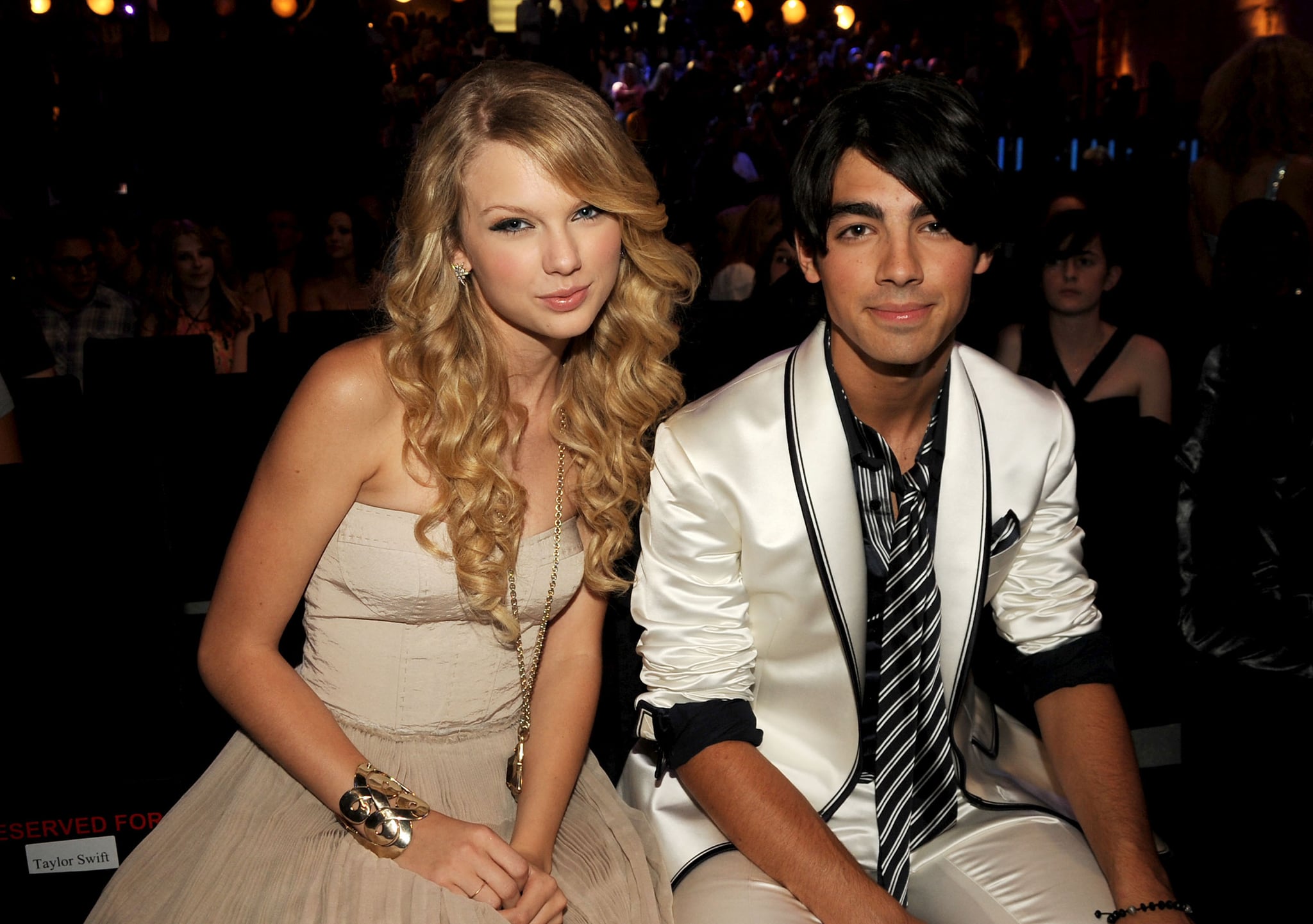 Another day, another Taylor Swift fan theory — and we really hope this one is true. It all started on Sept. 29, when Nick Jonas uploaded a rather chaotic video to TikTok that featured a glitch reminiscent of the one seen in Taylor's "Wildest Dreams" TikTok. By now, Swifties know that there are no coincidences when it comes to the Taylorverse, so fans immediately became suspicious that this might be a sign of a potential collaboration between Taylor and the Jonas Brothers.
Later that day, Nick uploaded another TikTok responding to a comment asking who edited the earlier video, while Taylor's song "ME!" played in the background, drawing an even bigger connection to the singer. In the video, Nick takes a bite of a slice of pizza, another familiar symbol in the Taylor Swift fandom. Taylor herself got involved by commenting on Nick's video "iconic," followed by the pizza emoji.
So what does it all mean, and what the heck is up with all this pizza? Ever since Swift appeared on Stephen Colbert earlier this year, fans have connected Taylor's emphasis on pizza during the interview to her album 1989. It might seem like a bit of a stretch, but Taylor mentions the importance of the pizza slice multiple times while talking to Colbert, and quickly brings up her album 1989, which she connects to a job Colbert had at a pizza-serving Italian restaurant in that same year. Her single "Style" from 1989 was also released on National Pizza Day in 2015, and her secret album listening sessions were known as "pizza parties." Now, fans are pointing out that Taylor's next album, Red (Taylor's Version) is set to be released on Nov. 12, which is National Pizza Day this year.
Fully enjoying the chaos he created, Nick uploaded another TikTok on Sept. 30 that featured a screenshot from gossip Instagram account @deuxmoi that says "collab. jonas brothers x taylor swift," along with a caption that said, "what's this collab rumor all about? For the record.. here for it."
Joe Jonas, who infamously dated Taylor in 2008, also joined in on the fun. First, he uploaded a series of pictures to Instagram with the caption "looking for *pizza emoji*" on Sept. 30. Then, on Oct. 5, he uploaded a TikTok with the caption "Maybe I Should've Said No To This." Once again, this caption set off alarm bells for Swifties who know all too well that Taylor has a song on her debut album called "Should've Said No," which she even once performed with the Jonas Brothers in 2009.
The boys kept the speculation train rolling into Novemeber. On Nov. 13, Joe attended Swift's taping of Saturday Night Live with his wife, Sophie Turner, in tow. Then, on Nov. 18, Nick uploaded a TikTok video flipping through an unapproved book called The Ultimate Guide to Nick Jonas. At several points, he stopped and gave some extra love to pages that featured the Jonas Brothers hanging out with Swift. "Okay, but you mentioning Taylor Swift has me thinking this is now an easter egg & idk how to live again," one fan wrote in the comments. Check out the TikTok ahead.
Between the glitch, the song references, and all the pizza emoji, it certainly seems like something is going on between Taylor and the Jonas Brothers. Whether it's a collaboration (please, please, please!) or they're just messing with us, we'll have to wait and see. We already have the Red (Taylor's Version) track list and know that the Jonas Brothers aren't featured on it, but hope remains for future re-recordings. The pizza-1989 connection has fans thinking all these clues might have something to do with that upcoming album re-release.
Fans are used to sussing through the infinite clues that Taylor drops about upcoming projects, and it's not unusual for her to get other celebs in on the action. But a joint effort between Taylor and the JoBros is definitely unexpected. After all, things didn't exactly end well between Joe and Taylor back in the day, and Joe is referenced across multiple Taylor albums — "Forever and Always" on Fearless, "Better than Revenge" on Speak Now, "Holy Ground" on Red, and "invisible string" on Folklore. When Taylor released Fearless (Taylor's Version), Swifties even got another song from the vault about Joe called "Mr. Perfectly Fine," which Joe's wife Sophie Turner (who happens to be a mega Swiftie herself) called "not NOT a bop."
So much has changed since Joe infamously dumped Taylor over voicemail when they were 18. In her song "invisible string," she sings "Cold was the steel of my axe to grind / For the boys who broke my heart / Now I send their babies presents" about Joe. Now, it looks like she trolls fans with him, too.