The Devil All the Time Movie Ending Explained
It's Time to Unpack the Violent Ending of Netflix's The Devil All the Time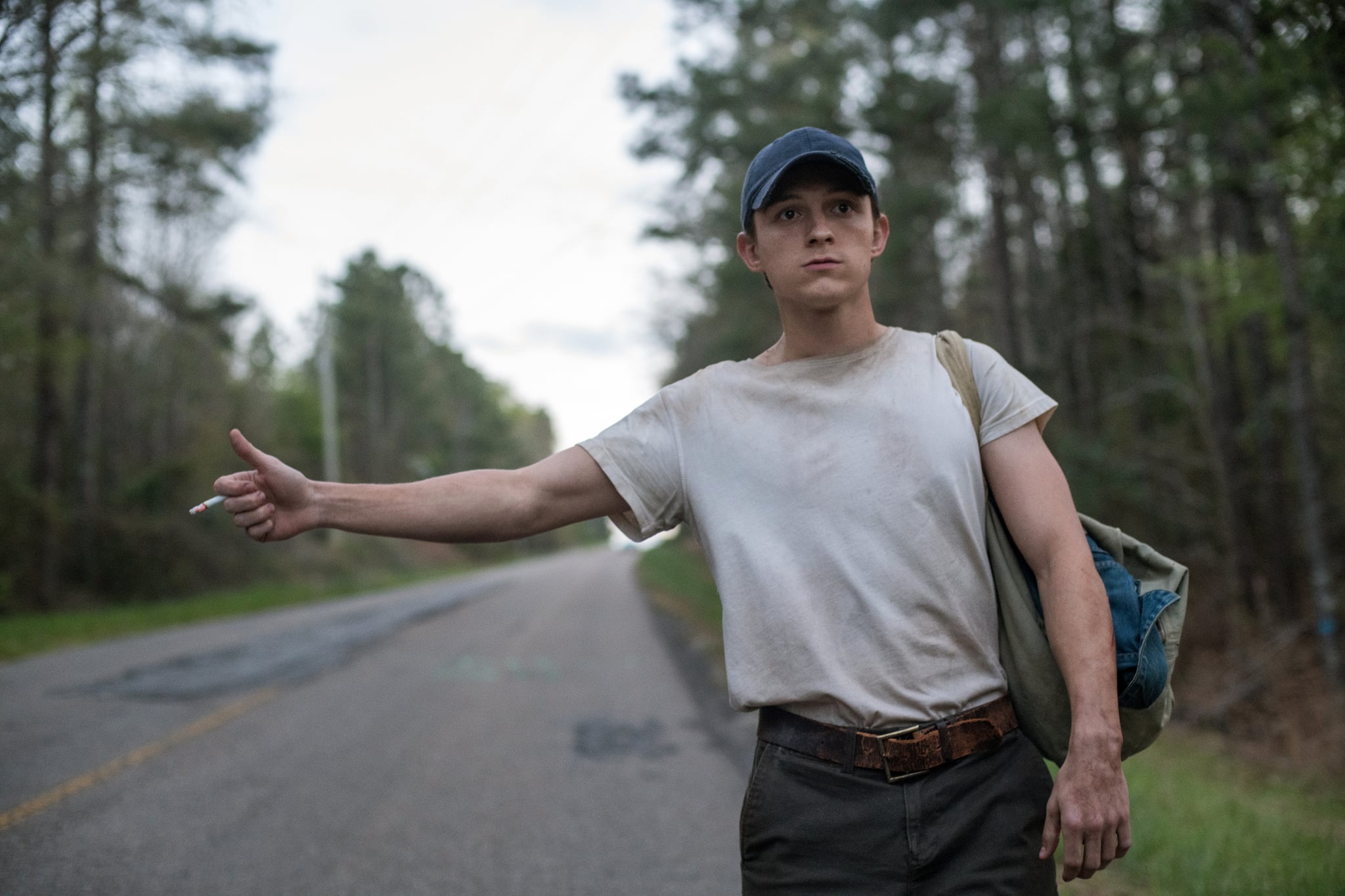 Image Source: Netflix
Antonio Campos's film adaptation of The Devil All the Time breathes life into the 2011 novel by Donald Ray Pollock, who narrates the thriller. The film — which premiered on Netflix on Sept. 16 — follows a variety of violent and disturbed people from the end of World War II to the start of the Vietnam War. Told nonlinearly, their stories are woven together by the narration through chance meetings and circumstance. In order to fully understand The Devil All the Time's ending, we need to break down its premise, the preacher, the serial killers, and the shoot-out that brings everything full circle.
The Premise
A number of violent and disturbed individuals deal with the trauma of war, illness, and crime, set against the backdrop of Knockemstiff, OH, and Coal River, WV. Arvin Russell, who's left an orphan after his father commits suicide due to his mother's death, will do anything to protect his loved ones in a town full of corruption. When his stepsister, Lenora Laferty, seemingly commits suicide, he makes a decision that affects the course of his life.
The Devil All the Time's interconnected stories really give credence to the uneasiness and tension we feel mounting throughout the movie. Connections we may have forgotten about, like that of Sheriff Lee Bodecker and Arvin, are frequently revisited and show that there's a larger force at work (perhaps the omniscient narrator).
Arvin Russell Confronts Reverend Preston Teagardin
From the moment Arvin receives his father's Luger gun as a gift, it's only a matter of time before he kills someone. While he's a good person at heart, Arvin is raised in an environment where violence is the answer. He recalls his best day with his father being the day Willard Russell almost killed the poachers, and after discovering that Lenora was pregnant at her death, his decision to kill the preacher is already made for him. Arvin has to choose the right moment and spies on the preacher to make sure that Lenora isn't Preston's only victim.
As Arvin "confesses" to Preston, it's almost like he's giving the preacher a chance to own up to his sins. However, when the preacher continues to deny, Arvin makes his move. Arvin knows he's done wrong by killing the preacher, choosing to remove the bullets as evidence. However, he also leaves behind the evidence of the preacher's wrongdoing in the hopes that the law will see his vigilante justice as a good thing.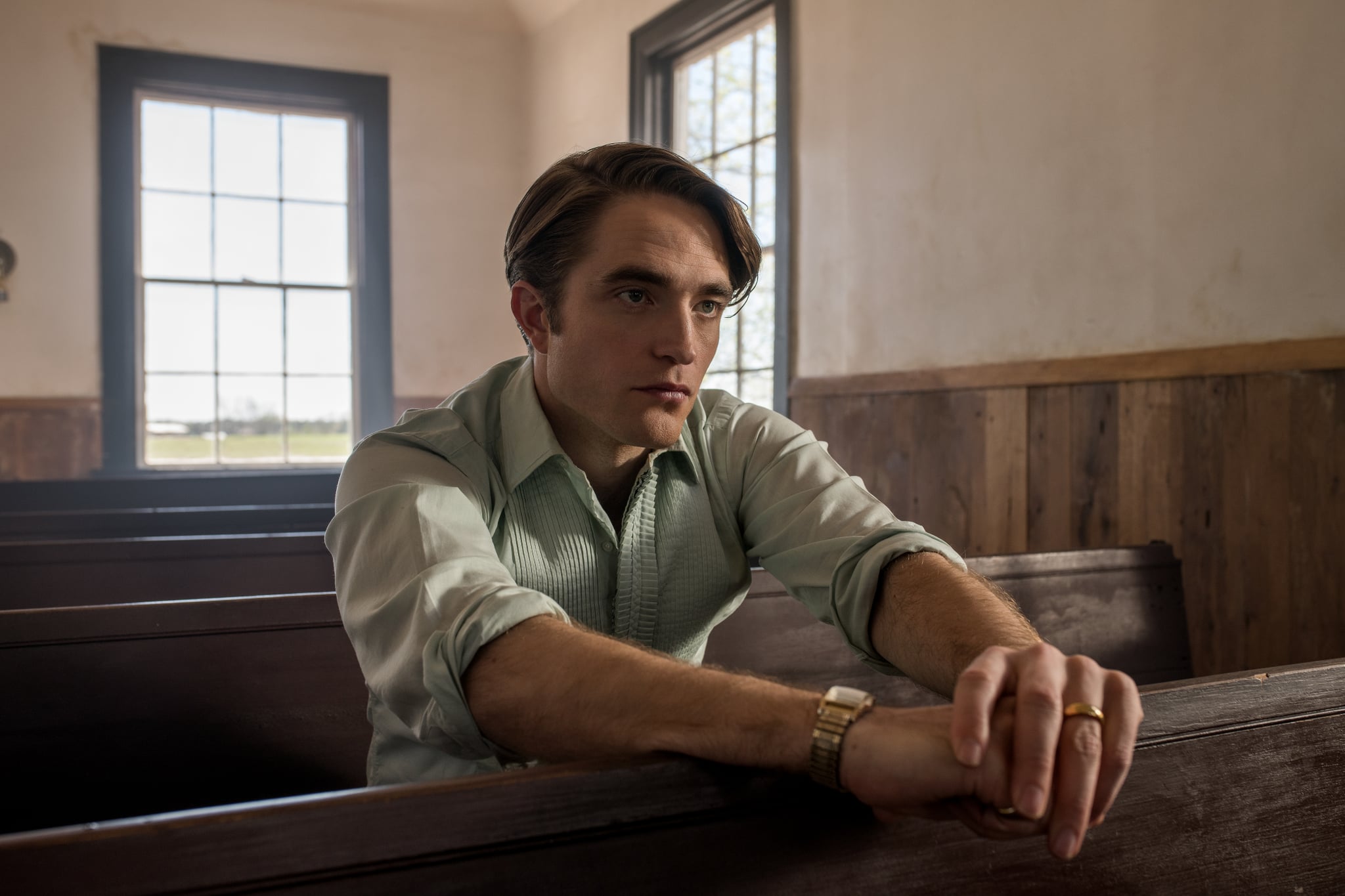 Image Source: Netflix
Sandy and Carl Henderson Pick Up Arvin Russell
Toward the end of the film, Sandy Henderson is disenchanted with her and Carl's life of killing. For years they've been picking up good-looking hitchhikers and killing them while documenting it all with their camera, but their decision to pick up Arvin goes against their one rule to not pick up anyone from home. Carl may have decided against this because Arvin looked like an easy mark or because he was trying to get Sandy excited again. Either way, it causes their death.
Arvin's already on edge, due to the murder of Preston, and when Carl feigns the need to go pee, he immediately gets his gun out. Sandy is again contemplating leaving Carl, this time just running off with Arvin, but Carl comes back, and before he can get a shot out, Arvin kills him. This causes Sandy to pull out her own gun. Unfortunately for her, due to Carl's paranoia, he emptied her gun and filled it with blanks prior to their trip. While Sandy is unable to shoot Arvin, Arvin kills her as well. Arvin is just trying to protect himself but because the world doesn't know of Sandy and Carl's crimes, the killing comes off as a merciless double homicide. What Arvin doesn't know is that Sandy is Sheriff Lee Bodecker's younger sister, and by killing her, he may have sealed his death warrant.
Sheriff Lee Bodecker and Arvin Russell Have a Shoot-Out
Arvin and Lee's paths first cross when Willard Russell commits suicide after the death of his wife, Charlotte. Lee is the officer called to the scene. "Some people were born just so they could be buried," he tells Arvin before sending him on his way. It's not until Lee gets a tip that Arvin killed his sister that they're set on a collision course to meet again.
Arvin heads back to where his family home once stood in order to make peace with his father's legacy. As he makes his way to the cross his father built, he hears Lee yelling his name before a shot rings out. Lee continues to hunt Arvin as Arvin does his best to stay hidden, trying to make the other realize his sister wasn't a good person. They eventually come to a standstill, with Arvin asking the other to set down his weapon. Lee refuses and shots ring out with Arvin remaining unscathed.
During his time as sheriff, Lee takes bribes and is essentially a corrupt cop. By not taking the time to listen to Arvin, he becomes one of the people who were just born to be buried. Lee realizes he's been shot, and as he lies dying, Arvin sets one of Sandy's Polaroids on the sheriff's body and leaves. Even though Arvin set out to protect the ones he loves, he now has to go on the run and can no longer see them. Had he handled the situations with anything other than violence, perhaps things could've been different.