TikTok's Mya Johnson on Addison Rae's Tonight Show Video
TikTok Dancer Reacts to Addison Rae Using Her Work: "That Should've Been My Time"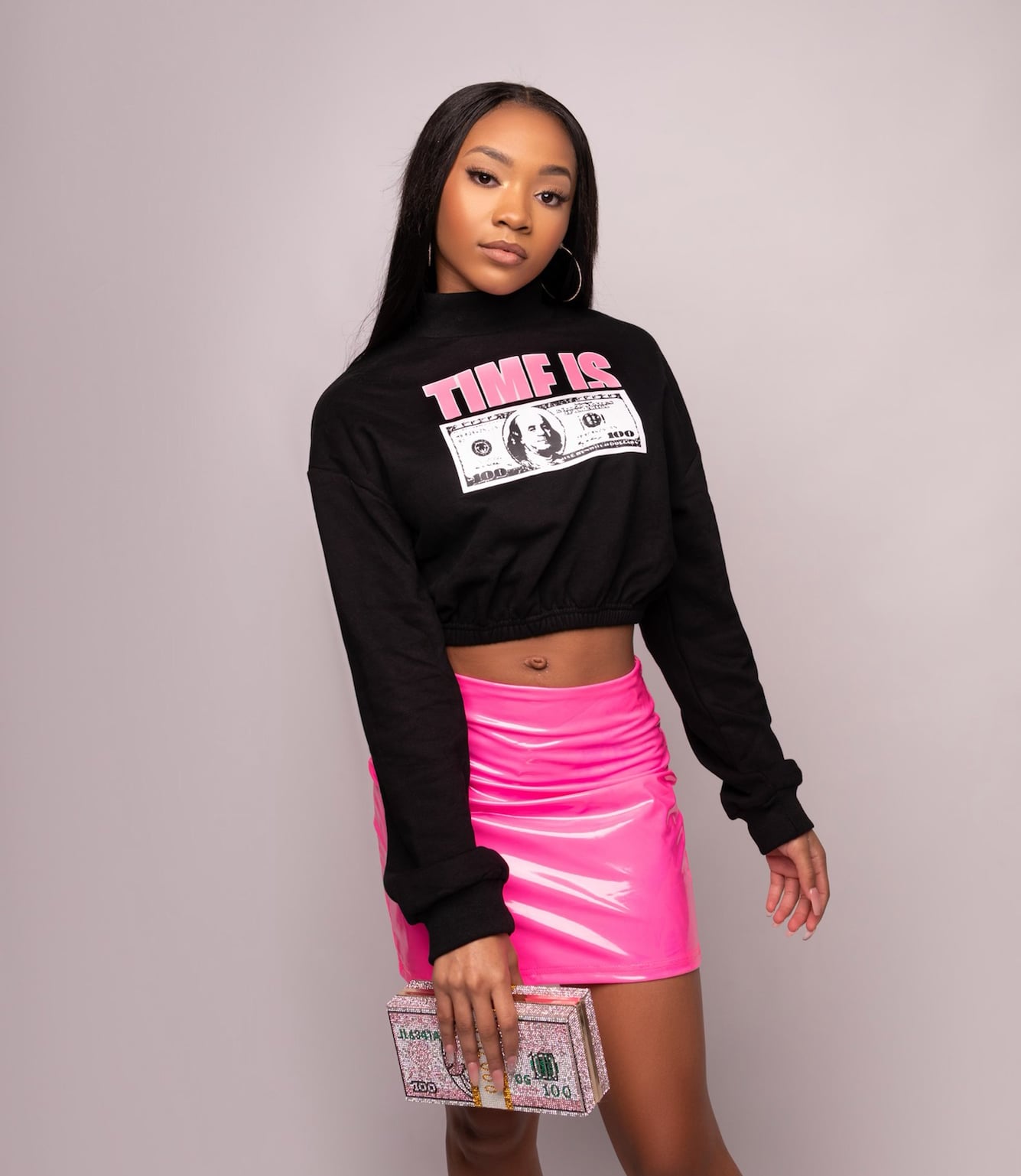 Image Source: Charming Charlton Photos
Mya Johnson knew Jalaiah Harmon before she created the "Renegade" dance. The fellow TikTok creators had crossed paths before Harmon's choreography went viral last year. Harmon's dance first gained attention when influencers Charli D'Amelio and Addison Rae co-opted her work, and then again when Harmon publicly reclaimed it. Harmon's experience has stayed with Johnson ever since, as she didn't want anything like that to happen to her — and then it did.
15-year-old Johnson has been creating dance routines since TikTok was better known as Musical.ly. She has nearly 600K followers on the app and celebrities frequently share her routines on their personal accounts. Among those celebrities is rapper Cardi B. A few months ago, Johnson and her fellow creative, Chris Cotter, decided to create a new dance set to Cardi B's "Up," and their video exploded. "It went up really fast," Johnson told POPSUGAR, calling the video's rapid success "crazy." It currently has over 7.8 million views. Cardi shared their routine on her personal social media, and the duo's original hashtag "upwmyaxchris" amassed over 14.5 million views. Yet, when the choreography was featured during a recent Tonight Show skit, Johnson wasn't asked to be involved. In fact, she was "shocked" to see her dance performed by another TikTok creator: Addison Rae.
"I was very surprised because it's like, 'Wow, I made a dance that's made it all the way to TV,'" she recalled. "Of course, I was happy and everything." But as Johnson thought about it more, the video didn't sit right with her. "My mom always tells me, 'When it's my time, it's my time.' I felt like that should've been my time and Chris's time, because we created the dance."
It's worth noting that the Tonight Show did provide Johnson's TikTok handle in the description of its YouTube video, however, that's not exactly a convenient place to look. Johnson felt like it would've been more impactful to see her name on screen or the hashtag she and Chris created. "Just little things like that, that have our name in it, so people actually know who made the dance," she said. Johnson would've "loved" to have been on the show. "I'm sure anybody would have," she said. Johnson even suggests that a moment with herself, Cotter, and Rae makes more sense than Rae's solo performance. (Rae recently commented on the controversy, and said she supports "all of them" but believes it would've been "kind of hard" to credit during the show.)
Johnson's experience is unfortunately not unique on TikTok, especially for Black creatives. She said they're passed over for partnerships their white counterparts receive, like clothing deals or makeup lines. "This isn't the first time this has happened and I don't want it to continue," she explained. "I feel like it is very important for us to get our credit because we are very good creators that are very overlooked in what we do."
So I'm guessing all of the black creators who made these dances up were busy huh? https://t.co/RS6boMNZH8

— He Who Remains (@KoolestKidOut) March 28, 2021
Johnson said she thinks the other Black creators who saw their work used on the Tonight Show would've "wanted the same thing" as her. I told her about another TikTok influencer I spoke to who was in a similar position, but said she doesn't think Rae should be receiving any backlash for her dance. This user considered it an honor just to be featured. Johnson doesn't agree. When asked if Rae should get pushback for the video, Johnson responds candidly, "Me, personally? I think so, yes. Only because there needs to be a stop to these types of things. It shouldn't continue like it's been happening. Back to the Jalaiah situation, and even happening now, people need to start speaking up for themselves and the challenges that they've created."