Was Jimmy Hoffa Ever Found?
The Irishman Gives Some Insight Into the Mystery of Jimmy Hoffa's Disappearance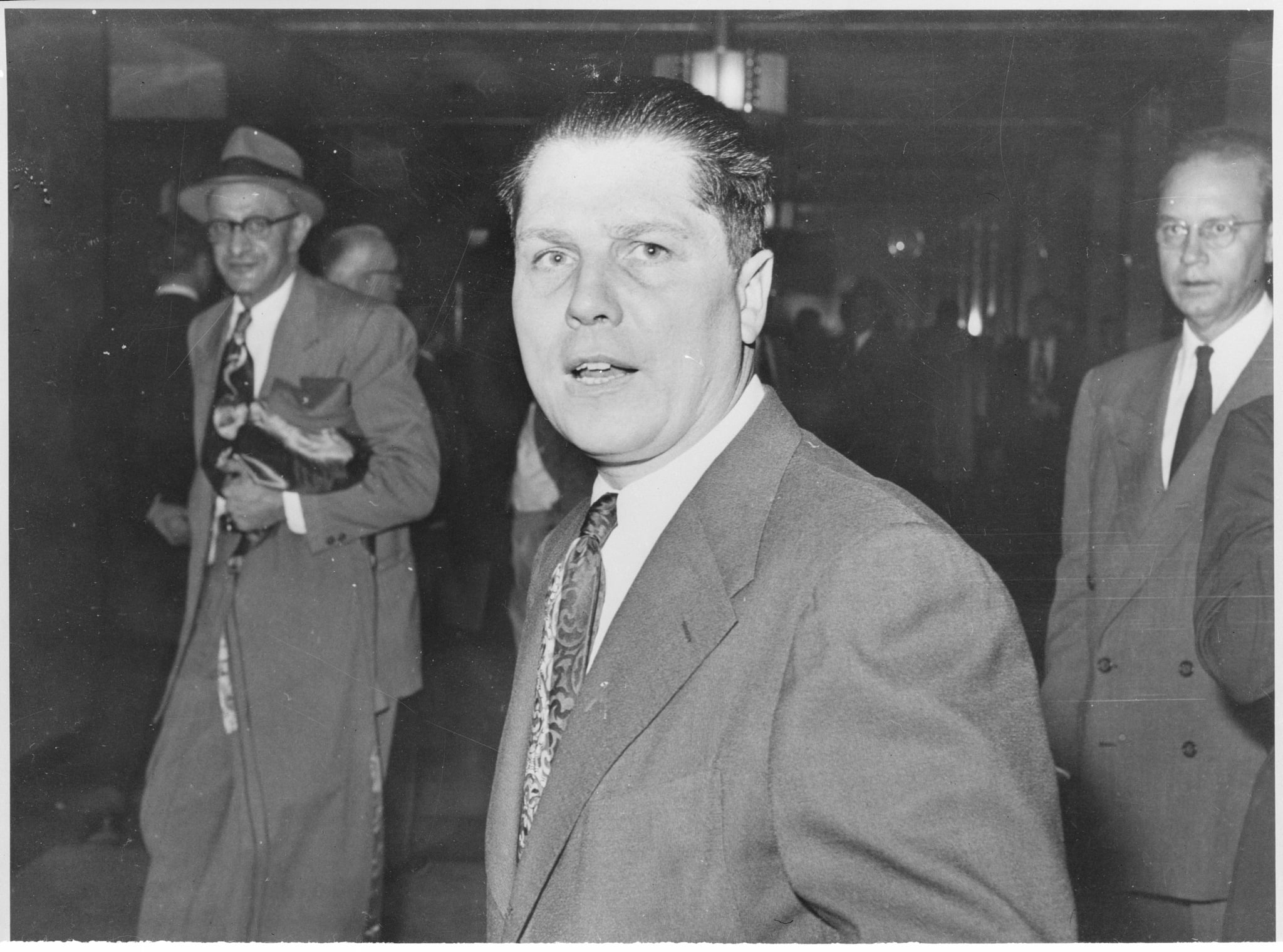 If you look up the titular character in Martin Scorsese's The Irishman, you just might find yourself going down a historical rabbit hole full of conspiracy theories. The widely anticipated true crime film takes on the disappearance of Jimmy Hoffa, the notorious labor leader who mysteriously vanished in 1975 and was never found. The film is based on Charles Brandt's book I Heard You Paint Houses, which breaks down how Mafia member and Teamster official Frank Sheeran, aka the "Irishman," aka Robert De Niro, was involved in Hoffa's death. So exactly how was Sheeran caught up in one of the biggest mysteries of our time? Here's what you need to know about Hoffa's disappearance and what claims Sheeran made about his involvement.
Who Was Jimmy Hoffa?
Hoffa was president of the Teamsters, the largest American labor union. To fend off rivals, he worked closely with the Mafia, lending mobsters money for casinos from the Teamster pension fund. Despite these shady dealings, he was beloved in the labor community for getting workers better benefits. In 1967, however, Hoffa was sent to jail for crimes of jury tampering, mail fraud, and bribery. By 1971, Richard Nixon pardoned him on the condition that he would not get involved in labor activities until 1980.
The Disappearance
On July 30, 1975, Hoffa, then 62, set out to meet with Mafia members Tony Provenzano and Tony Giacalone at 2 p.m. at the Machus Red Fox, a restaurant in Bloomfield Hills, MI. When they didn't show up, he called his wife. Soon after, people saw him getting into a car with three men, including someone who looked like his friend Chuckie O'Brien. That was the last anyone had seen of Hoffa. By 1982, he was declared dead in absentia. Additionally, two weeks before his disappearance, hundreds of millions of dollars disappeared from the Teamster pension fund, which is why it's long been believed that Hoffa was killed off by the mob.
Speculations About His Whereabouts
No one knows, with certainty, how, where, and if Hoffa died, as his body has never been found. Still, there have been many claims and speculations about Hoffa's resting place, of course. These sites include a driveway, a horse farm, and even the old Giants stadium — but the FBI did not find anything in these areas despite exhaustive searches.
There has been one confession (among many) that stands out in particular. It led to Brandt writing his book, which inspired Scorsese to direct The Irishman. Near death in 2003, Sheeran got in contact with Brandt and admitted to killing Hoffa after O'Brien dropped him and Hoffa off in a Detroit house. He claimed to have shot Hoffa twice in the head in that house and sent the Teamster's body off to a crematorium. His kill was allegedly ordered by mob boss Russell Bufalino, his longtime mentor. Bufalino was wary that Hoffa could divulge intel about the mob to the feds to get back into the union business quicker.
The story does have its merits, as it was likely that Hoffa would've gotten in the car with O'Brien and Sheeran, who had been his friends. Still, no DNA evidence ties Sheeran to the crime — a salvageable blood sample taken from the home did not turn out to be Hoffa's. While Sheeran's confession gained traction, it's also had its fair share of skeptics.
The circumstances around Hoffa's death remain a mystery, but it's definitely worth seeing Scorsese's take on how it possibly went down.