Yep, Toy Story 4 Transforms Bo Peep Into the Female Action Hero of My Childhood Dreams
Warning: Toy Story 4 spoilers ahead!
Toy Story fans, if you've been wondering what happened to Little Bo Peep ever since the second movie, you're in luck. Toy Story 4 answers all of our burning questions about the doll — it turns out Bo has been living quite the rogue lifestyle. Ever since Toy Story 3, she's swapped her classic pink-and-white polka-dot dress for a far more practical jumpsuit and created a toy crew of her very own.
Following the events of Toy Story 2, Bo Peep is only mentioned briefly in Toy Story 3 when Woody points out that several of the gang's original members have been lost to past yard sales and Spring cleanings. So, what exactly has she been up to since then?
During a flashback nine years into the past at the beginning of Toy Story 4, Andy's mom sells Bo Peep, her sheep, and her lamp to an unnamed man who wants to put them in his daughter's bedroom. Woody, ever the hero, attempts to help Bo Peep escape, but she insists it's time to move on to a new kid and even invites Woody to come with her. Just as Woody is about to accept, Andy comes rushing out of the house in a panic because he's unable to find his favorite cowboy doll. Woody and Bo Peep part ways, but it's certainly not the last they see of each other.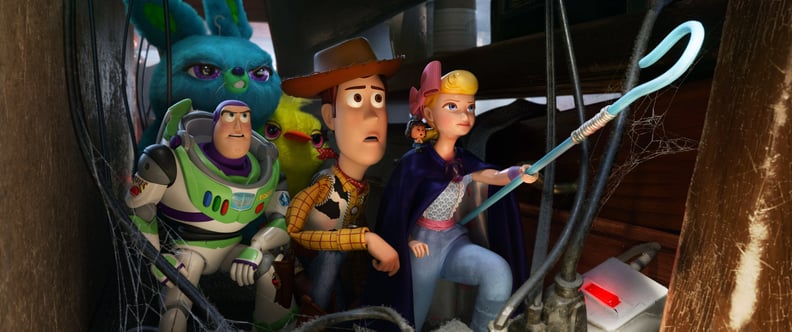 While she's known for her kindness and sensible nature, it turns out Bo Peep also has a tough side to her, and she can put up with way more than Woody or any of the other toys would have ever imagined. Back in the present day, Woody joins Bonnie's family on a road trip, where he comes across a new and improved Bo Peep, who now wears a pink bow in her hair and and drives around in a toy car disguised as a skunk. Even though she's suffered a few cracks in her porcelain, Bo Peep has stayed strong and proven her independent nature by becoming the street-smart leader of a group of toys who live at a carnival.
During a talk with Woody, Bo Peep explains that, shortly after Andy's mom gave her away, she was put in an antique shop where she collected dust for years before escaping to live a new life with her sheep: Billy, Goat, and Gruff. Now, she and her new friends consider themselves lost toys, taking the opportunity to play with whichever kids happen to pass through the carnival or the nearby playground whenever they can. While Woody is disheartened to hear that Bo Peep is a lost toy, her philosophy about her purpose in life has changed drastically over the years. Bo insists that she prefers living her life this way.
Throughout Toy Story 4, it's Bo Peep's quick thinking and level-headed nature that keep Woody going as he tries to save the film's newest character, Forky, and figure out his own destiny now that he's no longer a favorite toy. Ultimately, Bo Peep is able to show Woody that life can still be exciting and have purpose once a child has moved on, and she convinces him to stay at the carnival to help other toys find their forever homes.
Though Bo Peep's story might not be the one I originally envisioned her having when I first saw Toy Story over two decades ago, I think her independent personality and bravery made her stand out as the most empowering character in the fourth film by far. Ultimately, Bo Peep becomes the hero's hero, saving Woody and carving a future for herself and her friends that makes them feel like they're all home as long as they're together.