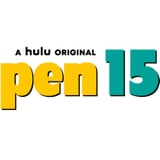 For us millennials who experienced our formative years during the early aughts, middle school was a very specific type of hell. There was the Y2K collective freakout, the new world of the internet, and who could forget all the fun fashion and beauty trends — hello, belly shirts and butterfly hair clips, amirite? Beyond what was going on in the world, we had to contend with everything else that comes with the most awkward phase of young adulthood — changing bodies, tons of "firsts," and the ups and downs of female friendships. Not to mention the fact that, for many of us, it was the first time we started to see our parents as real people with problems of their own.
The first season of Hulu's Pen15 tackles all these issues with eerie spot-on-ness — watching Maya and Anna navigate the world of middle school in the year 2000, I felt like I was back in the halls of my own middle school, rolling backpack in hand. My friends and I couldn't get over how perfectly the series captured the absurdity, hilarity, and incredible awkwardness we felt back then — and how something as small as crafting an instant message felt like life or death.
Now, Pen15 is back for a second season and follows the two BFFs into new territory as they go through the highs and lows of middle school together. Ahead of the premiere on Sept. 18 on Hulu, here's a taste of what you can expect from Maya and Anna's seventh-grade year.