Who Is Meena Harris, Kamala's Niece? She's Truly a Phenomenal Woman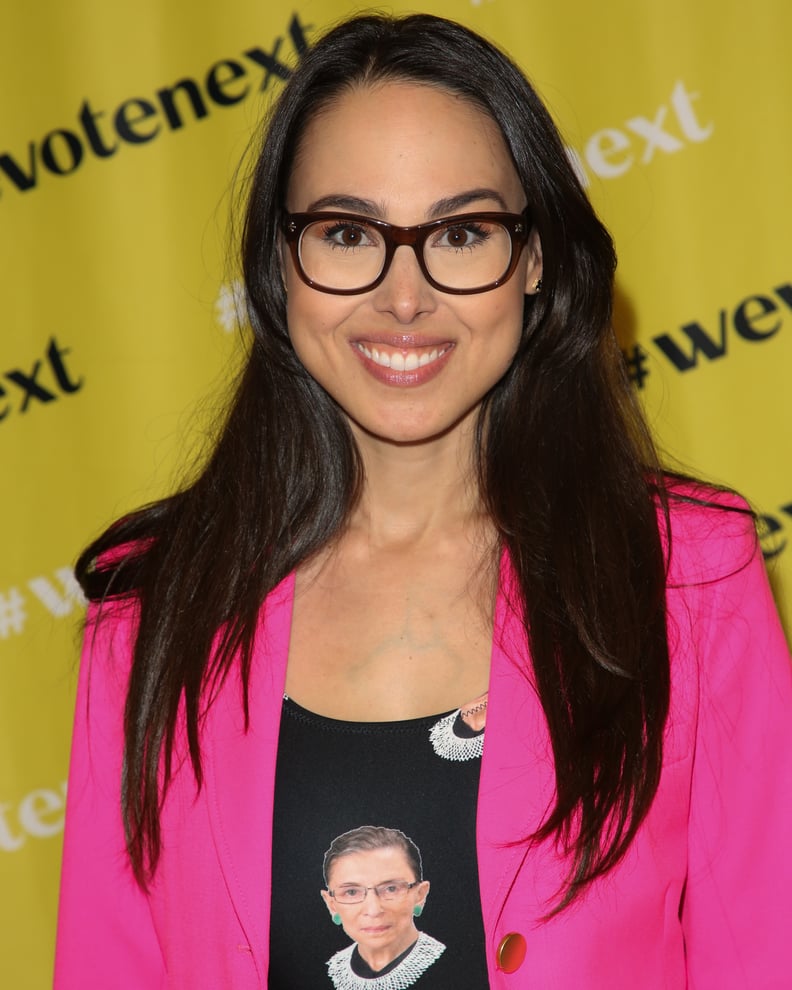 Getty | Paul Archuleta
If you only know Meena Harris because of her famous aunt (and the incredible bedazzled boots she wore to the 2021 presidential inauguration), then you've really been missing out. Vice President Kamala Harris's 36-year-old niece is a lawyer, children's book author, producer, CEO, and mother of two daughters, Amara and Leela. She's also a big fan of her aunt, who helped raise her (along with her mom and grandmother) and heavily influenced her career. Here's everything you should know about the phenomenal woman, including her education, her achievements, and the principles that have guided her throughout her impressive life.
01
She Was Raised With the Help of Her Aunt and Grandmother
Meena's mom, Maya Harris, became pregnant as a teen and gave birth to her daughter on Oct. 20, 1984, which just so happened to be her sister Kamala's birthday. Because she was only 17 at the time of Meena's birth, Maya relied on her older sister and their mother, Shyamala Gopalan Harris, to help raise her daughter while she pursued her undergraduate degree at the University of California-Berkeley and put herself through Stanford Law School. "I grew up surrounded by these strong, brilliant women who showed me what it meant to show up in the world with purpose and intention," Meena told Glamour in January 2020. "I just idolized them — these incredible women who were all around me."
Because her mother was so young, Meena also got to watch Maya pursue her career from the very beginning. "I had a 17-year-old single mom," Meena explained to Harper's Bazaar during an August 2020 interview. "So I got to see her go to law school. I got to see her go through her first law firm job. And same [with] Kamala. I saw so much of my mother and my aunt, and them becoming powerful women in the world starting in their 20s. I had a front-row seat for all of it."
02
She Introduced Her Mom to Her Stepdad
At just 4 years old, Meena unknowingly played matchmaker by introducing her mom to her future stepdad. On Maya's first day of classes at Stanford Law School, Meena convinced fellow law student Tony West to play hide-and-seek with her on the campus's courtyard, and Maya and Tony quickly became close friends. However, it wasn't until a few years after graduation that they started dating. "It's a family joke that Meena knew we should be together long before we did," Maya told the Stanford Lawyer in a May 2010 interview.
03
She Decided a Traditional Career in Law Wasn't For Her
Initially, Meena decided to follow in her mom's and aunt's footsteps by pursing a career in law. After getting her undergraduate degree at Stanford, Meena went on to Harvard Law School, where she graduated in 2012. After working for the international law firm Covington & Burling — as well as Slack Technologies, Uber, and Facebook — she realized that a traditional legal career might not be for her. Instead, Meena decided to launch the Phenomenal Woman Action Campaign, which is a women-powered civic engagement platform.
As Meena explained to NBC News in October 2020, her aunt always inspired her to pursue her passions. "When Aunt Kamala and mom were young and would come home from school complaining about something they felt was unfair, my grandma would reply, 'Well, what are you going to do about it? Don't sit around and complain about things, do something,'" Meena said. "Aunt Kamala always emphasized this lesson to me by urging me to make my own unique contributions to issues I care about. Sure, she's always encouraged me to run for office, but she never pressured me, and she also let me know that I could make an impact in other ways."
04
She's the Founder and CEO of Phenomenal Woman
Meena's Phenomenal Woman Action Campaign was inspired by Maya Angelou's book of poetry Phenomenal Woman, and it was born following the 2016 presidential election. Though Meena originally planned to print T-shirts with "Phenomenal Woman" and sell the shirts as a fundraising effort for organizations like Planned Parenthood and Girls Who Code, the shirts ended up getting far more attention than she'd anticipated. "Like a lot of people, in that moment I found myself wondering what I personally could do to lift up women, make my voice heard, and support issues I cared about," Meena told People during a June 2020 interview. "It was never supposed to be anything more than a side project . . . but it's really gratifying to pour your heart and soul into something, work your ass off, and see it in the world embraced by the communities it's intended for."

Since then, Meena has begun selling apparel of all kinds, all of which raise awareness for issues that affect underrepresented communities. As she explained to People, "A statement T-shirt can seem so small and insignificant, especially compared to the enormity of the social change that's happening before our eyes. But there is substance and meaning behind it. And the most basic meaning is people proclaiming to the world that they are worthy, deserving of dignity and proud. When we are talking about things like systemic racism and systematic oppression of underrepresented communities, it's a reminder that the world needs to see and hear over and over until there is full accountability, equality, and justice for all, not just a privileged few."
05
She's the Author of 2 Children's Books
Meena is also the author of two children's books. "Once I became a mom and we started looking through children's literature for our girls, I felt it was great that in the last three to five years there's been this burst of literature around historical women," Meena explained to Glamour in January 2020. "I think that's super important, but I also had this feeling like, well, wouldn't it be great if we had actual stories and real character development around girls — girls that look like mine, that were Black and brown children?"
Kamala and Maya's Big Idea (which was published in June 2020) tells the true story of how sisters Maya and Kamala turned an unused courtyard in their apartment building into an area for kids. Ambitious Girl (which was published in January 2021) follows a young protagonist who learns to take up space and own her potential. As Meena told OprahMag.com following the publication of her second book, she was raised to believe ambition was a good thing. "It meant purpose, it meant power, it meant determination, it meant having a dream and going after it, even when other people tried to tell you it couldn't be done," she said. "That's all I knew, because my whole family was this little unit of me, my grandma, my mom, and my aunt, and it's what I would see every day."