Why Do the Most Inclusive TV Shows Get Canceled?
This week, Netflix did the unthinkable and canceled its cult hit show Sense8. A statement from VP of Original Content Cindy Holland said, "It is everything we and the fans dreamed it would be: bold, emotional, stunning, kickass and outright unforgettable. Never has there been a more truly global show with an equally diverse and international cast and crew, which is only mirrored by the connected community of deeply passionate fans all around the world." And in this aspect, Holland would be right. Sense8 was and is arguably one of the most inclusive and diverse shows in TV history. It depicts a staggering variety of races, sexualities, and cultures.
To make matters worse, there's a sort of salt-in-the-wound effect here that has fans extra angry. The first season of the show dropped in June 2015, meaning its audience had to wait nearly two years to see how the story continues. Netflix announced the cancellation just a month after dropping the second season . . . on June 1. Which, as you may or may not know, is the first day of LGBTQ Pride Month. As one fan noted on Twitter, several of the show's narratives are currently only half-finished.
As much as we could harp on Sense8 for eight or so more paragraphs, the show isn't the only one to receive what seems to be a premature cancellation. Just last month, The Real O'Neals got the ax from ABC, thus eliminating another series with a gay main character. Furthermore, when you look over this season's other canceled shows, you realize it's not just about the LGBTQ community, it's also about shows that prominently feature people of color. Freshman series Pitch, with a black woman as the lead, didn't earn a second season. The Get Down, another Netflix darling, only got one season. Other diverse shows, like American Crime, Dr. Ken, and Rosewood, were all nipped as well. All of these shows made powerful strides toward inclusion in their own various ways, and they also all had something else in common: loyal, passionate fan bases that didn't want to see their shows go.
In the past few months, Pitch fans rallied behind the #KeepHerinTheGame campaign, and avid viewers of The Real O'Neals got in on a movement called #TheRealReason. The latter was met with an outpouring of tweets: fans revealed how the show had educated them and their families. LGBTQ youth expressed how much it meant to have someone they could relate to on mainstream TV. When it comes to Pitch, it wasn't just about impassioned fans. The show premiered with stellar reviews in the Fall. So, why the hell are we still losing these shows?!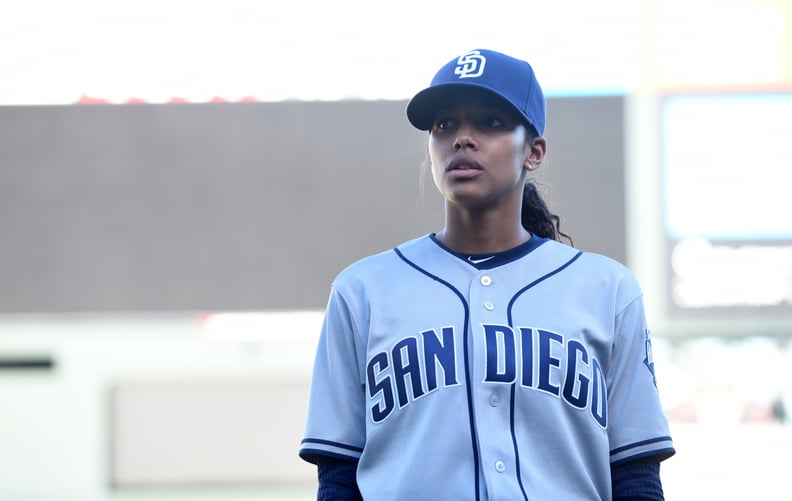 It boils down to numbers. When it comes to the cancellations of Pitch and The Real O'Neals, it's all about viewership. In January, Fox CEO and Chairman Gary Newman said the network was very happy with Pitch, but they "would've loved to see a bigger audience." Ratings from The Real O'Neals hovered around three million in season two, making it ABC's lowest-performing comedy.
Truth be told, Netflix doesn't typically share that kind of data and didn't cite it as a reason for cancellation, but it's a safe bet something similar was at play. After all, Netflix is notorious for canceling very few of its original series. The Get Down and Sense8 are among the first. It just goes to show: you can have an exceptional show with noted critical acclaim, and that still won't be enough. These networks want money.
That's the real tragedy here, and that's why it's so upsetting. Each of these three shows did something magnificent for the LGBTQ community and minorities. They were diverse and inclusive. As groups of people who are constantly erased in mainstream media, who struggle every year to get their stories on TV and in movies, shows like The Real O'Neals, The Get Down, Sense8, and Pitch really, really matter. Doesn't this kind of representation, excitement, enthusiasm, and positive feedback mean more to a network than revenue?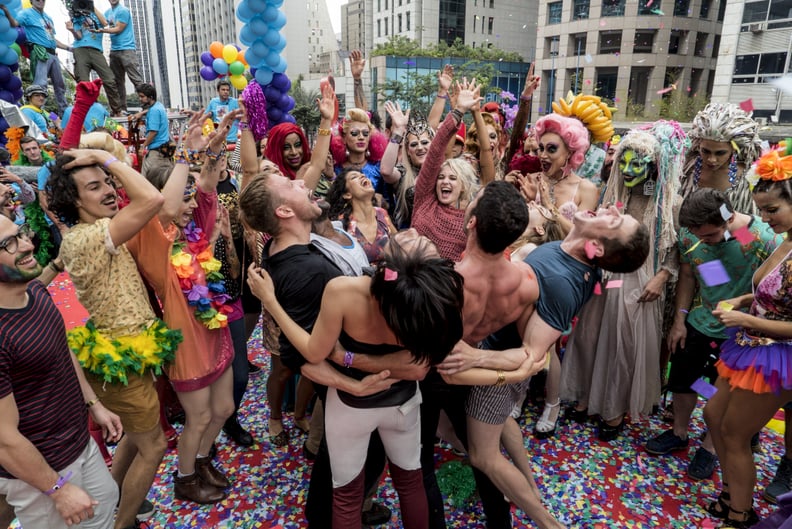 The real bullsh*t is that these underrepresented communities will always be the minority population in the United States. We're a smaller group of individuals, so even when we're all excited about something, we just can't make the same impact as a wider audience. And yet, we'll always be held to the same standard. We'll always be expected to deliver the same kinds of ratings as a show like The Big Bang Theory.
Netflix, with its generosity and openness and willingness to give niche audiences a chance, seemed like the media champion of content for marginalized individuals of our society. It never seemed like numbers mattered all that much, as long as they were making a stunning impact. But now that Sense8 and The Get Down are gone, we're not sure.