Why The Real Housewives of Salt Lake City Is So Good
The Real Housewives of Salt Lake City Is the Franchise's Greatest Gift — Here's Why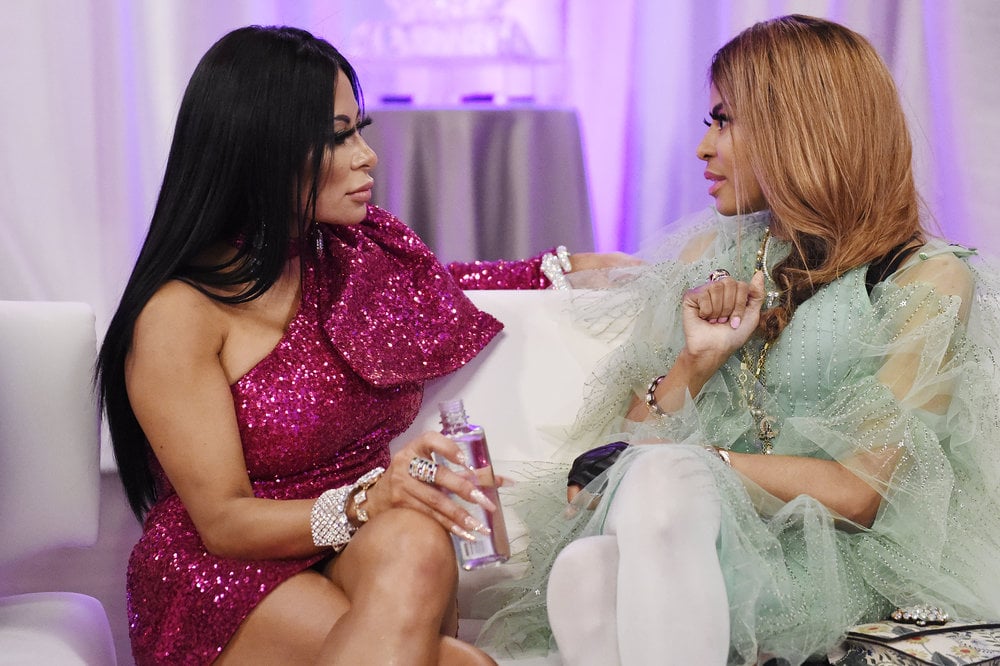 Before this year, I had literally never watched an episode of Bravo's flagship reality franchise, The Real Housewives. I couldn't be bothered with Orange County, New York was over the top, and Miami was just beyond me. Though the shows are designed for entertainment and drama — and lord knows they deliver — I just had no interest in watching the elite squabble over absurdities. Then a friend whose opinion I trust told me I should watch The Real Housewives of Salt Lake City. After immediately shutting her down, she sold me in one sentence: "They're rich Mormons and one of them is married to her grandpa."
Rich people bore me, but religious fiascos and dramatic love lives? I might have some time for that.
To appreciate The Real Housewives of Salt Lake City, you have to understand the characters you're working with. And because religion is such a focal point on the show, we're giving some info on the ladies' affiliations as well.
Jen Shah was born to be a star. She's the queen of parties, and even if she's throwing a birthday party for someone else, it's really about her. She converted from Mormon to Islam in her adult life and wears stilettos in the snow.
Lisa Barlow and her husband own multiple liquor brands despite being Mormon, but put very simply, she doesn't care if other Mormons take issue with it. The premiere episode also sees the whole family (including their two sons) making the rounds at fast-food drive-throughs because Lisa doesn't cook, and this is the way she likes it.
Whitney Rose fell in love with her boss a decade ago while they were both married to other people. He's also much older than her — but they got married, had two kids, and are now disgustingly in love, so I can't even be mad at it.
Meredith Marks is Jewish and thus far one of the more low-key women in Salt Lake City. However, she and her husband have just hit a rough patch, so I don't want to poke her on that. I will praise her son Brooks, the first (!) openly gay son of a Real Housewife.
Heather Gay is a divorced Mormon with a huge personality. She also has a multimillion-dollar beauty treatment clinic that feeds these ladies' constant need for attainable perfection with their looks. (Including Jen, who has even gotten botox in her knees.)
Mary Cosby is the first lady of her Pentecostal Church. She's also married to her step-grandfather. Why? Mary's grandmother put it in her will that she wanted her husband to marry one of her girls to keep the family business in the family. They didn't just stop at marriage though — they also have a son now as well. Mary also has a penchant for saying every single thing that pops into her head.
I may have resisted the Real Housewives franchise over the years, but what I have never resisted is a reality show about lifestyles and religions that I'm unfamiliar with. Call it morbid curiosity, but it is what it is. I went into The Real Housewives of Salt Lake City thinking I'd get something fascinating — my Mormon references include Book of Mormon and various shows about Mormonism and polygamy — and while this show isn't like that at all, it's still a wild ride that intertwines religion with the drama Bravo is known for.
Who would have thought Utah would be THE place for a season of Real Housewives to hit a turning point into decent reality TV?
It's hard for me to compare this group of women to any of the other cities' ladies, but right off the bat, the Salt Lake City crew don't seem like inherently catty people. Yes, there was that incident where Jen and Mary were at odds because Mary blurted out that Jen smelled like hospital, but they mostly got over it. The show is still in early days, though, so I am extremely certain that the drama is yet to come. However, part of me hopes that this show might take a different turn than others. All I ever hear about the other shows is the fighting and the bickering and the pettiness, and I feel like there's real potential in Salt Lake City to tell the stories of these women whose lives are already pretty fascinating. After all, adding dumb drama onto the story of a woman marrying her step-grandpa just feels like a lot, you know?
Despite my usual irritation with the disgustingly rich, I find these women mostly enjoyable. Even when Jen showed up for her ski trip in head-to-toe leopard print, I smiled rather than cringed. These women are just living their best Utah lives, and I'm so down for it. I can see why so many are tuning in for this season — the women are likable and the stories are wildly fascinating. Who would have thought Utah would be THE place for a season of Real Housewives to hit a turning point into decent reality TV?