After Boy Dies, Parents Discover His Touching Note
The Note These Parents Discovered After Their Son's Heart-Wrenching Death Will Give You Chills
When 6-year-old Leland died last week, the cause of his sudden illness — an amoeba entered his body, which led to a severe infection that caused his brain to swell — was deeply upsetting for his parents. That's because he likely got the soil-dwelling amoeba from doing the one activity he loved most: playing in the dirt.
"I was overprotective of Leland and tried my best to keep him safe," his mother, Amber, wrote in a heartfelt post on the Prayers for Leland Facebook page. "I never imagined that would be the thing that would take him from me. He was my world."
She went on to recall that Leland was a fighter, that he was born premature but "came out screaming and healthy" and that he was smart, even as a baby — he knew his ABCs, colors, and numbers before his first birthday.
But in that post, she also shared something that is sure to give anyone chills. Shortly after Leland died, Amber and her husband, Tim, returned to their house to pick the clothes their son was to wear at his burial, and it was only then that they found a note, in Leland's handwriting, on the living room table.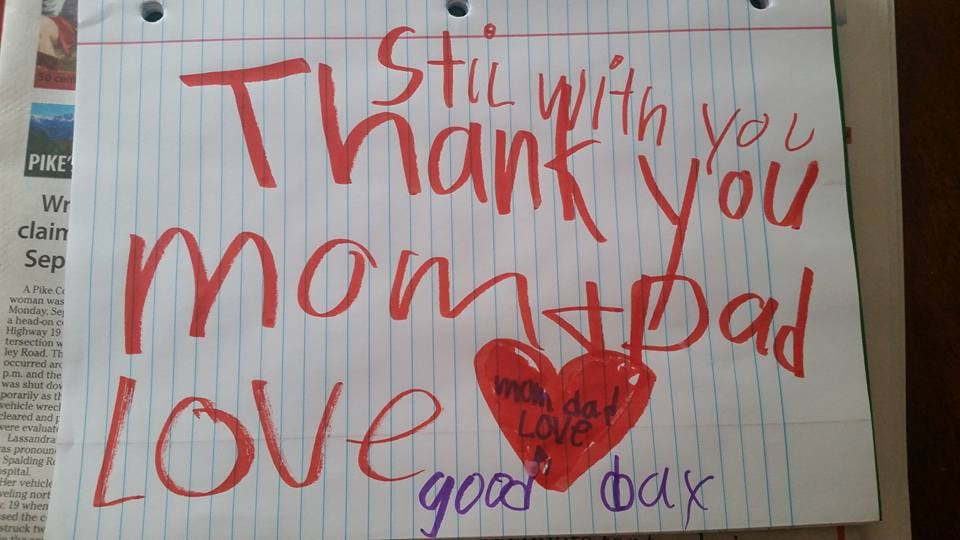 Written in red marker on a piece of looseleaf notebook paper were the words "Still with you," followed by a thank-you and farewell to his mom and dad. They had no idea when he wrote it or how it got there, but it will certainly serve as a reminder that he would never be too far from those he loved most.
"You can tell he was always a special child," Amber said of the note. "I count the days until I can see his sweet face again and hear that beautiful voice."