Easy Infant Travel System
Could There Finally Be a Stroller System That Meets All of Mom's Requirements?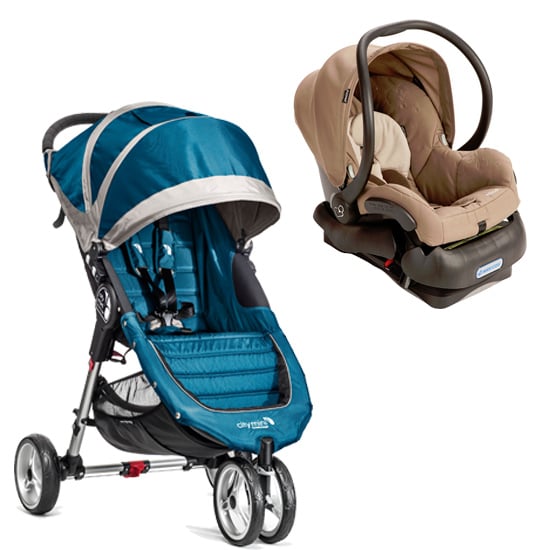 Baby Jogger and Maxi-Cosi, we think you're onto something here. The two brands recently teamed up to introduce an all-inclusive baby travel system that could truly make this the only stroller you ever buy. Baby Jogger's City Mini has gained a strong fan following in metropolitan areas and especially among moms with limited space to store an oversize stroller. The City Mini is affordable and lightweight, folds easily, and has a sleek and manageable footprint. The only negative? It's not meant for new babies. Enter Maxi-Cosi's Mico infant seat, and its corresponding adapter, to change that. With the option of attaching the Mico, you can use the system from the day you take baby home from the hospital until he hits the 50-pound mark. Here, five other things that impressed us about the new Baby Jogger/Maxi-Cosi travel system:
The Price Is Right: Coming in around $500, the travel system will likely be one of your pricier pieces of baby gear. But when you deconstruct what's included for that price and compare it to other systems with similar capabilities on the market, it's actually quite reasonable. And when you rule out having to buy a second stroller six months down the road, you'll appreciate the value that much more.
It's as Easy as It Looks: I dread putting together baby gear. The fact that every brand has its own way of doing things, paired with the back-of-mind fear that you're doing something incorrectly and could be endangering your baby, is simply no fun. But this really, truly takes five minutes or less. You remove the canopy from your stroller and snap in two mounting brackets, and the Mico latches into the stroller. There's also a buckle that goes across the top of the car seat for added security, which any new mom will appreciate.
One and Done: Whether you live in a one-bedroom apartment or a spacious house with plenty of storage, most everyone with kids appreciates being able to streamline the pileup of "stuff." And when it comes to taking up lots of space, strollers are a major culprit. Being able to consolidate your infant-through-toddler on-the-go apparatus into one travel system is undoubtedly the way to go. Added bonus? If you leave the Mico in your car and just bring the City Mini inside, you can fold it up instantly and have it lie or stand flat.
Options, Options, Options: Looks probably aren't your top priority in choosing a travel system for your baby, but if you're going to make the investment, you may as well get what you want. Mix and match your selections from four different City Mini color combos with 11 (yes, 11) fun Mico colors, and there's a good chance you'll be the only one at playgroup with your exact travel system.
It Doesn't Discriminate: Whether you're a mom who wants easy access to getting your baby in and out of the car or you place a priority on being able to weave in and out of busy sidewalks and maneuver train station stairs, the City Mini Maxi-Cosi has got you covered. I'd be as quick to recommend this to a reader living in the suburbs as I would a city mom, which I can't say for all on-the-go baby gear.
Sources: Baby Jogger and Maxi-Cosi