Family of Six Lives in Airstream Trailer
This Family of 6 Lives in a 31-Foot Vintage Airstream — Just Wait Till You See the Inside!
For the Longnecker family, home isn't a run-of-the-mill house with a picket-fence-enclosed backyard — it's a 220-square-foot vintage Airstream trailer with a backyard that changes as they travel the country. The tight-knit clan of six — Jonathan, Ashley, and their four kids, Adali, 12; Jett, 11; Jax, 8; and Ada, 6 — live full-time in their so-called "tiny shiny home," journeying from California to Tennessee and everywhere in between. I chatted with Jonathan and Ashley to discover more about their family's minimalist lifestyle (and their Teenage Mutant Ninja Turtle obsession), and man, it's making me want to invest in my very own vintage trailer.
Back in May 2015, after what they described to me as "way too many pros and cons lists," the Longneckers traded in their house (and their own personal space) for a Grand Design Reflection RV, kick-starting their new life on the road. "We thought we'd be in that forever," they told me of the roomy recreational vehicle. "There was plenty of space; the kids even had their own room with a door! However, after the first year, we just realized that it was too big and too comfortable. I mean, it had a fireplace!" Plus, paying for expensive campgrounds every night added up to quite the hefty sum, but they weren't quite ready to give up their adventurous living situation. The solution? "Boondocking," aka off-the-grid camping without hookups for water, electricity, or sewage.
Craving a major downsize, the Longneckers swapped their Grand Design RV for a 1972 Airstream Sovereign Land Yacht trailer, which they painstakingly gutted and renovated for six months straight with the help of Ashley's dad. The bright silver 31-foot Airstream transformed from a dimly lit trailer with old-school carpet and oak laminate cabinets to a cozy, completely functional home with ample storage space, homey decor, double bunk beds for the kids, and even a workspace for Jonathan, who makes a living by operating his own web design company while on the road.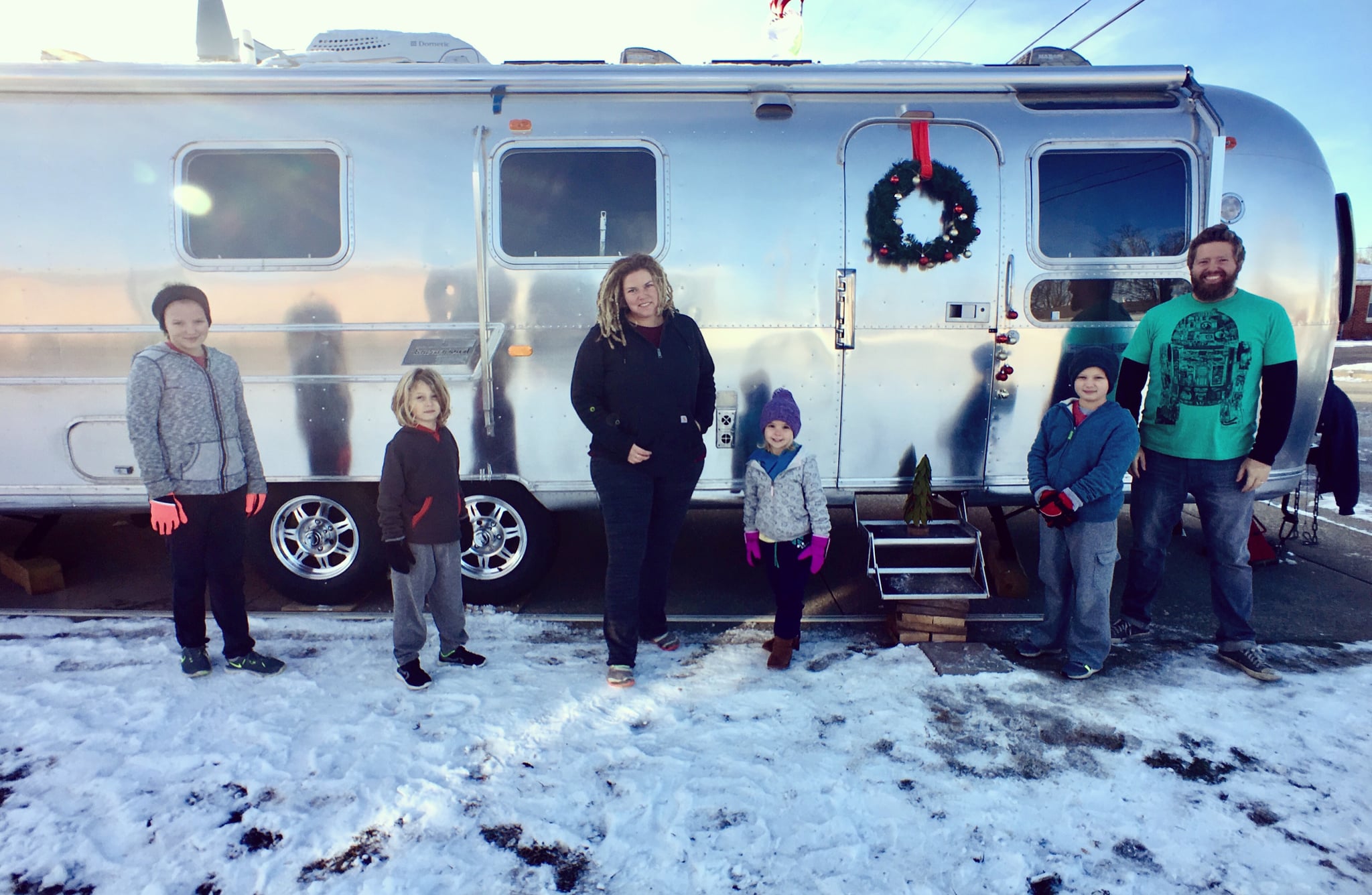 From left to right: Adali, Jax, Ashley, Ada, Jett, and Jonathan Longnecker standing in front of their Airstream during the holiday season.
As you may expect, living with six people in a 31-foot trailer comes with its fair share of challenges. "Cooking is a little tricky, and there are definitely days where Jonathan has trouble focusing on work," they told me. But most of their trials aren't actually in the Airstream. "They usually have to do with vehicle maintenance — we've spent a fortune in truck repairs — and deciding where we go next. There are so many options! Timing everything just right for weather and crowds can get daunting," they explained.
Nevertheless, Jonathan, Ashley, and their kiddos are pretty adept at living together in a tiny space and choose to focus on the benefits of their unique arrangement. "We get to pick where we want to live for the week. Mountains, forests, ocean views, deserts, hot springs out the back door . . . our options are endless," they told me. Sounds pretty dreamy, right?
"We've learned just how little you need and that having more doesn't make you happy."
Living together in their tiny, shiny home has taught the Longneckers a much-needed lesson about being less busy. "When we lived in a house, we were caught up in the busyness of it all. Our weekends were spent cleaning a 2,700-square-foot home, mowing the yard, and fixing things. There was never time for exploration. Being in the Airstream has given us some much-needed rest. With less house to take care of, it gives us so much more free time to do the things we love with the people we love," they said. On top of that, they now have a firm grasp on the beauty of living with less. "We've learned just how little you need and that having more doesn't make you happy. The kids really think about their purchases now. It's so great to hear them say, 'I don't need it,' when we're at a store."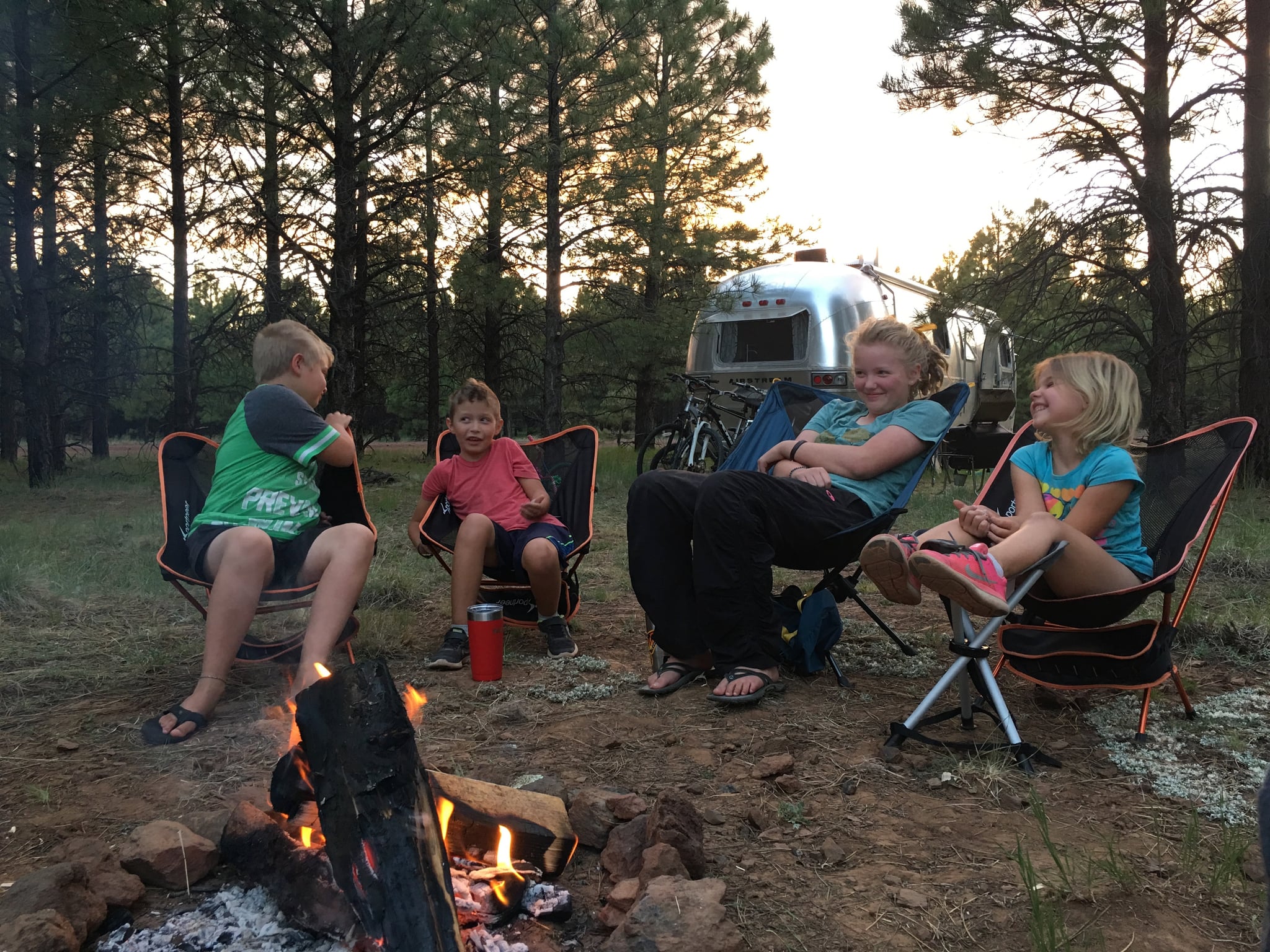 The four kids enjoying a campfire in the forest of Flagstaff, AZ.
"This trip has always been about [our kids]. What better education is there than travel?"
Jonathan and Ashley's absolute favorite part about living in an Airstream isn't about their ever-changing backyard or less-busy lifestyle, though; it's about getting to spend so much time exploring with their kids right by their side. "Some people say they'll do it when they retire, but man, they are missing out on such great memories. This trip has always been about [our kids]. What better education is there than travel?"
Speaking of education, Ashley roadschools (aka homeschools) her four children as they travel, teaching them about the history of each destination along the way. "We do a lot of Junior Ranger programs, and they're constantly learning basic life skills by being around us each and every day. The older kids help the younger kids figure stuff out often. It's really a team effort, and it's growing and changing every day," the Longneckers explained. It may have taken a few years of life on the road, but Ashley and Jonathan have finally grasped the fact that "each of [their] kids learn in their own way."
The Longneckers know their way of life is unconventional — and frankly, they like it that way. "Some people give us funny looks when they see all six of us coming out of this 31-foot Airstream. They'll stop and stare and ask us, 'How in the world do you all fit in there?' That's when we show them the inside and the common response is, 'It's so roomy!'" they said. "We made sure to leave as much 'hallway' space as possible. We all have our own little areas, which is so great for the kids."
I know, I know — I'm sure you're dying to check out the interior of their home, so let's look at some photos, shall we? Ahead, catch a glimpse inside the Longnecker family's compact yet stunning Airstream (along with a few prerenovation snaps!), and be sure to keep up with their adventures on both their blog, Tiny Shiny Home, and their Instagram page. Fair warning: their cozy living room alone is enough to inspire you to ditch your current home for a tinier, shinier one.