Fortnum and Mason Gin-and-Tonic Tea
Gin-and-Tonic Tea Bags Are Here to Gloriously Combine Tea Time and Happy Hour
As POPSUGAR editors, we independently select and write about stuff we love and think you'll like too. POPSUGAR has affiliate and advertising partnerships so we get revenue from sharing this content and from your purchase.
Gin-and-tonic tea bags now exist for people who like their afternoon cup with a little kick. The genius concoction comes from Fortnum and Mason, a luxury department store located in London and Dubai. Since its release in early October, the alcohol-inspired tea has gone pretty viral.
Now, we know what you're thinking, and (sadly) the tea doesn't actually contain gin. As the Fortnum and Mason website states, "all that's missing is the gin itself." It does, however, sound pretty damn delicious. The tea blends together green tea, juniper berries, coriander, fennel, and other fresh botanicals.
Due to its popularity, the tea is currently out of stock; however, it's likely that it will soon be restocked. It's currently priced at $9 for a box of 15 tea bags. As it's a Britain-based retailer, stateside shoppers will need to order the product online and pay the fairly steep international shipping fee, which amounts to about $20. While the average person might not want to shell that out for tea, it does make the perfect holiday gift for any lovers of the classic cocktail.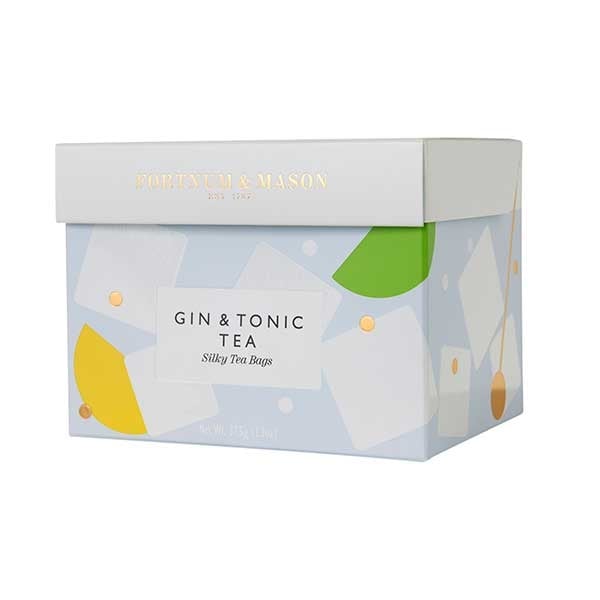 Fortnum and Mason Gin-and-Tonic Tea Bags ($9)