Freezing Eggs to Delay Pregnancy
Is Egg Freezing the Answer to Having It All?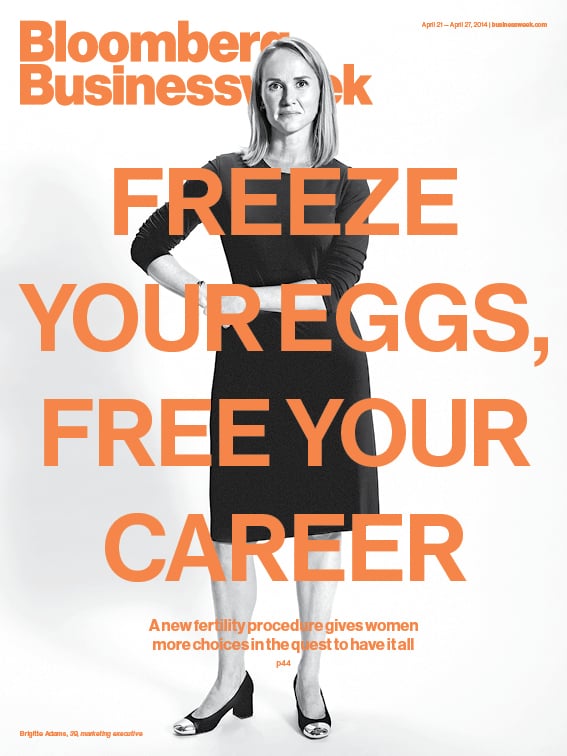 For many women who have opted to freeze their eggs in order to postpone motherhood, the experience is described as "empowering." Being able to delay pregnancy until all other pieces of her life (relationships, career, finances) are in order is a complete game changer and stress eliminator. But it comes at a serious price.
The cover story of Bloomberg Businessweek, which hit stands today, examines the impact that egg freezing can have on a woman's career and life track. "Imagine a world in which life isn't dictated by a biological clock. If a 25-year-old banks her eggs and, at 35, is up for a huge promotion, she can go for it wholeheartedly without worrying about missing out on having a baby," Emma Rosenblum writes. "She can also hold out for the man or woman of her dreams."
At one round of freezing costing between $7,000 and $12,000 — all out of pocket and not inclusive of the necessary drugs and storage fees (which can tack on another $4,000 a year) — this certainly isn't an option for everyone. But for the successful and financially secure women who have gone this route, the benefits are well worth the cost. "Egg freezing gives you the gift of time to start a family, but it's also, like, here's how many years I actually have left for my other goals — what can I do with them?" said Sarah Richards, 43, the author of Motherhood, Rescheduled: The New Frontier of Egg Freezing and the Women Who Tried It.
The process isn't foolproof and doesn't offer any sort of guarantee — but then again, neither does trying to conceive the traditional way. If eggs are successfully frozen and thawed, the woman has about a one in five chance of a live birth (depending on her age when the eggs were frozen, along with other factors). These stats are about the same as a regular cycle of IVF.
To get the full story, head over to Bloomberg Businessweek, and check out Rosenblum's Later, Baby: Will Freezing Your Eggs Free Your Career? Then weigh in in our poll below. Could this change the way women approach pregnancy forever?
Source: Bloomberg Businessweek; Front Page