GapKids x Ellen DeGeneres Ad Called Racially Insensitive
See What the Mom of the Girls at the Center of the "Racially Insensitive" GapKids Ad Has to Say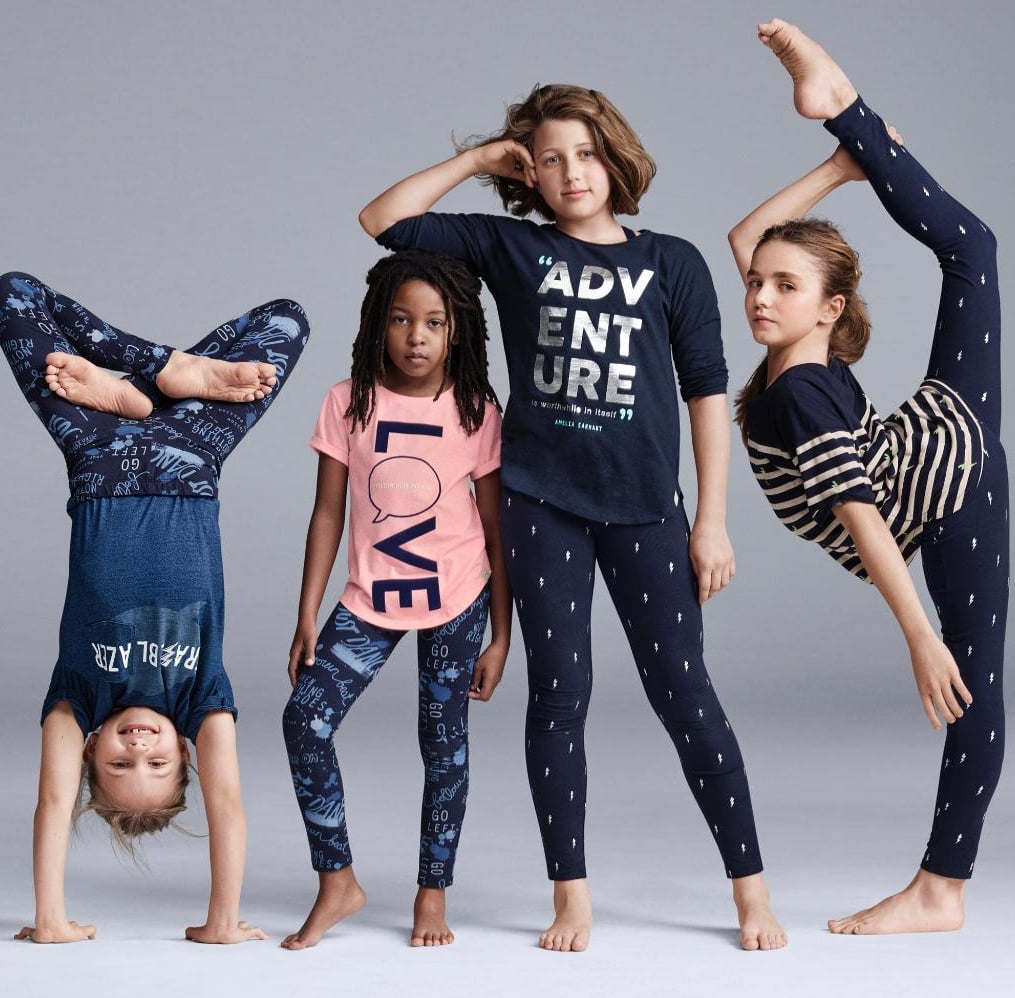 A recent GapKids ad campaign has sparked a racially charged controversy that has people infuriated. The images shot for the GapKids x Ellen DeGeneres campaign feature a photo of four young models flaunting their fashions and acrobatic skills. However, one photo in particular has prompted remarks of racial insensitivity, as one older white model is seen propping her arm up on the head of the only young black girl, as you would on a chair.
The campaign is built around the values of empowering young girls and proving that they can achieve anything, but Twitter users argue that the advertisement only shows that for a young black girl, that means being used as a white person's "armrest."
The two girls at the focus of the controversy happen to be adoptive sisters and their mom, Brooke Smith of Grey's Anatomy, spoke out on Twitter about the campaign.
@TheRoot girl with arm resting on her shoulder is her sister She didn't talk in video because she was 2 shy. everyone needs to calm down.

— Brooke Smith (@Iam_BrookeSmith) April 3, 2016
It has also been pointed out that this isn't the first time a Gap ad has featured children in a similar pose — but the races of the models were reversed, and the ad didn't receive the same scrutiny.

Does the @GapKids pic on the left make the pic on the right okay? Let's debate pic.twitter.com/rCFbK4uG5y

— Matthew A. Cherry (@MatthewACherry) April 3, 2016
Gap apologized in a statement to Fast Company in response to the backlash and said it plans on swapping the image:
As a brand with a proud 46-year history of championing diversity and inclusivity, we appreciate the conversation that has taken place and are sorry to anyone we've offended. This GapKids campaign highlights true stories of talented girls who are celebrating creative self-expression and sharing their messages of empowerment. We are replacing the image with a different shot from the campaign, which encourages girls (and boys) everywhere to be themselves and feel pride in what makes them unique.
Twitter believes having a diverse set of eyes approving campaigns like this could prevent such images and the backlash that inevitably ensues. Scroll through to read more tweets.
meet the kids who are proving that girls can do anything.

check out #GapKidsxED: https://t.co/qbR13BsWIL pic.twitter.com/e47gVghHt0

— GapKids (@GapKids) April 2, 2016
@GapKids Why is the little black girl being used as an arm rest? I'm sure there were better photos taken. You should fix it.

— Caissie St.Onge (@Caissie) April 3, 2016
@TheTherapyDiva @GapKids Do they not have people who actually look at these things???

— Judith M (@Jmeow2) April 3, 2016
@GapKids What is the message for Black girls? Are they meant to be seen as subordinate? Shame on you, Gap! pic.twitter.com/7U41B8lFI5

— nightshade (@VeganWhileBlack) April 3, 2016