Girl Scout Sells Cookies Outside Pot Club
Girl Scout Gives New Meaning to "Baked Goods"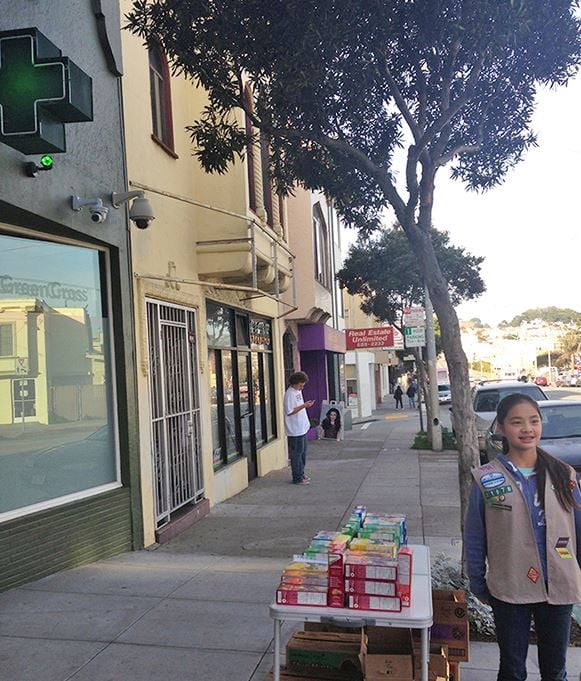 Every year, girls in green sashes convince us to buy boxes upon boxes of tasty Girl Scout cookies. We're used to seeing them outside grocery stores or at a school function, but one California scout decided to take her business to a more unique location. Danielle Lei, a 13-year-old from the Bay Area, recently set up shop outside of The Green Cross medical marijuana clinic. Within two hours, she managed to sell 117 boxes of cookies — 37 more than what she sold within the same time frame at a Safeway. Danielle's mother, Carol, contacted The Green Cross, and the clinic was happy to host to the sale.
"It's no secret that cannabis is an appetite stimulant, so it's not shocking that a lot of our patients came and purchased cannabis and then saw the cookies and purchased them," Holli Bert, a spokesperson for The Green Cross, told Mashable. "But it wasn't just patients. Staff members and neighbors also bought the cookies. I, personally, bought five boxes. It turned out to be a big success." The staff has invited Danielle back for a second sale on Feb. 22. Dana Allen, director of marketing and communications for Girl Scouts of Northern California, told Mashable that the organization is more than OK with Danielle's sales plan.
"The mom decided this was a place she was comfortable with her daughter being at," Allen said. "We're not telling people where they can and can't go if it's a legitimate business."
But taking her daughter to The Green Cross wasn't just a business strategy. Carol told Mashable that she has her daughters sell in different areas of San Francisco so they can learn about different environments. She also felt that setting up shop outside a cannabis shop would be a good way to talk to her girls about marijuana use.
Source: Facebook user The Green Cross
Front page image Getty