Happy Family Brands New Products
Mom Behind Genius Baby Food Pouches Is About to Make Your Life Even Easier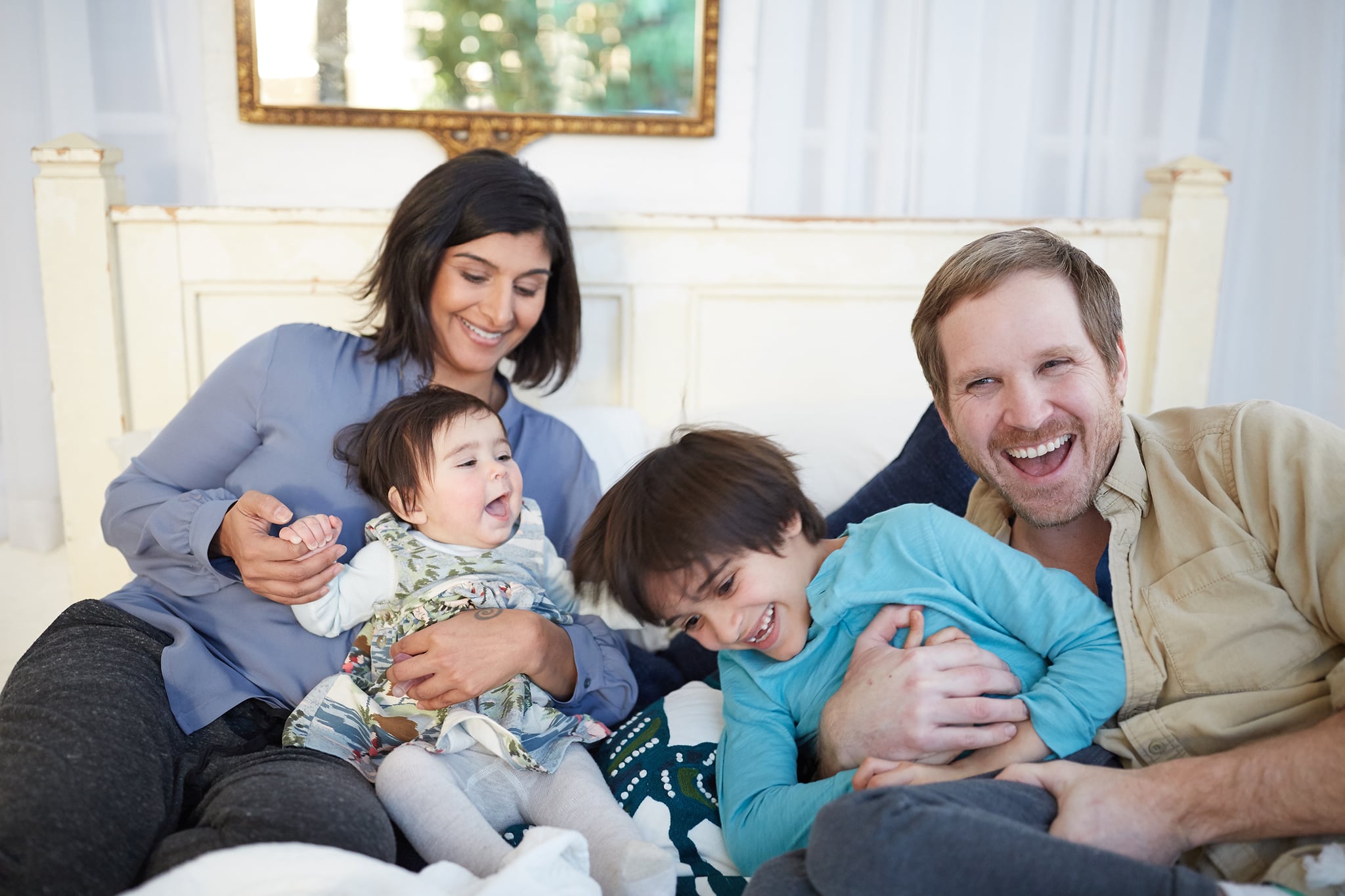 There's no question baby food pouches have changed the way we feed our kids. The portable "meals" have made breakfast, lunch, and dinner infinitely easier and more convenient, and have helped moms everywhere sneak more veggies into our kids' diets. For that, we have Shazi Visram, the founder of Happy Family, to thank.
Her genius (and healthy!) pouches have revolutionized my entire life as a mom of two, and now the brand is introducing easy options to support infants and nursing moms with their Happy Baby Organic Infant Formula and a line of Happy Mama Breastfeeding Support products.
So how did Shazi, a mom of two herself, start and build a baby product empire? And what's her take on the never-ending breastfeeding vs. formula feeding debate? Read on for her answers and to hear her smart philosophy for working moms.
POPSUGAR: What was the inspiration for starting Happy Family?
Shazi Visram: I saw an opportunity to change the way children were fed in our country with a warm, modern brand that offered high-quality nutrition through sustainable, clean food that moms could actually feed good about. At the time, a close friend of mine, a working mother of twins, was struggling to find healthy food for her babies in the traditional baby food aisle and I thought "there has to be a better way." When I looked at the marketplace, I found that the baby food market had not seen much innovation since the 1930s when it was created as a category to be convenient and cheap. Everything was highly processed, not organic, and lacked the beneficial nutrients to support a lifetime of wellness based on great quality, delicious whole foods. I saw the opportunity to support healthy eating habits in life from the very start.
PS: What's your work/life balance philosophy; or advice you can share for moms trying to make it all work?
SV: Being present in the moment. I don't really believe in mythical work and life balance where every day is just the perfect mix of all the right things. There are times when we are building that require more of us and times when we have more time to be with family and truly relax. I just believe we should make the most of whatever "mini-era" you find yourself in. I do my best to enjoy everyday life regardless of whether I'm working or with family.
PS: Why do you think breastfeeding vs. formula feeding is such a hot topic?
SV: I think most moms know about the obvious benefits of breastfeeding and have every intention of doing so, but I also believe that life doesn't always go as planned, and so many of us need to find supplements and alternatives to ensure baby is getting all of the right nutrition. It has become such a hot topic because there is so much pressure put on moms to be perfect, and there is a feeling of being judged as bad moms when they don't feel they are exclusively breastfeeding.
PS: What do you say to moms to encourage them however they choose to feed their babies?
SV: No mother or woman should feel guilt or shame. Period. Ever. They have just brought a new life into this world and are gearing up to care for their child forever. My hope in creating Happy Baby infant feeding platform, which includes breastfeeding support products, access to lactation consultants and Organic Infant Formula, is to put them at ease and mitigate some of the negative emotions they experience so they can focus on the positive. Happy Family supports parents on their feeding journey, no matter what they choose.
PS: Pouches have made feeding young children so much easier, what's another product that makes your life easier as a mom?
SV: My children are my best customers! My son Zane loves a lot of our snacks, specifically the Puffed Dino Snacks, and my daughter Asha, is just starting on solid foods. She loves our Happy Baby Clearly Crafted pouches, teethers, and puffs, and as a mom on the go, I am always happy to have plenty on hand.
PS: What's unique about your new infant formula?
SV: Breast milk delivers the optimal nutrition to a baby during his/her first year of life. However, many parents aren't able to exclusively breastfeed for as long as they would like and are unaware of what ingredients to look for when choosing an infant formula. At Happy Family, we are focused on supporting mothers and families through their journeys, and this includes educating them. A key area that is really important is infant gut health and the importance of nourishing the microbiome in the very beginning of life — it's a word many people are not familiar with, but that is gaining traction as more research is published. Our solution for new moms was to launch Happy Baby Organic Infant Formula. Working with nutritional scientists, we created formula modeled after breast milk, including dual prebiotic fibers that function similarly to the prebiotics in breastmilk. In fact, the new formula has up to four times more prebiotics than other organic infant formulas in the U.S. We wanted to offer moms who couldn't exclusively breastfeed an option so that they could feel good about the formula they were giving their babies.