Honey Applesauce Buns For Rosh Hashanah
Sweet Honey Applesauce Buns For Rosh Hashanah
Celebrate the flavors of Rosh Hashanah with honey applesauce buns that are perfect for adding to your table of traditional foods during the holiday. Even if you don't celebrate Rosh Hashanah with your family, you can learn more about the holiday while baking these sweet buns — they feature all the flavors of Fall, making them perfect any day as a special snack. With such an easy recipe that's not overly sweet, your lil one will love getting in the kitchen and offering a helping hand!
Here are the simple directions.
Sweet Honey Applesauce Buns
From Sarah Lipoff, LilSugar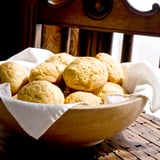 Ingredients
2 cups flour
1/2 cup honey
1/2 cup applesauce
3/4 cup milk
1/4 cup vegetable oil
1 teaspoon baking powder
1/2 teaspoon baking soda
Dash of salt
Dash of cinnamon
Extra honey for drizzling
Directions
Gather the ingredients needed for making the buns along with a medium-sized mixing bowl and measuring cups and spoons.
Part of the Rosh Hashanah celebration is dipping apples in honey for a sweet new year. Invite your lil one to dip her finger in the honey for a quick taste before measuring and adding the honey to the mixing bowl along with the vegetable oil, applesauce, and milk. Now she can whisk the ingredients until incorporated.
Measure and add the flour, baking powder, and baking soda, along with the dash of salt and cinnamon. Invite your tot to stir until the batter comes together.
Preheat the oven to 375F and generously grease a 12-cup muffin tin.
Now your child can evenly distribute the honey applesauce batter in the muffin tin. She can top the little buns with a final squeeze of honey for extra flavor.
Place in the oven for 20 to 25 minutes. Let the buns cool for 10 minutes, remove from the muffin tin, and serve with dinner or as a special snack.
Makes 12 honey applesauce buns.
Information
Category

Other, Snacks

Cuisine

North American
Image Source: POPSUGAR Photography / Sarah Lipoff