Jessie Toy Story Ride at Disneyland
A Beloved Toy Story Character Is Finally Getting Her Own Ride at Disneyland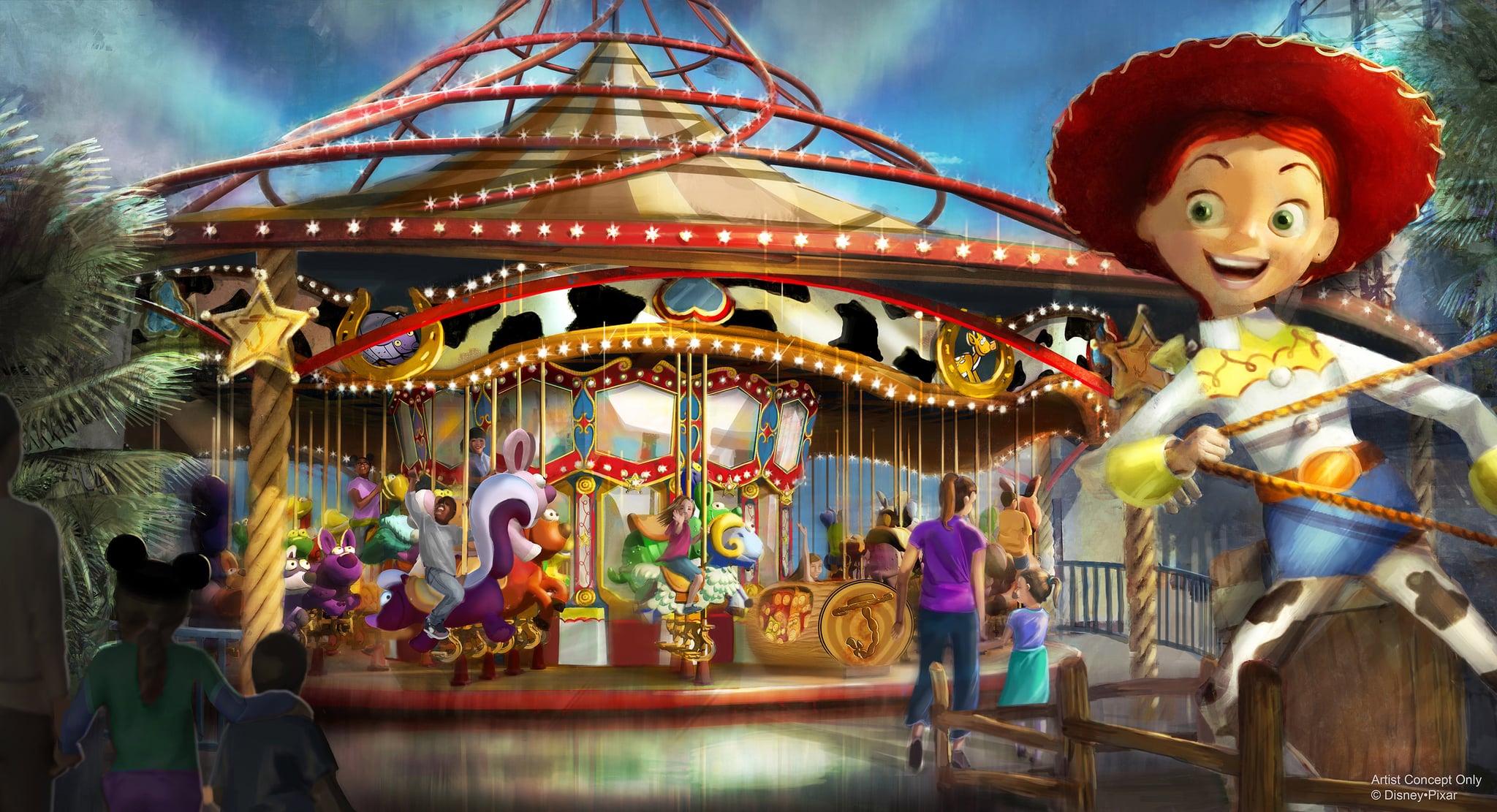 Image Source: Disney
Move over, Buzz Lightyear — this is a job only a cowgirl can do. Jessie's Critter Carousel is the newest ride coming to Disney California Adventure, giving the rootin' tootin' first lady of Toy Story her very own attraction.
The carousel itself, which will be located in the forthcoming Pixar Pier, will be themed to Jessie's iconic look with big golden details and a cow-print trim emblematic of the character's riding chaps. Inside, it will be filled with colorful animals modeled after the Crazy Critters from Woody's Roundup cartoon as seen in Toy Story 2.
Armadillos, turtles, bunnies, and raccoons bearing wide eyes and adorably goofy grins will be among the 56 critters populating the ride, bringing those 2D cutesy cartoon characters to life for the first time. And because they're the same little creatures from Toy Story Midway Mania!, it'll make for a perfect opportunity to take a victory lap on the one matching your high score. (We're already noticing a certain dose of whimsy it's bound to contain as well — the skunk in the attraction design is even facing backward!)
Jessie's Critter Carousel will be the second ride within the forthcoming Toy Story neighborhood of Pixar Pier, which also welcomes the new Incredibles-themed redesign of California Screamin' and Pixar characters from all of the classic films. Sadly, the carousel, which replaces Paradise Pier's former King Triton's Carousel, won't open with Pixar Pier's grand unveiling on June 23, but in 2019. From the looks of it, though, it'll be well worth the wait!
A behind-the-scenes peek at what the carousel characters will look like.
Image Source: Carlye Wisel