Keeping Kids Hydrated
12 (Fun!) Ways to Help Kids Stay Hydrated This Summer
Keep your kids hydrated this Summer! Our friends at All You have some tips for getting your kids to drink up!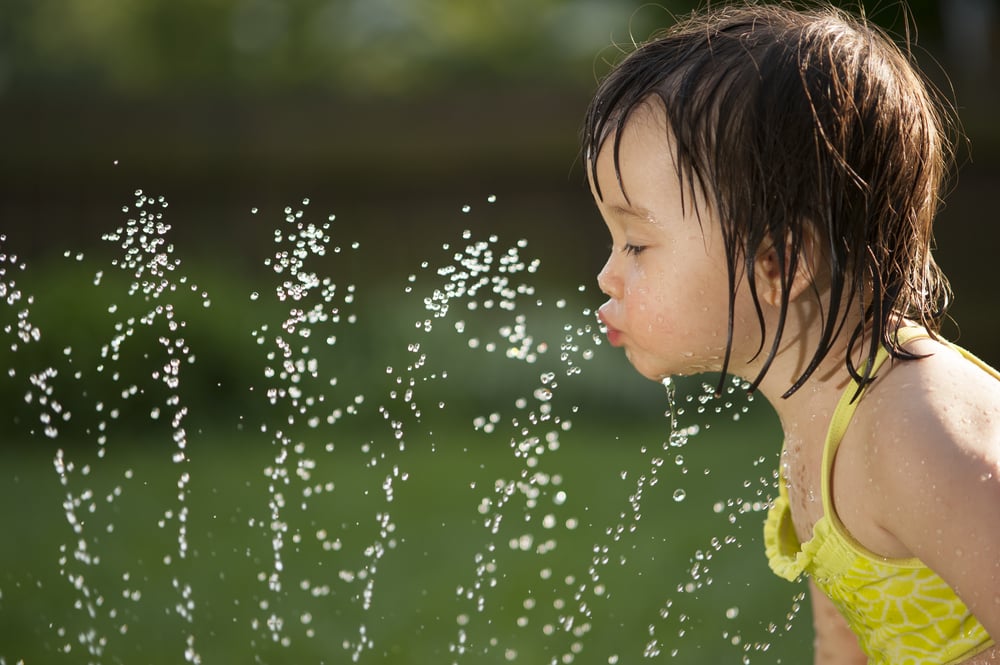 Yes, most children (and many adults!) find water incredibly boring, but it's important to make sure kids drink up and stay hydrated as temperatures start to rise this summer.
Shockingly, more than half of kids ages six to 19 aren't hydrated enough, according to a recent study out of the Harvard T.H. Chan School of Public Health. And dehydration can cause a number of health issues, like headaches, constipation and dizziness—and in some circumstances even life-threatening complications.
So how much water should your child drink? It all depends on your kid's age and activity level—for toddlers it may be around four cups, while active 13-year-old boys might need about eight. A rule of thumb: "In the summer and for summertime sports, make sure your child drinks before going out to play, during breaks in the game and after they are done playing," says Minu George, M.D., an interim chief in the general division of pediatrics at Cohen Children's Medical Center in New York, and an assistant professor at Hofstra North Shore-LIJ School of Medicine.
Also of note, the study found that nearly a quarter of kids in that age group didn't drink any plain water at all—problematic as the American Academy of Pediatrics recommends water, not sports drinks, be the primary source of hydration for children and adolescents.
Here, some creative ways to get your kids to stay hydrated (and yes, even drink water), from Dr. George as well as ALL YOU staff members.
Make Water Less Basic
"I love making fun water bottles for my children. I buy bottles of many shapes and sizes and add some fruits into each bottle to make it smell and taste a little like fruit juices without really having juice." —Dr. George
Think About Temps
"Both my kids like cold water—unlike my husband and I who prefer room temp—so we keep a Brita water dispenser in the fridge for them." —Jeannie Kim, Health Director
Set a Stellar Example
"Our children will do what we do as parents. So make it a habit to drink water. Try to keep water and lowfat milk in the refrigerator at home. Kids are more likely to grab a water bottle if you don't keep sweetened drinks at home." —Dr. George
Pick Hydrating Foods
"Our 5-year-old is fairly resistant to drinking plain water unless she's really thirsty, so we try to replenish her fluids by giving her lots of ice and fruit, both of which she loves." —Siobhan Adcock, Director of Digital Content
Choose The Right Spout
"I personally prefer screw-top bottles but I finally realized my 8-year-old drinks way more water if I give her a sport spout because she can do it one-handed, maybe." —Jeannie Kim, Health Director
Try A Bottle Infuser
"Infusers are all the craze now, so my girls especially enjoy having bottles infused with fruits." —Dr. George
Select Smart Desserts
"Summer dessert at our house is always popsicles or watermelon, which we enjoy as a family on the patio." —Siobhan Adcock, Director of Digital Content
Cool Bottles Count
"Get fun water bottles or sippy cups—if they're extra cool, the kids like to tote them around the playground to show them off." —Jeannie Kim, Health Director
Freeze Your Fruit
"I keep freezer safe bags of cut up fruit in the freezer and make different combinations—orange slices and blueberries, lemon slices and strawberries, cucumber and honey dew, watermelon and strawberries. Then involve the kids, and let them make their own combinations." —Dr. George
Make Each Meal Hydrating
"Throughout the summer, we make sure my daughter gets juicy summer fruits at every meal (with breakfast, after dinner, and as part of the lunch we pack for her), and she also gets ice as a treat to crunch, sometimes with blueberries or strawberries frozen inside." —Siobhan Adcock, Director of Digital Content
Involve Your Little Ones
"My 3-year-old loves being able to dispense his own drink—he does spill a lot but he also drinks more, so on balance I guess it's a net positive." —Jeannie Kim, Health Director
Chill Your Juice
"Freeze juice into ice cubes and use them as a fun way to cool off drinks." —Jeannie Kim, Health Director
More great reads from All You:
Walking Workouts with the Kids: What Works, What Doesn't
6 Ways to Get Kids Ready For Camp
Would You Pay to Have Your Kids Picked Up From School?